There are lots of factors that you should consider before buying replacement windows for your house. Factors include the style of the windows, types of frames, budget, warranty options, and so on.
Amsco and Andersen are both famous for their high-quality window options. But we often get confused about which one will be the best choice for us.
To get over this confusion, go through this article, and we hope you will find the best windows for your house.
A Quick Comparison Table
Here's a quick comparison table between Amsco and Andersen windows so that you can spot the differences easily-
| | | |
| --- | --- | --- |
| Specifications | AMSCO Windows | Andersen Windows |
| Material | Vinyl | Wood, Vinyl, Composite (Fibrex® Material), Aluminum, Fiberglass. |
| Cost | Less expensive | Expensive |
| Company Reputation | Moderate | High |
| Customer Review | Positive | Positive |
| Warranty | 20 years for family residence | 5 years limited warranty |
| Product Variation | Less | More |
Key Differences Between AMSCO And Andersen Windows
Now we'll talk about the major differences between these two in detail –
Company Reputation and History
The global manufacturer of windows and doors, Andersen Corporation, was founded in 1903.
Now it employs around 10,000 employees across more than 30 manufacturing sites, transport hubs, and company-owned retail outlets.
With more than 60 years in the industry, AMSCO is renowned for its honesty, originality, and superior quality.
Their vinyl and composite windows are the results of in-depth analysis, innovative testing, and experimentation.
Their engineers put a lot of effort into creating innovative items that don't skimp, ensuring that each item bearing the AMSCO name satisfies the company's high standards.
Though both companies have their own reputation and popularity, Andersen is taking it to the next level because of its glorious history in manufacturing windows and doors.
Product Variation and Styles
We all want perfect-looking windows and doors for our house. We tend to look for a variety of styles and then finally choose one. If you are kinda picky about your interior design, Andersen is for you.
Andersen has so many styles of windows that you might get confused about which one you should choose for your home. You can choose their windows depending on their series or build material.
They have five different series of windows –  E-SERIES, A-SERIES, 400 SERIES, 200 SERIES, and 100 SERIES. They also have an awning, casement, bay and bow, double hung and single hung windows.
Compared to Andersen, Amsco has very limited styles and variations. Artisan series, Serenity series, Vista series, and Studio series –are their main product line.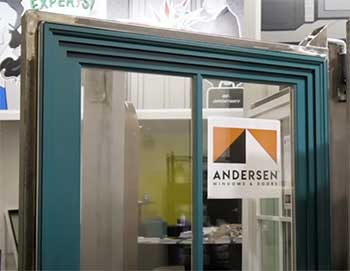 Cost variation is one of the most important factors that we consider while buying something.
So, if you are looking for something less costly, you can go for Amsco windows.
The majority of the AMSCO Windows Series generally range in price from $315 to $605 without installation.
With installation, the price goes up to $1000.
The Artisan Series is on the higher end of that range, while the Studio Series Windows tend to fall on the lower side.
The price of the Andersen windows depends on what type of windows you choose. As they have a wide range of products, the price also varies according to that.
Andersen 100 series costs between $680 and $1,570 with an installation charge. This is Andersen's most budget-friendly series. But if you want Andersen Architectural E-Series or A- series, which are their premium series, you have to pay between $1,400 and $3,300.
Build material can make a huge difference in a product. The quality of a product mostly depends on its build material. Amsco Windows are mainly made of vinyl which is kind of similar to Polyvinyl chloride (PVC) plastic.
It is used in a variety of products like siding, wall covering, and flooring.
On the other hand, Andersen uses different types of materials for different windows and doors. Wood, vinyl, composite (fibrex® material), aluminum, and fiberglass are their main build material.
Fibrex material is a substance that is two times as hard as vinyl, works better in extremely hot or cold environments, and produces exteriors that won't fade, flake, blister, or peel.
Fiberglass is durable, and aluminum is used to create an exterior that is weather-resistant and practically maintenance-free.
When it's come to the topic of warranty, Amsco Windows is the best in the market. Single-family residences, the warranty is 20 years from the date of installation.
For other buildings, the warranty is up to 10 years, depending on the surroundings of the building.
Andersen Windows provides only 5 years of the limited warranty that covers the frame, paint adhesion, and hinges. However, their post-selling service is excellent, and many customers say that their Andersen Windows lasted more than five years without any servicing.
Frequently Asked Question (FAQ)
Are Amsco Windows Any Good?
Yes, Amsco windows are worth having. According to industry experts, Amsco is one of the best vinyl window manufacturers in America. They provide a wide range of options and have the best warranty on all the windows they provide.
Are Amsco Windows Energy Star?
Yes, Amsco Windows has earned Energy Star a long time ago because it is better than any standard product and uses less energy. US Environment Protection Agency certified Amsco Windows as Energy Star.
What is the best brand replacement window?
There are a lot of good brands for replacement windows available in the market. But considering overall factors, Andersen and Pella are the two best brands. Jeld-Wen is also recommended for its budget-friendly option, and Marvin is best for strength.
Who owns Amsco Windows?
Phil Rasmussen is the founder and owner of Amsco windows. He has been the owner of the company for more than 60 years.
Final Words
Amsco vs. Andersen window dilemma is not easy to solve as they both are great brands. However, you can come to a conclusion by considering some factors.
If you want windows for your home that are minimal and budget-friendly, Amsco would be the better choice. But if you are focusing on durability as well as stylish options, nothing can beat Andersen Windows.
So, make sure about your priorities first, and choose the windows accordingly.