American Vision Windows has 10% wider flush-glazed glass to ensure additional airflow and natural light. In contrast, Milgard Windows have a triple seal design to make the products more durable and functional.
Ever wondered about the best way to dictate a home's curb appeal? It is nothing but your house's doors and windows! Here, we come up with a comparison session on American Vision Windows and Milgard Windows to help you choose the best option. Let's dive in!
A Quick Comparison Table
| | | |
| --- | --- | --- |
| Specifications | American Vision Windows | Milgard Windows |
| Materials | Wood, Woodclad, Vinyl, Fiberglas, and Aluminum. | Vinyl, Fiberglas, and Aluminum |
| Windows | Seven types of windows | Seven types of windows |
| Doors | Entry doors, Sliding doors, and French doors | Seven types of Patio doors |
| Other products | Coatings and baths | No additional products |
| Glass Options | Three types of glass | Four types of glass |
| Special Feature | 10% wider flush-glazed glass | A triple seal design |
| Certification | NFRC and AAMA certified | Decent STC rating |
| Warranty | A Limited Lifetime Guarantee | A Full Lifetime Warranty |
| Price | Expensive | Affordable |
Key Differences Between American Vision Windows And Milgard Windows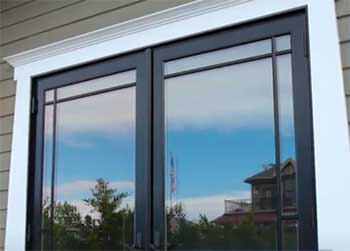 Doors and windows from American Vision Windows are made from five types of materials.
For example, aluminum is the best choice if you prefer lightweight, solid, and moisture-resistant windows.
But wood-based windows and doors stand out when it comes to timeless charm and historic beauty.
Contradictorily, Milgard doors and windows are available in three materials.
Their vinyl windows and doors are highly durable and energy efficient.
Also, this type of door and window offer optimum insulation performance. They are heat-resistant.
American Vision Windows have different types of windows such as picture windows, casement windows, single- or double-hung, awning, garden, and bay. Bay windows are a better pick when adding volume and style to any space.
In opposition, Milgard offers horizontal sliders, single or double-hung windows, casement windows, awning windows, picture windows, and specialty windows. Their special windows have a unique shape and can bring softness to your room.
Horizontal sliders are the best choice if you prefer easy-to-open windows with extra fresh air and natural light.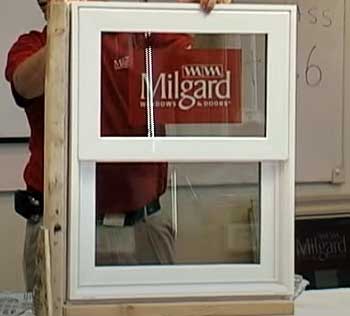 American Vision Windows have fused silica, soda lime silica, and sodium borosilicate glass.
If you prefer weather-resistant and hard-type glass, Fused silica glass seems excellent.
Regarding crack-resistant and dimensionally stable glass, Sodium Borosilicate is a better choice.
On the other hand, Milgard Windows are available in 4 glass options: Low-E2, Low-E3, Solar Bronze, and Solar Gray Low-E2 glass is an excellent choice to keep your home comfortable during summer and winter.
Solar Bronze appears to be a top option if you want to decrease solar heat gain.
American Vision Windows has 10% wider flush-glazed glass. As a result, more light and air can get inside your house when it is opened. This will ensure better energy efficiency.
Oppositely, Milgard Windows have A triple seal design to make the window more durable. Also, their windows have an argon and krypton mixture for better insulation.
American Vision Windows offers entry, sliding, and French doors. French doors are a popular choice to create airflow and openness. They ensure increased visibility and light too.
But entry doors appear excellent when you prefer additional privacy without compromising the functionality and beauty of a door.
Contrarily, Milgard has various patio doors such as sliding, in-swing, out-swing, stacking glass walls, bi-fold glass walls, etc.
For instance, French sliding patio doors fit the best if your home has limited floor space. 
If you want to create an attractive mural of the outdoors, Stacking Glass Walls are a great choice.
Apart from windows and doors, American Vision Windows sells coatings and bath-based products. Their eco-friendly and high-quality textured coating is a perfect choice for exterior walls.
Also, the company offers various seats, barres, lockers, faucets, and other bath-based items. Unfortunately, Milgard Windows doesn't sell any products other than doors and windows.
American Vision Windows have NFRC and AAMA certification. This verification implies their products have international standards and are highly energy efficient.
They passed stringent performance tests to ensure the reliability of the products.
Conversely, Milgard Windows have a decent Sound Transmission Class (STC) rating for better sound isolation.
American Vision Windows offers a limited lifetime guarantee for both products and installation services.
On the flip side, Milgard Windows provides A Full Lifetime Warranty for any defect in their materials and workmanship. The manufacturer will replace or repair the product or parts if you don't violate the warranty policy.
Compared to Milgard Windows, American Vision Windows is slightly pricey. But it is worth the price you invest.
The company mainly focuses on providing top-quality products to perform consistently with minimal maintenance. However, some products Milgard might be a little bit more expensive than American Vision.
Which Brand Is Better For Your House?
When it comes to choosing a home improvement brand, we often become confused. Let's make you clearer about each brand. Milgard Windows is not a wrong choice if you want a slightly more affordable option and need only patio doors.
But, American Vision Windows is overall a better choice due to the diversity in windows, doors, and glass options. Plus, the company also offers bath and coating-based products. So, you don't have to rely on several brands and waste your time.
Frequently Asked Questions (FAQ)
What is the best quality window manufacturer?
Champion Windows, Castle Windows, Milgard Windows, Andersen, Marvin Windows, Pella, etc., are a few best window manufacturers.
Are Milgard windows high quality?
For several years, Milgard's vinyl and fiberglass windows were rated top-quality.
Is Milgard windows going out of business?
Milgard windows didn't shut down its business but closed two of its Production Facilities.
What brand of windows does Home Depot use?
JELD-WEN, American Craftsman, and Simonton are the most commonly used brands by Home Depot.
Final Thoughts
Which option seems perfect for you: American Vision Windows or Milgard? Regardless of the choice, make sure it suits your home style and offers the maximum value.
But American Vision Windows is a slightly better choice due to its versatility and better quality assurance. It can match different types of home styles, from traditional to modern.