If you're looking to buy furniture online, chances are you've come across two major players: AllModern and Wayfair. Both companies offer a wide selection of modern, contemporary, and traditional furniture and home decor at affordable prices.
But which one should you choose for your next furniture purchase? Here's an in-depth comparison of AllModern and Wayfair to help you decide.
A Brief Comparison Table
| | | |
| --- | --- | --- |
| Feature | AllModern | Wayfair |
| Product Selection | Around 15,000 items, focused on modern styles | Over 18 million items, all styles |
| Product Quality | Affordable to high-end | Budget to premium |
| Pricing | Competitive pricing with frequent 15-20% off coupons | Low prices with steeper discounts |
| Shipping | Free over $39, 1-2 week delivery | Free over $35, delivery in 3 days possible |
| Assembly | Mostly flat-pack self-assembly | Mostly self-assembly |
| Returns | Free returns within 30 days | Free returns within 30 days |
| Mobile | Optimized mobile site only | iOS and Android apps |
| Customer Service | Quick US-based support | Potentially long phone waits |
| Sustainability | Some eco-friendly and locally produced items | Formal sustainability initiatives |
Overview of AllModern and Wayfair
AllModern and Wayfair are two of the most popular online furniture and home goods retailers.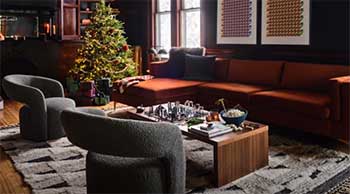 AllModern was founded in 2006 and acquired by Wayfair in 2017.
It specializes in modern, contemporary, mid-century modern, and industrial style furniture and home decor.
AllModern carries its own exclusive lines as well as products from popular brands like Zipcode Design, Langley Street, Wrought Studio, and Mercury Row.
Its inventory includes furniture for every room, lighting, rugs, accents, and more.
Wayfair was founded in 2002 and has grown into one of the largest online furniture sellers. It offers a vast selection of furniture and home goods in styles ranging from modern and contemporary to traditional and rustic.
Wayfair sells furniture from its own exclusive brands as well as over 1,000 third-party brands including popular names like Zipcode Design, Andover Mills, Three Posts, Breakwater Bay, and more. You can shop for furniture, lighting, kitchenware, home improvement items, and much more.
Key Differences Between AllModern And Wayfair Furniture
Both retailers have a focus on affordable pricing, wide selection, and constantly refreshed inventory. Let's look at how they compare on some key factors:
Product Selection and Quality
Both AllModern and Wayfair have an extensive selection of furniture and home decor at every price point. Here's an overview:
AllModern stocks about 15,000 items across all categories. The selection focuses on modern, mid-century, Scandinavian, and industrial styles. You'll find sofas, beds, dressers, desks, dining sets, coffee and accent tables, bar stools and carts, shelving units, lighting, rugs and textiles, accents, and more.
Wayfair has over 18 million products (yes, million!), making it the largest online furniture store. The selection spans modern, contemporary, traditional, rustic, coastal, boho, and eclectic styles. Wayfair carries all the categories mentioned above along with nursery and kids' furniture, outdoor furniture, storage solutions, appliances, sinks, faucets, vacuums, cookware, knives, and virtually every home category imaginable.
When it comes to product quality, both retailers offer furniture across a range of price points from budget-friendly to premium. Here are some notes:
AllModern's everyday quality is decent but affordable. Some furniture may have more composite woods and cheaper hardware. The higher price point specialty lines offer better quality construction and premium materials like solid wood frames, full grain leather, and quality fabrics.
Wayfair has the same range, with budget-friendly furniture that's cheaper made mixed with premium designer collections in solid wood, top grain leather, etc. Focus on customer reviews to assess quality.
Many furniture items are from shared third-party brands carried by both retailers. For comparable products, Wayfair frequently has the lower price.
Shopping Experience and Ease of Use
AllModern and Wayfair aim to make the online furniture shopping process seamless and user-friendly. Here's how the experience compares between the two:
Site navigation – Both sites are easy to navigate with categories clearly listed. Wayfair has a much larger inventory so the selection can feel overwhelming. AllModern's smaller product range makes browsing simpler.
Search and filters – Wayfair provides more filters to refine searches by color, customer rating, furniture type, brand, etc. AllModern has a basic product search.
Product information – Detailed specifications, measurements, materials, care instructions, and customer reviews are provided for most items on both sites. Wayfair has even more customer images.
Recommendations – Wayfair better optimizes its site to provide recommendations of items frequently purchased together or that past customers viewed. AllModern makes some recommendations but not as tailored.
Checkout and order tracking – Checkout and account creation are quick and easy on both sites. Order tracking and customer account management features are equivalent across both.
Return policies – Return timeframes and processes are almost identical. Both offer free returns within 30 days. Wayfair offers an extended 120 day return window for its premium Way Day sales.
Overall, most shoppers find the browsing and purchasing process smooth on both sites. Wayfair's larger product selection means more filtering and scrolling to find the perfect piece. AllModern's tighter curation makes it simpler to shop its inventory.
Pricing and Sales
Affordable pricing and frequent sales and promotions are perks of online furniture shopping. Here's how AllModern and Wayfair compare:
Regular prices – For similar items, Wayfair's everyday prices tend to be lower. AllModern's regular prices are low but Wayfair usually edges them out.
Sales and discounts – Both retailers offer sales and specials throughout the year. Wayfair tends to promote bigger percentage-off discounts, especially during holiday sales.
Coupons and promo codes – It's easy to find AllModern promo codes for 10-15% off or more. Wayfair also provides site-wide coupons but less frequently.
Rewards programs – AllModern Rewards gives 5% back on every purchase plus other perks. Wayfair does not currently have a rewards program.
Closeout deals – Check both sites for deals on discontinued inventory but Wayfair tends to promote these discounts more.
For budget-friendly furniture, Wayfair usually has the lowest regular and sale prices over AllModern. But AllModern runs frequent 15-20% off sales and coupons to help keep pricing competitive.
Delivery, Assembly and Installation

Getting that new sofa or bedroom set delivered quickly and affordably is important. Here are the key differences in each retailer's delivery and installation services:
Delivery fees – Wayfair offers free shipping on almost all orders over $35. AllModern has free shipping on orders above $39.
Delivery timeframes – Standard delivery takes 1-2 weeks on average from both retailers. For an added fee, Wayfair offers quicker delivery in 3 days or less. AllModern has a more limited rushed delivery.
White glove delivery – For a fee, both offer white glove service to bring items inside your home and assemble for you. Wayfair has a larger network of professional installers that can also mount TVs, lighting, etc.
Self-assembly – Almost all furniture from both retailers arrives unassembled in flat boxes for self or paid assembly. Some smaller décor items arrive assembled.
Availability – Inventory moves quickly so order soon if an item says "Low Stock". Wayfair has faster inventory turnover than AllModern.
For the most convenient delivery experience, Wayfair has broader options for fast shipping, white glove services, and in-stock availability. But both make the delivery and returns process competitively seamless.
Customer Service and Support
Having issues with ordering, delivery or returns? Here's how AllModern vs Wayfair compare for customer service support:
Warranties – Both provide some warranty protection on certain products but read the fine print. Wayfair offers a year warranty on unassembled items through its Wayfair Promise program.
Contact options – You can contact AllModern and Wayfair via phone, email, online chat, and social media. Average wait times are slightly lower for AllModern's US-based customer service when contacting by phone.
Return help – For any delivery or return issues, both retailers offer quick help by email or phone. The process is smooth when ordering from either.
Troubleshooting – The sites offer FAQs to help troubleshoot ordering, delivery tracking, returns, and other issues. Wayfair has a more extensive set of DIY help resources.
Feedback – Both retailers encourage reviews on products and service. AllModern appears quicker to address negative feedback directly with customers.
While overall customer satisfaction is strong for both brands, AllModern scores higher for timely personal support, responsiveness to issues, and clarity communicating with shoppers.
Mobile Apps and Accessibility
Apps and mobile sites are crucial for easy furniture browsing and buying on smartphones and tablets. Here are the highlights for each:
Mobile apps – Wayfair has iOS and Android apps optimized for mobile with all site functions. AllModern does not currently offer a mobile app.
Mobile site – Both the AllModern and Wayfair mobile sites are well-designed and user-friendly. Filters and search work great for finding furniture on the go.
Features – On the Wayfair app, you can use photo search to find furniture, save items to an Ideabook, and more. The AllModern mobile site lacks some extra functions present on the full site.
Ease of use – Browsing and buying furniture on smartphones or tablets is quick and convenient through both retailers. The Wayfair app edges the experience up slightly.
Overall accessibility and mobile commerce is excellent with both brands. The availability of iOS and Android apps gives Wayfair a bit more flexibility for furniture shopping on mobile devices.
Social Responsibility and Sustainability
Green and ethical shoppers will appreciate the growing focus on sustainability from both brands: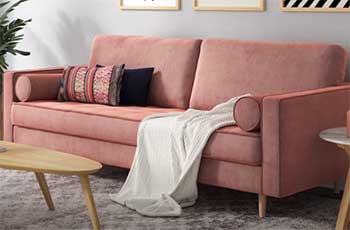 Local production – AllModern highlights artisan made products produced locally in different global regions. Wayfair does not emphasize local production.
Eco-friendly materials – Many items on both sites are made from recycled materials like recycled steel, reclaimed wood, organic cotton, etc. However, neither retailer makes eco-friendly products easy to specifically seek out.
Packaging – Both brands use recycled packaging materials for shipment. Wayfair has a formal sustainability program for greener supply chain and packaging.
Corporate practices – Wayfair publishes an annual sustainability report documenting its eco initiatives. AllModern's owner, Wayfair, produces this report but AllModern does not have its own separate program.
While Wayfair seems to have made sustainability a greater corporate priority, both retailers are making positive efforts to reduce environmental footprints. However, neither makes it simple for the average consumer to choose eco-conscious products from their massive inventories.
Pros and Cons of AllModern And Wayfair Furniture
To summarize the key finding of this comparison:
AllModern Pros
Trendy modern furniture styles with some exclusives
Easy to browse more curated inventory
Good sales and promos with 15-20% off coupons
Responsive US-based customer service
AllModern Cons
Prices not as low as Wayfair
More limited delivery timeframes
No mobile app
Large furniture often backordered
Wayfair Pros
Broadest selection of items for every room
Lowest prices with frequent sales and deals
Wide delivery options and fast shipping available
Helpful mobile app for iOS and Android
Wayfair Cons
Overwhelming selection makes browsing more difficult
Quality inconsistent across huge catalog
Long holds for customer service contacts
Spotty warranty support
Frequently Asked Questions (FAQ)
Is AllModern the same as Wayfair?
AllModern and Wayfair are separate brands but with some corporate connection. AllModern was founded independently in 2006 while Wayfair launched in 2002. In 2017, Wayfair acquired AllModern and made it one of their subsidiary companies. Both retailers continue to operate as distinct entities. AllModern focuses on modern furniture while Wayfair has a much wider scope.
What is better than Wayfair?
Some furniture brands comparable or slightly better than Wayfair include:
Article – Higher-end modern furniture with excellent quality
Joybird – Customizable sofas and sectionals
Burrow – Trendy sofas and modular seating
Castlery – Range of contemporary furnishings
Floyd – Innovative flat-pack furniture
Interior Define – Custom sofas and chairs
Apt2B – Affordable modern pieces for apartment living
These retailers may edge out Wayfair's quality, customization options, or unique styles while still providing competitive value. However, none match Wayfair's endless product selection across all styles and price points.
How come Wayfair is so cheap?
Wayfair is able to offer lower prices than many other furniture stores because:
1. As an ecommerce-only company, they save on overhead costs of operating brick-and-mortar showrooms.
2. Their huge volume of orders provides economies of scale.
3. Customers are responsible for furniture self-assembly to avoid labor expenses.
4. Lower profit margins on budget items bring in web traffic that boosts sales across their catalog.
5. Frequent flash sales and promotions draw buyers and keep inventory moving.
However, sometimes the lower costs come at the expense of quality with some cheaper materials used on certain budget Wayfair furniture models to meet lower price points.
Is AllModern reputable?
Yes, AllModern is a very reputable retailer known for affordable, trendy contemporary furniture. They have been selling online since 2006 with generally positive customer feedback. AllModern is now owned and operated by Wayfair, one of the largest and most recognized online furniture sellers. They stand behind their products with a 30 day return policy. As with any major retailer, some negative reviews occur, but overall AllModern has a trustworthy reputation after more than 15 years in business.
Final Thoughts
For the widest selection at the lowest prices, Wayfair takes the top spot. But AllModern is still an excellent option for more affordable modern furniture styles if you prefer a smaller, curated set of products.
AllModern works best if you know exactly what style you want and prefer simpler mobile browsing. For buyers who like endlessly scrolling to find hidden gems, Wayfair's gigantic inventory offers more potential discoveries.
Whichever retailer you choose, read reviews, check dimensions, clarify warranty policies, and inspect furniture on arrival for the best results. And take advantage of speedy delivery and returns to make your online furniture purchase even more hassle-free.