If you've decided to part with some of your gently used designer furniture, finding the right marketplace to sell these high-end pieces is key. Luxury consignment sites like Chairish and 1stDibs cater specifically to buyers and sellers of premium vintage, antique, and contemporary furniture.
But if you're wondering whether to consign your items on Chairish vs. 1stDibs, there are some important differences to weigh. In this comprehensive guide, we'll compare the pros, cons, fees, audiences, and experiences of selling through each platform.
Let's dive in and determine whether Chairish or 1stDibs is the best fit for you and your furniture.
A Brief Comparison Table
| | | |
| --- | --- | --- |
| Feature | Chairish | 1stDibs |
| Seller Profile | Professional sellers + amateurs | Heavily vetted professionals |
| Furniture Focus | Mid-century & contemporary mix | High-end antique & vintage focus |
| Brands Offered | Contemporary luxury brands | 100+ elite vintage designers |
| Typical Condition | Used/very good condition | Like-new/pristine condition |
| Pricing | Discounted from retail | Full collectors value |
| Commission | 25% seller fee | 50-60% seller fee |
| Shipping | Nationwide flat-rate | White-glove global delivery |
| Buyer Audience | Mass-market luxury shoppers | Ultra high-net-worth collectors |
| Typical Sale Time | 1-3 months | Under 30 days |
Overview of Chairish

Founded in 2014, Chairish has quickly become a go-to online resource for buying and selling pre-owned luxury home furnishings. The site offers a thoughtfully curated selection of designer pieces from top brands.
Here are some quick facts about Chairish:
Specializes in designer furniture, art, and decor. Carefully vets every piece.
Carries both vintage mid-century finds as well as contemporary pieces.
Open to sellers of all backgrounds, from pros to individuals. Provides easy self-service listing.
Provides insured nationwide shipping. Makes selling across the U.S. simple.
Editors review and approve every item listed. Ensures consistently high quality.
Overall, Chairish provides access to an elegantly edited catalog of unique, high-end furniture from past and present. The blend of eras suits various shopper tastes.
Overview of 1stDibs
As a luxury marketplace founded in 2001, 1stDibs also facilitates the sale of exceptional antique, vintage, and contemporary designer furniture. But it has an even tighter focus on ultra high-end pieces.
Here is an overview of what 1stDibs offers: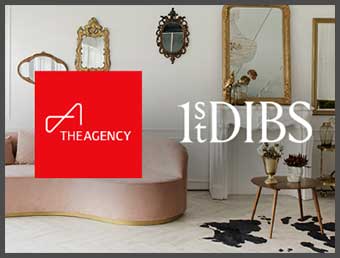 Caters specifically to the top 1% of furniture buyers and sellers. Extremely high-end.
Specializes in rare, museum-quality vintage and antique pieces, as well as new items from luxury brands.
Sellers are vetted professionals, galleries, and traders. No amateur individual sellers allowed.
Provides specialized packing, insured shipping, and white glove delivery on all purchases and sales.
Maintains a network of brick-and-mortar showrooms in major markets around the world.
1stDibs has an unrivaled reputation for facilitating the sale and purchase of investment-grade designer antiques, vetting all sellers thoroughly. The site attracts serious collectors ready to pay top dollar.
Key Differences Between Chairish And 1stDibs
So when it comes to deciding where to sell your used designer furniture, how exactly do Chairish and 1stDibs compare? Here are some of the key contrasts:
Chairish accepts consignments from both professional sellers and individuals cleaning out their homes or upgrading their furniture. 1stDibs only approves professional traders and decorators as sellers.
Easier barrier to entry: Chairish More curation: 1stDibs
Chairish accepts pieces in very good used condition – some wear and tear is fine. 1stDibs demands pristine, like-new condition worthy of a collector.
Allows flaws: Chairish Only perfection: 1stDibs
Chairish allows mid-century vintage as well as contemporary pieces from luxury brands. 1stDibs focuses on investment-quality antiques and vintage items almost exclusively.
Vintage + modern mix: Chairish Heirloom antiques: 1stDibs
While Chairish accepts many high-end furniture brand names, 1stDibs only approves pieces from 100+ elite luxury designers sought after by collectors.
Mainstream luxury: Chairish Ultra-elite: 1stDibs
Chairish takes a 25% commission on sales. 1stDibs commissions range from 50% to 60% of the final selling price.
More profit: Chairish High-touch service: 1stDibs
Chairish attracts mid to high-end shoppers looking for deals on contemporary luxe brands. 1stDibs caters to ultra-wealthy vintage furniture collectors.
Discounted luxury: Chairish Full-price investment: 1stDibs
Selling on Chairish – Pros and Cons
So how does consigning with Chairish compare to selling through 1stDibs? Here are some key pros and cons:
Chairish Pros
Higher seller base – With both trade and amateur sellers, Chairish opens its doors wider than 1stDibs. More opportunity to get your pieces listed.
Lower commission – Chairish takes roughly 25% commission, less than 1stDibs' 50% to 60%. Put more profit in your pocket.
Volume sales opportunities – The site moves a high volume of furniture across various price points. Great for multiple pieces or bundles.
Self-service platform – You can easily list and manage your listings yourself rather than relying fully on a sales team.
Modern focus – With Chairish's blend of new and vintage, it can be easier to sell contemporary pieces. Great for current designer items.
Chairish Cons
Lesser household names – Fewer ultra-elite brands like Rolls Royce or Lalique that attract top collectors.
Buyers expect deals – With amateur sellers listing bargain buys, buyers often expect great deals on Chairish. Discounts expected.
Limited global reach – Chairish's sales are concentrated within the U.S. Not ideal for finding overseas buyers.
Longer selling time – With lower prices and volume sales, pieces often sell in 1-3 months rather than immediately like on 1stDibs.
Curation can be inconsistent – With amateur sellers, not all listed pieces may be sufficiently vetted. Buyer beware.
For the most part, Chairish excels at selling mid-century and contemporary designer furniture affordably and efficiently. Yet it lacks the ultra-high-end prestige and collectors of 1stDibs. But watch this review video before we go any further.
Selling on 1stDibs – Pros and Cons
Alternatively, here are some pros and cons for consigning furniture through 1stDibs:
1stDibs Pros
Ultra elite brands – From Rolls Royce to Cartier, only the top 100 luxury designers make the cut. Serious buyer interest.
Higher prices – With wealthy clientele, pieces sell for higher prices, often at auction value. Higher profit margin for sellers.
Immediate sales – Most inventory sells within just 30 days or less. Fast turnaround.
Global audience – Buyers from over 160 countries ensures a broad international buyer base.
White glove service – End-to-end logistics handled for you takes the hassle out of selling.
1stDibs Cons
Limited seller pool – Getting approved as a seller can be a challenge. Tough for casual sellers to get listings.
Very high commissions – With commissions from 50% to 60%, your profit margin is reduced.
Vintage focus – Not ideal for modern pieces. The sweet spot is museum-quality antiques.
Hands-off sales – Your pieces are fully marketed and sold by 1stDibs' teams. You rely on their efforts.
High expectations – With high prices comes picky buyers. Pieces must be pristine quality.
For the highest tier of collectible designer furniture, 1stDibs provides unparalleled exposure and service. Yet the vintage focus and high commissions make it prohibitive for some.
Frequently Asked Questions (FAQ)
Still unsure which platform fits your furniture selling needs? Here are answers to some common questions:
What percentage does Chairish take from sellers?
Chairish charges a 25% selling commission on completed sales. Lower than 1stDibs' 50-60% range.
Is it hard to sell furniture on Chairish?
With quick approvals and support for amateur sellers listing everything from bargains to premium pieces, Chairish makes selling very accessible. Easier than 1stDibs.
What are alternatives to 1stDibs for selling high-end furniture?
Chairish focuses on mid-century and contemporary at lower price points. Auction houses like Sotheby's and Christie's also offer high-end furniture auctions.
Can you negotiate prices on 1stDibs?
1stDibs prices are set by the seller. However, buyers can still make offers and negotiate discounts on listed prices.
Final Takeaway
In summary, Chairish is the better marketplace for high-volume sales of contemporary and eclectic mid-century luxury furniture at approachable price points.
Meanwhile, 1stDibs offers unparalleled access to serious collectors who pay top dollar for pristine vintage and antique treasures. But the high commissions and strict quality requirements limit the seller pool.
So consider the furniture you're looking to sell, your profit goals, and your willingness to invest time in listings. Analyze both options to decide whether Chairish or 1stDibs is the best sales channel.
Whichever high-end consignment site you pick, take comfort that your beloved pieces will find new life and appreciation from buyers who share your eye for exquisite design.