Adhesives are mainly used in metallic or non-metallic surfaces to keep them together. The most common use of adhesive is on the wood surface.
It helps to shape the furniture and make them strong for our daily use. We also use it on PVC, hybrid aluminum, or fiberglass.
2p-10 is one of the most popular adhesives in the market. But it has some great alternatives that you can consider for your project. In this article, we will discuss these alternatives as well as their pros and cons.
2p-10 Substitutes For Stronger Bond
2p-10 adhesive is well known for its super-fast and strong bonding features. There are several types of 2p-10 adhesive available and each one has different features.
If you get confused about which one is the perfect fit for your work, or you can't find the preferable one in your nearest store, you can look for its alternative options.
Now let's talk about these in detail –
Loctite® Vinyl, Fabric & Plastic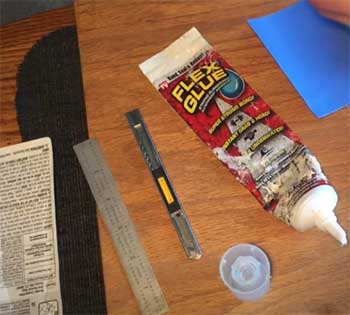 If you want adhesive to joint vinyl or plastic surfaces, this one is for you.
It is waterproof and mends rips and tears just in 10 minutes.
It also works perfectly on fabric, rubber, and leather surfaces.
It has different sizes so that you can choose the right one according to your need.
However, it has some disadvantages also. It takes 24 hours to be fully cured.
So, if you want something for a quick fix, you should skip this option.
You must've heard this name at least once in your lifetime. It is one of the most common names in the arena of adhesive or glue.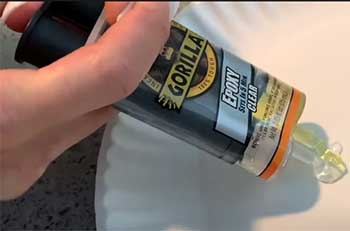 Gorilla Epoxy adhesive is extraordinarily strong and long-lasting for both home and vehicle repairs. It is a superior solvent and water resistant.
The simple-to-use syringe keeps the hardener and epoxy resin apart for convenient dispensing.
Steel, aluminum, glass, wood, ceramic, tile, and most polymers can be joined with ease using the two-part, gap-filling solution.
Additionally, it dries to a perfect, clear finish that gives projects a clean appearance.
But you will have to do more work to use it because the hardener needs to be mixed with the epoxy resin. Another disadvantage is that you cannot use this glue for working on a large surface.
Starbond Premium has all the types of glue that you might need for your project. The variety of products is made them unique from the other adhesive companies.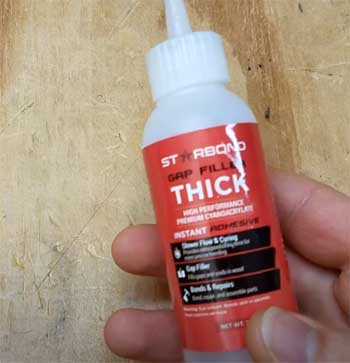 They claim that their recipe yields superglues that are more resilient, robust, and less fragile.
Moreover, they produce glues on a monthly basis and can guarantee that the glues they sell to their customers are always at their freshest.
Because of that reputation, their product pricing is a bit higher than the other options.
However, with this adhesive, you will get value for money as it only takes a few drops to join the surfaces perfectly.
It is also waterproof and creates a really strong bond. You can use this even on jewelry.
The only disadvantage of this product is that it is thicker than other adhesives, which makes it hard to apply on rough surfaces.
DIY lovers must've waited for this alternative to see in this article. Yes, you can also make your own DIY glue. All you need is Styrofoam and acetone/gasoline for this.
Take these two things into a pot and mix them properly. Voila! You get your DIY glue just in a minute.
Is 2p-10 Adhesive Worth It?
2p-10 is a good product as it has some impressive features and specifications. It comes with various models for different types of work. 2p-10 thin, medium and thick; these three are the most popular types of 2p-10 adhesive.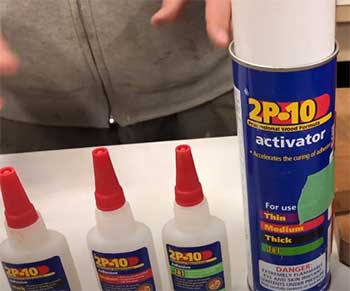 2p-10 thin is used for repairing micro-cracks and will not work on a large surface.
To work on a large crack or area, you should use 2p-10 medium or thick. You will also need an activator for this.
Apply the activator on one side and the adhesive on the other side before joining the two sides together.
Considering the durability, waterproofing, strength, and working speed – this 2p-10 adhesive is a good choice and worth it.
But as it also needs an activator to stick, you might not like it when you are in a rush.
Another negative comment that is found from the customer review is that it does not work well on the glass.
So, the summery can be 2p-10 adhesive is an excellent product and worth it unless you are not in a hurry and do not want to work with glass surfaces.
Frequently Asked Question (FAQ)
Below are a few frequently asked questions that might be bugging you too.
How do you get rid of 2P-10?
You can easily get rid of 2p-10 with the help of a scraper. But before using the scraper, test it on a small portion of the surface to see if it does any harm to the surface or not. If everything looks fine, you can start scraping the whole area and get rid of 2p-10.
What is the fastest sticking glue?
Professionals say that Stick Fast Cyanoacrylate Adhesive is the fastest sticking glue. It is a powerful, quickly setting, clear glue that adheres to a variety of materials, including metal, wood, glass, ceramic, and tiles. There are three viscosity choices to satisfy your needs: Medium, Thick, and Thin.
Is 2P-10 waterproof?
Yes, 2p-10 adhesive is waterproof. However, you should keep away from it until it is completely dry. Otherwise, it will not bond properly.
Can you use 2P-10 plastic?
Yes, you can use 2p-10 on plastic and other plastic-like material such as PVC.
Final Words
People usually go for the adhesive that is 'strongest' while making their selection. However, not all applications need the strongest adhesive. For example, you might need to move the surface while the adhesive is wet.  
Different projects need different types of adhesives, and that's why you can not only rely on one brand. Analyze the characteristics of your project and then decide whether you can work with 2p-10 adhesive or you need some other 2p-10 alternative.