Looking forward to giving your lawn a beautiful makeover with Zoysia turf grass? 
If so, you must consider Zeon and Palisades grasses as they're the best. You might think about which one you should choose, right? 
Well, this comparison guide will help a lot to find out. 
Among many other differences, Zenon Zoysia has a medium green color. But Palisades Zoysia has dark green color. Besides, Zenon's mowing height can get as low as 3/8 inches, whereas Palisades' mowing height is 1 to 3 inches. 
Choosing the right turfgrass from the two best options requires comprehensive knowledge of both of them. Let's check out their differences. 
A Quick Comparison Table 
Here is a quick comparison table between Zeon and Palisades Zoysia grass: 
| | | |
| --- | --- | --- |
| Aspects | Zeon Zoysia | Palisades Zoysia |
| Grass Type | Extremely Adaptive Zoysia Grass | High Growth Zoysia Grass |
| Special Feature | greens up early in the spring and stays late | highly dense turfgrass |
| Benefits | Offers More Benefits | Offers Fewer Benefits |
| Watering | 1 Inch Per Week | 3-4 Inches Per Week |
| Mowing Size | 1 to 1½ Inches | 1 to 2 Inches |
| Insect & Disease Control | Excellent | Medium |
In-Depth Comparisons Between Zeon And Palisades Zoysia Grass 
Now that you have drawn some quick knowledge from the above comparison table, it will be farther easier for you when we get into details. You can quickly relate to them now. 
Here are some comprehensive key differences between Zeon and Palisades Zoysia grass: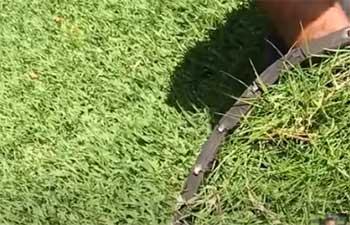 Zenon and Palisades are both Zoysia grass, including all the characteristics.
But even so, there are many differences between them. Let's explore them. 
Zenon Zoysia sod is highly adaptive to hot and cold weather. It not only tolerates but also thrives in the heat of the south and the cold of the north. 
The most exciting fact about this grass is that it was used on the golf course of the 2016 Brazil Olympics. 
So, you can boast of having Olympic grass on your lawn. 
On the contrary, people call Palisades Zoysia a friendly grass because of its impressive growth rate in any given weather condition. It is a medium to coarse textured turfgrass known for low water consumption and shade tolerance. 
Being a similar breed, you will find many identical features between these two types of grass. We will see some key features to understand which one is better. 
You will get exceptional shade & drought tolerance from Zenon Zoysia grass. With a medium green color, it appeals to extraordinary visuals. It greens up early in the spring and stays late. 
Besides, the grass features firm root and rhizome production. You will be amazed by its fine-blade vertical leaf posture. 
On the other hand, Palisades Zoysia is a highly dense turfgrass that will make your home lawn look more attractive. It's a shade-tolerant and low-maintenance grass that has coarse-textured turf. 
Besides, this grass can also tolerate salt and drought. Plus, it reproduces quickly, even in harsh weather.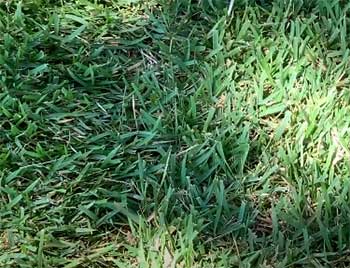 As a next-generation Zoysia grass, Zeno presents itself as a fine-textured turf with a lot of tolerance.
You can plant it in a shady area; it will grow and become thick. 
It comes with excellent adaptability and thrives in extreme hot and cold weather.
Besides, you won't have to invest many human resources and money in maintaining this grass. 
Similarly, Palisades Zoysia has excellent cold, heat, drought, shade tolerance, and wear resistance. It overgrows and becomes thick in a short period. Plus, it can tolerate a high volume of foot traffic. 
It requires low light and low maintenance but makes your lawn look more attractive. 
As we already know, both Zoysia types of grass are low maintenance and require less water to grow. However, Zenon only requires 1 inch of water per week. 
Conversely, Palisades requires 3 inches of water for the first couple of weeks. Later you can reduce the amount of water. You will need 3 to 4 inches of water for sandy soil. 
When your Zenon grass sets up on your lawn, you will have to mow it every 7 to 10 days. You should maintain a 1-inch to 1½ inches height for a better looking. 
But never trim more than 1/3 inches leaf off at one mowing. 
In contrast, Palisades requires mowing every 7 days after being established on the lawn. A mowing height of 1½ inches to 2 inches will look optimum. You can use a rotary mower to cut this grass. 
Disease & Insect Tolerance 
Zeon grass is remarkably tolerant to most common lawn insects and pests like Grubs and Billbugs. WThe proper preventive measures can also resist Armyworms in newly set sods. 
If you manage water and fertility, the disease won't be a problem for Zeon grass. You can use organic compost and spring compost topdressing once a year to minimize illness. 
Palisades also has a pretty good reputation for disease and insect control. With proper care and maintenance, you won't have to worry about them at 
Roughly, a 450 square feet of Zeon Zoysia pallet will cost $315. On the other hand, the same size pallet of Palisades Zoysia will cost $295. So, Zeon is an expensive grass than Palisades. 
To learn more about their differences, watch this video!
Which Grass Is Best For You? 
I have presented all the necessary aspects of these grasses. Now it shouldn't be challenging anymore to choose the right one. 
Which grass you should select is your discretion, but I would tell you to go for Zeon Zoysia if you ask me. 
It has a medium green color, so your lawn won't look dark. Besides, it has an excellent tolerant level and adaptability in many ways. 
You will require very low maintenance as this grass can protect itself excellently from insects and diseases with minimum care. 
Frequently Asked Question (FAQ) 
What type of Zoysia is best?
There are many Zoysia types of grass available for residential and commercial use. But Geo Zoysia, Zeon Zoysia, etc., are some of the best grass with superior tolerance and adaptability. 
Is Zeon Zoysia the best?
Zeon Zoysia is an Olympic quality grass because it had been used in the Olympics golf course. Among many Zoysia grass, it has the highest insect and disease tolerance and doesn't need a lot of maintenance. 
Which is better Zeon or Zenith Zoysia?
Zeon Zoysia has better temperature tolerance than Zenith Zoysia. It can tolerate heat and cold very well. 
But most importantly, it becomes green very fast in the spring and slowly turns brown in the winter. 
What is the most shade tolerant Zoysia grass?
Among many Zoysia grass, Zeon Zoysia is the most shade tolerant. It can withstand full sun and shade. 
This excellent grass can survive with 4 hours of direct sunlight. Besides, you have to provide 1-inch of water per week. 
Final Thoughts 
Grass can make your lawn look more attractive. It can also turn your property into a professional-looking golf course. 
So, choosing the right grass sod is more than essential; it's necessary. 
I'm happy that you could find the best Zoysia grass from my Zeon vs. Palisades Zoysia article. All you have to do is, purchase the grass and put it on your lawn.