Are you planning forward to scale up your surface protection game? 
Let me take a wild guess; you need a protection board for paint and remodeling. So why don't you read my X-Board vs. RAM board reviews? It will give you proper insight. 
Frankly speaking, both of them are high-performing protection boards. But you need only one: the best of the bests. In this article, you'll know the differences between X-Board and RAM board. 
You will be able to draw the differentiation between them and make your decision. Stick with me here, and I'll show you how. 
A Quick Comparison Table 
A comparison table is particularly helpful for understanding the differences before diving deeper. You can come up with a decision if you do not have enough time to go thoroughly.
Make no mistake, both X-Board and RAM board can deliver excellent performance. They have a reputation for doing what they are supposed to do. But some fundamental differences make them set apart. 
Here we will look into that. 
Here's a quick comparison between X-Board and RAM board:
| | | |
| --- | --- | --- |
| Aspects | X-Board | RAM Board |
| Material | Paper Board | Solid Paper |
| Variants | 1 | 3 |
| Special Feature | Liquid Repellent and floor Protection | Exclusive Wall Guard Feature |
| Benefits | 2.5X Thicker Than Builder's Paper | 4.5X Thicker Than Builder's Paper |
| Usage | Floor | Floor and Wall |
| Available Sizes | 2 | 1 |
| Availability | Widely Available | Widely Available |
Key Differences Between X-Board And RAM Board 
You have a basic idea of how each of these boards differs from one another. But it's not nearly enough for making a decision. You need more information about that. 
Here, I will give you an in-depth comparison between the two boards. 
X-Board offers heavy-duty floor protection. This lightweight and reusable board will endure the whole duration of your paint and remodeling project. 
Plus, you can use it on various types of flooring. 
RAM board, a floor protection staple, offers an excellent safeguard covering the whole duration of your project. Having superior features, it can protect any surface of your job site. 
Here are some key differences between X-Board and RAM Board: 
Trimaco, a manufacturer of surface protectors, flooring paper, and dust containment accessories, produces X-Boards. It is made from brown color paper boards to provide heavy-duty surface protection. 
Similarly, RAM board is also produced from brown color solid paper. Another famous job site protection gear manufacturer, RAM Board, produces this board. 
Trimaco produces only one variant of its job site floor protection board, the X-Board. But in contrast, the RAM board is available in three different variants. 
RAM Board, RAM Board Plus, and RAM Board Home Edition are the three variants. All these variants offer heavy-duty floor protection, but they have some differences between them. 
Both X-Board and RAM boards are packed with superior features allowing them to protect various surfaces in paint and remodeling job sites. 
Trimaco X-Board features durable and long-lasting temporary floor protection. The Spill Block technology prevents water, paint, and mud from penetrating. 
Because it is breathable, it continues curing your surfaces. 
Moreover, this liquid repellent floor protection board works even better when coupled with X-Board Seam Tape. 
On the contrary, the RAM board is 4.5 times thicker than the builder's paper. As a result, it is thicker than X-Board as well. Pairing with Spill Guard technology, it offers liquid resistance performance that you won't find elsewhere. 
In addition, it is packed with Vapor-Cure technology, Flex-Fiber technology, and an exclusive Wall Guard feature ensuring tight protection against any floor and wall. 
Simply put, X-Board is easy to use and lays flat on floors. With 2.5 times more thickness than regular builder's papers, this board can resist any amount of liquid for any amount of time. 
Most importantly, you can recycle them and reuse them on other job sites depending on the substances that come into contact. 
Similarly, the RAM board also lays out fast, but it is a non-staining board. So you can easily reuse and recycle them for other job sites when finished dealing with the current one. 
You can use this thick board for any DIY projects requiring surface protection. It is particularly suitable for lighter applications. 
X-Board and RAM board are designed mainly for paint and remodeling jobs. With their thick engineered layers, you can protect your floors and walls from paint, mud, and water while painting and remodeling your home.  
A breathable membrane allows X-Board continuous cure. With recycling ability, you can use this board on many types of flooring such as tile, wood floors, vinyl, and more. This floor protection board will last your whole project time. 
In contrast, you can use RAM board recyclable surface protection on wood, finished concrete, stone, marble, terrazzo, tile, ceramic, linoleum, VCT, and epoxy floors.
X-Board is available in 2 sizes. A 35 inch by 50 feet covering up to 145 square feet and a 35 inch by 100 feet covering 291 square feet. 
On the other hand, you will get only one size for the RAM board: 36 inches by 50 feet, covering 150 square feet. It comes with 9 rolls per box. 
X-Board is available to purchase from Trimaco's dealers, distributors, online marketplace, and home improvement stores. You will find it in North America, Europe, and Australia. 
RAM board is also widely available through dealers, online stores, home improvement stores, etc. 
Which Floor Protection Board Is Best For You?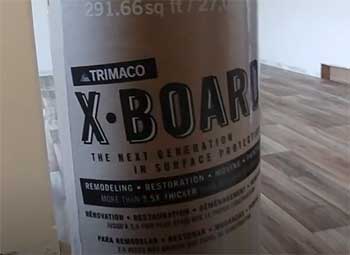 Now that you know the differences between X-Board and RAM board in detail, I'm sure you're pretty sure which one you are going to pick.
Let me help if you are still baffled. RAM board is better than X-Board, and you should pick that. 
You can choose from three different variants based on your project. Besides, it is thicker than its counterpart and comes with better features. 
Most importantly, it works on both floors and walls, and you can work with this heavy-duty floor protection board of your own. Watch this video to learn how to use it.
Frequently Asked Question (FAQ) 
Is X board the same as RAM board?
X-Board and RAM board are floor protection paper boards used on paint and remodeling job sites. RAM board is thicker than X-Board and comes with more features. 
What is RAM board used for?
RAM Board is a temporary floor protection board used by painting and remodeling contractors. They are a cheaper option to protect your floors during the project life. 
Can you paint RAM board?
RAM Board is a cheap and reliable option for superior floor protection. You cannot paint over it because of the non-staining feature it is designed with. 
Is RAM board reusable?
RAM board is recyclable and reusable. You can use it on multiple projects before it becomes completely unusable. Its non-staining technology does not allow stains and paints over it. 
Final Thoughts 
Keeping the floors and walls protected while a painting or a remodeling project is quite a challenge. One mistake can send your floors in a condition you cannot return from. 
That's why my X-Board vs. RAM board review is important if you are planning such a project. 
Now that you know which one comes with better features and offers better protection—no chance you will fail your floors and walls. Now go out and do it.