Are you looking for a suitable work boot?
Then you must have come across different work boots by now and getting to know all of those can be overwhelming and there will be more chances of picking up the wrong one.
Here, this blog post intends to let you know about a few work boot brands to avoid helping you out with this unwanted dilemma.
I hope you will find this blog post helpful. So, without any further ado, let's get started with the blog post.
Top 6 Work Boot Brands Not to Consider
While looking for a work boot, initially if you can sort out the worst boot brands, then the buying process would become much easier for you.
Here are some boot brands that you can avoid while getting a work boot due to some factors.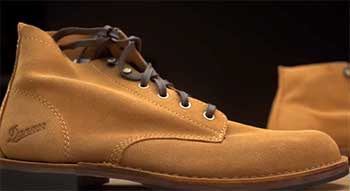 Danner work boots are made in the USA, and it is a very well-known footwear company. The company is in operation since the year 1932.
The materials of Danner are high quality, there is no doubt, but still, there are some mixed reviews from the users of the work boots of this brand.
There are some common observations among the users though it works well initially, after a few months it starts wearing off. For a customer, after 6 months the heel of the boot tore and exposed the cracked plastic support of the boot. This heel can cut your feet and thus make the boot unwearable.
Having a warranty from the Danner for 6 months only, the customer could not get a refund or change his faulty boots. Apart from that, the boot was initially very much comfortable.
Another common problem for the Danner work boot is the leakage of dirt and water in the toe area after using it for several months. It is quite common to the users, hence so many of them decided not to purchase boots from this brand later.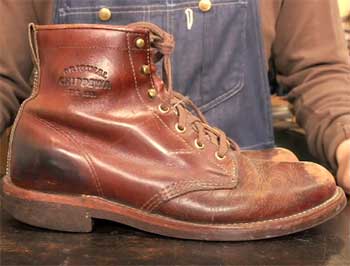 If you search for this boot in the market, there is a chance that you might not find it now as the production was discontinued.
But before, this brand had a solid customer base, especially those who are into leather boots.
But even then, there were certain complaints about this particular brand of boots regarding its grip.
The boot often slips, especially during the winter when the whole area is covered with snow. In this particular season, having this boot could be a nightmare for some users and may cause some unwanted injuries.
After regularly using the boot, the user may feel pain in the heel, this is another drawback of this boot. This is quite common due to the design of the boot. But if you are used to wearing boots with a dropped design which is the difference in height between the heel and ball of the sole, then you should be just fine.
You would find plenty of negative reviews about Justin Boots. Firstly, the boot is really expensive to purchase compared to some high-quality boots.
While paying a fortune for the product, it may serve you for several weeks and then wear off, which is really disappointing to some customers. Customer support is also very poor, which made the customers even more dissatisfied in the past. So, I would highly recommend not going for it.
It is a budget brand, so you expect to get it at a cheaper rate at Walmart and other such retailers. As it is not expensive, the production quality and the material quality are compromised here. So, you will not get enough support and safety from this boot as it is very poorly made.
Having these boots on at work may expose you to some risks. Moreover, the manufacturer takes the return of the product up to 60 days, undoubtedly it is another significant drawback of this brand.
In the construction industry, caterpillar is a very well-known brand. But so many workers have raised a question about the quality of these boots so far.
These workers have found these boots uncomfortable and very difficult to break in. Moreover, the soles of the boots wear down really quickly. Also, the boot is not waterproof, and it can be a real hassle for some workers.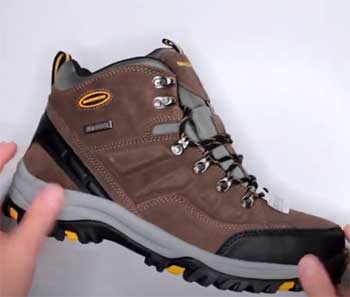 The work boot line from the famous brand Skechers is not very popular among users for so many reasons.
It is considered to be of low quality and offers less durability to customers.
Some have complained they had pain in the toes while wearing it.
The boot falls apart really quickly and is not at all suitable for heavy-duty work.
So, these are some work boots brands that you can ignore while getting a work boot for yourself. I am sure by having proper market research you will be able to manage a suitable one for yourself.
What Should Be Your Top Priority In A Best Work Boot Brand?
It is not an easy task to select a suitable work boot among so many brands in the market. So, focusing on some attributes can make the job a lot easier. The following attributes should be your primary focus while purchasing a work boot brand.
Look for a brand that has gained enough positive reviews and trust from its existing customers by providing quality boots. You can check the reviews and ask your colleagues about a particular brand to verify the quality of the boots.
The boot has to be a perfect fit for your feet, otherwise, just the quality of the boot may not be able to serve you well. So, when you are purchasing a boot from a showroom, go for a trial just to be sure. For online purchases, make sure there is an option for return in case the boot does not fit.
Safety is the top priority when purchasing a work boot. Slip-resistant soles, electric hazard protection, water resistance, etc. need to be there in the boots.
After checking the fit, you need to make sure that you are feeling comfortable with the boots. It takes time to understand if you are comfortable in a particular boot.
When you decide to purchase a work boot, you intend to use it for a long time. Hence, it should be more like an investment to you, so you do not mind spending some more money to get a durable boot. Make sure the brand offers that durability to your boot.
These aspects need to be your top priority when picking the best work boot brand.
Frequently Asked Questions (FAQ)
What is the best brand for working boots?
Wesco, Red Wing, Thorogood, Nicks, KEEN, etc. are some of the best brands for working boots.
What are the top of the line work boots?
KEEN, Georgia Boot, Carhartt Boot, Carolina Boot, Thorogood, etc. are the top of the line work boots in the market.
What to look for when buying work boots?
There are several factors like comfort, durability, safety, brand reputation, fit, and so on to look for when buying work boots.
What are the best work boots for standing all day?
Timberland, KEEN, Red Wing, Reebok, WOLVERINE, etc. are some of the best work boots for standing all day.
Wrapping Things Up
Knowing which work boot brands to avoid will make your boot-picking process a lot more straightforward. However, while picking a suitable boot, it is important to consider various factors before selecting the best work boot brand for yourself.
You need to make sure that the boots you buy are comfortable, durable, and offers safety features such as slip-resistant sole, electric hazard protection, and water resistance. Along with that, it is critical to check the brand reputation and customer reviews before making a purchase.
Having these tips in mind, you can easily find the perfect work boot for yourself. Cheers!