Not just the features, but even from the look, you can easily judge the difference between these two devices from Woojer.
The Strap 3 is like a belt with fewer features, whereas the Vest 3 is like a jacket offering an excellent haptic experience and better music performance than the Strap 3.
Strap 3 from Woojer comes only with one Transducer, which feels great according to some users. But some have already converted to Vest 3 because of its advanced music technology that comes with the six powerful transducers.
There is also a difference between the prices of these devices as Strap comes at a lower price which shows affordability. But since the Vest 3 is something new, it costs more bucks.
Both are great devices, yet, you may want to know the reasonable differences between these!
A Brief Comparison Table
| | | |
| --- | --- | --- |
| Essential Features | Woojer Strap 3 | Woojer Vest 3 |
| Power | It comes with only one powerful, patented Osci™TRX2 Transducer | It comes with Six powerful, patented Osci™ TRX2 transducer, which is more powerful |
| Weight and Portability | More portable with just 240 g weight | Less portable with a 1.5kg weight |
| Pricing | Costs up to $179 bucks | Costs up to $500 bucks |
| Recommendations from users or music lovers | Standard | Higher |
| Battery level | Up to 8 hours of running time | Up to 8 hours of battery time |
| Form Factor | It's like a belt | It's like a jacket |
| Mobile Controlling? | Only the colors on the belt can be controlled through a mobile app | With this, you can control the whole system with a mobile app |
| Comfort with each | Comfortable while standing, sitting, or in any position | It may feel stiffer while sitting, but good to use when you are standing |
Key Differences Between Between Woojer Strap 3 And Vest 3 Audio Systems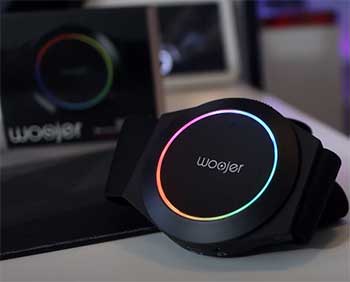 One significant and most transparent difference between these two devices is their power in music, gaming, or listening to it.
Comparing both on the power level, the Vest 3 is the latest and most upgraded system with 6 unique and powerful transducers to give you the feel of music you deserve.
At the same time, the Strap 3 is the older model with only one Transducer.
It means Strap 3 cannot match the level of performance the Vest provides to those music lovers or gamers. Indeed, Vest is more powerful and built rigidly than a Strap by all means.
Woojer declares both products the portable and easy to carry. But your experience could be different when comparing both their weight and portability.
The Strap 3 comes with only 240 grams weight which is more portable and carries less weight around your body.
But when you are wearing Vest 3 around the body, it will be coming with 1.5kgs weight which is less portable.
Some people are uncomfortable with this model just because it is heavier than Strap!
There is a prominent difference between the prices of both audio setups. The Strap is more affordable and costs you only $180 bucks.
It's easy to get for those entry-level gamers or those who don't want to enjoy music at the most haptic level.
However, Vest costs you around $500, meaning it can only be afforded by pro gamers or people who love to listen at the most premium settings.
Therefore, Woojer has made a difference for everyone out there!
Recommendations from users or music lovers
Since Vest is a new edition to the Woojer Products, I've seen it more liked and recommended by music lovers.
Therefore, it has more reviews, and people like it over the Strap. That's because of its unbeatable level of haptic gaming and listening to your favorite songs.
All things considered, Vest is a great product and exactly worth the money!
Even if the Vest 3 is a newer product from Woojer, they didn't add a difference between the battery level of both audio systems.
When you compare them at the battery level, you can find that Vest 3 and Strap 3 offer the same level of work, approximately 8 hours of battery life on a single charge.
And I think it is great!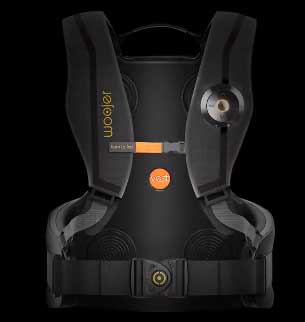 From the look and feel, it can be seen that both have different form factors.
The Strap three looks like a belt that you can wear around your body. It won't cover much space on your body.
But the Vest is just like a live jacket. It covers almost your entire body and has straps over the shoulders.
So, this is another difference between the appearance of these devices.
Both devices offer the mobile controlling feature. But with Strap, you can only control the light colors.
In contrast, the Vest provides you with complete control of the device.
One can easily figure out the comfort level between both setups. When you start working or using either, you can feel there won't be many problems with Strap.
However, you may feel slightly uncomfortable wearing the Vest and sitting on a couch or sofa. It is better when you use Vest while standing!
Which One Should You Get?
I'd love to recommend the Vest 3 as it is the best in every feature. However, you may have to spend a little more money.
But the more affordable Strap cannot beat the haptic level of the Vest. That's why you should give the Vest a try. Here is also why.
Frequently Asked Questions (FAQ)
Is Woojer Vest Edge Worth It?
It's worth the cost as it's a great product for all gamers and music lovers.
Is The Woojer Strap Worth It For Music?
The product is a great consideration at a very reasonable price for those who don't like to listen daily.
What Can I Use Instead Of A Woojer Vest?
If you don't want to go for the Vest, you can use the Strap or consider other products available at Woojer or similar brands.
Is The Woojer Strap Safe?
Yes, it is completely safe without any imperfections!
Wrapping Up
Vest 3 is remarkably a greater product to consider, even if you have the pay a few more bucks. It is solid, rigid, and made to last, giving you the best music experience you deserve.
Therefore, the winner is always the Vest when comparing Woojer Strap and Vest.
However, if you are new to the brand and want to check the quality, you must spend on an entry-level setup, Strap. Get it, and let me know how you are killing with it!