Buying a wood chipper for your extensive wood chipping purposes could be difficult when you are in the market. Currently, the WoodMaxx and Woodland Mills Chipper have a lot of discussions between people to find out which chipper is worth considering.
Woodland Mills are always better than WoodMaxx because they are USA-made and have faster delivery services. In their product catalog, you won't find many Chippers at WoodMaxx, and their delivery services aren't much appreciated.
On top of that, Woodland Mills Chipper comes with stronger belts than the second option.
A Brief Comparison Table
| | | |
| --- | --- | --- |
| Credentials | WoodMaxx Chippers | Woodland Mills Chipper |
| About Brands or Companies | An army infantry veteran working from 2008 building and selling multiple products | A company of some high quality and affordable forestry equipment in the line of business from 2009 |
| Variety of Chippers Available at each brand | A total of 10 chipper options are available | Only 3 options are available |
| Comparable Models | WOODMAXX MX-8600 | WC88 8″ PTO Wood Chipper |
| Designed For Tractors with Hp | 50+ Hp | operates on tractors with 35-100+ HP |
| Hydraulic Infeed System | 8″ Diameter Infeed Roller | 8.25" (21cm) diameter infeed roller |
| Flywheel Details | flywheel, paired with specific engineering components, delivers 120 lbs. | Having 4 wheels with a spin speed of 1100RPM |
| Infeed Opening | 8×6 | 8×8 |
| Cost determination | Expensive Unit | Cheaper Unit |
Crucial Differences Between The WoodMaxx and Woodland Mills Chipper
We have selected two similar capacity models of a chipper from each brand. We'll see how they vary through the following points.
About Brands or Companies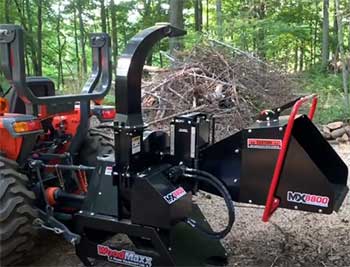 Let's give you a general idea about each brand to determine its product worth.
Talking about the WoodMaxx, it's a bit older than WLM.
The company came into being in 2008 from a military farm and started building various products for the field.
They have a comprehensive collection of Chipper machines with different features and sizes.
Compared to this, Woodland Mills presented its first product in 2009, one year after the WoodMaxx had already developed.
This company comes with a minimal range of products. They have a less variety of Chippers.
But in quality, durability, and customer satisfaction, the latter ranks larger.
Variety Of Chippers Available At Each Brand
A customer shouldn't be availed of limited products. Except, he must have a comprehensive option to choose from.
The same is the case with the Chippers available at WoodMaxx. They offer you up to 10 products with different sizes, pricing, features, and form factors.
Some of them are also operated on Gas and work elegantly wherever you need them. And others work with the help of a tractor.
However, at Woodland Mills, you will find only three chippers in different sizes. There are no chippers operating on Gas available at this brand because all of them will be working with the power of a tractor.
It becomes pretty easy to compare two brands when you compare the features of their two high-end products.
In that case, I have chosen the WOODMAXX MX-8600 chipper and WC88 8″ PTO Wood Chipper.
Both chippers come at the relatively same price and most similar features. But there are still differences to consider.
Designed For Tractors with Hp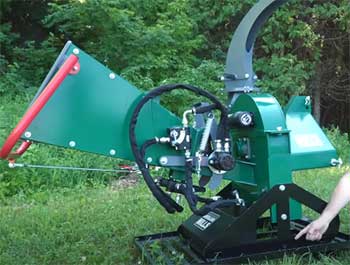 When you are talking about the MX 8600, this machine needs a tractor of more than 50+ hp to help it run.
Because only then would you be able to chop off those woods and create that raw material.
However, if you have a tractor lower than this Horse Power, the machine may not work with it or may find itself struggling.
In contrast, the WC88 8″ PTO can efficiently run with tractors having 30-100+ horsepower.
It means even if your tractor has a horsepower of 31hp, it will best fit this PTO chipper and make it work according to your demands.
Compared to MX 8600, the WC PTO Chipper has a more extensive infeed system. It allows more space to insert wood into the machine opening and pass through wider blades.
This size comes with 8.25 in diameter, a little wider than the eight diameters of the chipper. In that case, you can always make a difference between both chippers.
Both chippers have different Flywheel details to count. Where the PTO Chipper Flywheel runs at the speed of 1100RPm, the other one gives you a total of 120 Lbs.
At the same time, the Flywheel of PTO gives a direct drive of 200Lbs. It means the flywheel specifications are also enhanced with the Woodland Mills chippers.
When there is an enormous mouth on a specific chipper, it will increase your working speed. In that case, this model from Woodland mills has a broader opening of 8×8.
But if you go with the WoodMaxx chipper, the infeed opening will be eight by six, less in size than the former model.
Seeing both models from both brands, you will have to spend 100 bucks more if you'd go with the WoodMaxx. However, if you'd go with the Woodland Mills Chipper model, it will be less expensive.
Which Woodland Mills Chipper Is Better For You?
Comparing both, I would go for the Woodland Chipper because these machines are comparatively affordable and make the fastest delivery to your house.
Moreover, the machines are with additional features. But one can also choose WoodMaxx as it is not a wrong brand towards quality.
It might be difficult for you to consider this brand because of its high price and low delivery service.
Frequently Asked Questions (FAQ)
Where Are WoodMaxx Wood Chippers Made?
These chippers are made in the USA.
Where Are Woodland Mills Chippers Made?
The Woodland Mills Chipper is made in China.
How Fast Does A Wood Chipper Spin?
A chipper can spin up to 1000 to 2000 RPM.
What Is A PTO Wood Chipper?
A PTO-Powered Wood Chipper is excellent for immediately converting fallen logs and branches into mulch.
Final Wording
It could be hard to choose between WoodMaxx and Woodland Mills Chipper is a high-end company. However, your intentions to choose Woodland Mills might be less concerning as their products are made in China.
But you may want to go for the WoodMaxx, even ignoring the cost factor and late delivery complaints, because these are your home country products and are made in the USA. Hence, whatever you will choose will benefit you in either way!