When it comes to screwdrivers, Wera and Klein are two of the top names you'll get. Both brands have amazing screwdrivers and they're pretty similar too.
But some factors make both brands different. Design and layout, grip, and durability are some of the biggest differentiating factors between them.
There is a reason people have a whole screwdriver galore. It is very hard to pick just one. But if you had to do that, which one should you go for? Here is a comparison to help you with the answer.
A Quick Summary of Comparison
| | | |
| --- | --- | --- |
| Feature | Wera Screwdrivers | Klein Screwdrivers |
| Design and layout | Better, well thought-out | Good, nicely executed |
| Grip | Better | Good |
| Durability | Better | Good |
Done with the gist? Here's a detailed comparison, let's dig in.
Key Differences Between Wera And Klein Screwdrivers
As non-technical people will tell you, these are both screwdrivers. That's true, and that's why comparing them is pretty hard. Both names make very similar tools so if you want to differentiate, you'll have to squint pretty hard.
But differentiating between them (or at least comparing them) isn't impossible. There are some key factors that set them apart. The design and layout, grip, and durability are some of these key factors.
Let's see how they set Wera and Klein apart.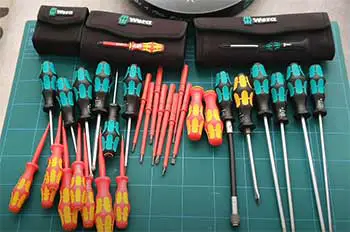 This is more of a general difference. Both manufacturers put out practical products.
But Wera is more on the innovative side while Klein usually goes down the tested and true road.
Wera researches a lot about how to make their products better and it shows.
Their handle designs are a good example of this.
Wera stepped out of the traditional design and made sure the user will get a good grip. Their pouch is also convenient to carry around so you won't have to worry about a different carrier.
Klein isn't exactly behind in this department. Sure, their screwdriver designs are more on the traditional side but it works. And for most people, that's what matters.
But their pouches are a step above the rest. You can carry it, attach it to your belt or stick it to a surface.
All in all, there are differences here but not something that can pick out a "winner".
This is where the main differences start showing. Wera has an amazing grip and it is one of their biggest selling points. Klein on the other hand is a little behind in the race.
Wera screwdriver handles have more dips in them. There are also rubber guards to make sure they don't slip out of your palm. Your fingers will fit nicely around the dips so you'll get a very strong grip from it.
The smaller screwdrivers can be a little tricky to work with though. You'll have to take some time to get the proper grip. But once you do, you'll never look back.
Klein is more straightforward. They have straight handles for all their screwdrivers with some ridge-like pattern on them.
The outer layer is rubber. So it has some risk of slipping off frequently once the tool gets a little old.
The smaller screwdrivers seem to benefit from it since it is easy to get a good drip from early on, but the bigger ones like the 11-in-1 screwdrivers are more of a question mark.
This is more applicable to the screwdriver bits of both Wera and Klein. When you're working with the bits, the Wera bits will show less wear than Klein.
And if you're using drill bits, you'll have to use more downward force with Klein.
Plus the Klein screwdrivers seem to get slightly twisted around the edges especially if you're using them for a long time. Wera bits last longer without sustaining damage.
Which One Should You Choose?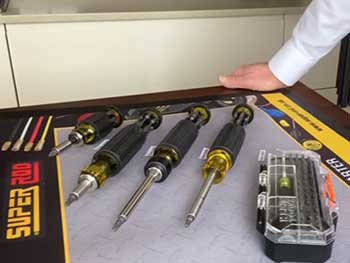 Well, you already know how similar the screwdrivers are.
That means there is no simple or straight answer to that.
Both of them are amazing and they have their own unique thing going on.
So things will depend more on your personal preference and comfort.
But if you want to make a calculated decision, you'll have to do some serious trade-offs. The best way is to decide what you're really looking for in your tools first.
When you have that noted down, the trade-off will become easier on its own.
If you're looking for something with a good grip and don't want them to twist easily, Wera is the better option. These screwdrivers are durable, won't slip out of your hands, and also have a convenient design. Another plus is the cost.
They're cheaper so if you want to replace any tool with a new one, it will be easier on your wallet. If you don't have a problem with using European-made tools, not many options can beat Wera.
They're also pretty strict on quality assurance so you know you'll be getting good quality stuff.
If you're okay with splurging a little and want to go with something more "familiar", Klein is a good option. The grip may not be the best for everyone but if you have pretty beat-up hands, this is it.
Klein is also USA-made. If that's something you're looking for, you know what to pick.
Overall, the better choice here is Wera. But if you want something easy on your hand and USA-made, Klein is a very good option.
Frequently Asked Questions (FAQ)
Here are a bunch of questions people usually ask about Wera, Klein, and screwdrivers in general.
What Tools are better than Wera?
This has a very subjective answer. The better tool will depend on your personal preferences. But some good contenders are Wiha, Knipex, and Klein.
Is Wera good quality?
Very much yes. Wera is made in Germaany. European quality standard is very high and it is applied very strictly. So you can be sure that Wera is a good quality manufacturer.
Who makes Wera?
Currently, Wera is owned by the BitBurger Building. They have their headquarters in Germany and the manufacturing facility is in the Czech Republic.
What brand has the best screwdrivers?
This answer would be subjective and it depends a lot on personal preferences. There is no one brand but some good contenders are Wiha, Wera, Knipex, and Klein.
Final Verdict
Wera and Klein's comparison is the Coca-Cola vs. Pepsi for the tools industry. Both are amazing, have a good reputation, and are known for delivering on their words.
What is best for you will depend on what you prefer the most. But if you had to choose only one, Wera would be the wiser choice overall.