It's kinda obvious that you'll require at least a few holes drilled at any project, regardless of what you're working on. For the newbies, drill presses are more highly adaptable.
Also, a drill press is far more precise than a typical handheld electric drill. If accuracy is necessary for the project you're working on, having a drill press will make your work much easier.
Wen and Jet, both drill presses are very popular in the market though they have some differentiations in power, speed, performance, and price. In this article, you'll know everything in detail.
A Quick Comparison Table
Here is a quick comparison table for your better and easy understanding-
| | | |
| --- | --- | --- |
| Specifications | Wen Drill Press | Jet Drill Press |
| Drilling Material | Low-density wood or metal sheets | Both low and high-density sheets |
| Motor Power | 2/3 HP | ½ HP |
| Swing Size | 12-inch | 15-inch |
| Speed | 580-3200 RPM | 200 RPM – 3,630 RPM |
| Customer Review | Good | Better |
| Price | Around $275.61 | Around $649.99 |
Key Differentiation Between Wen And Jet Drill Press
Now it's time to dig deep into the major differentiations between these two drill presses so that you can choose the best one for your project –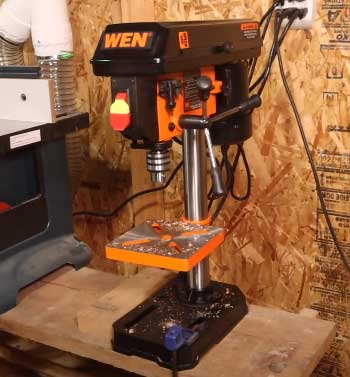 Horsepower is an important factor to know when it comes to comparing the drill presses.
The standard horsepower of benchtop drill presses ranges from 1/3 to 3/4 HP.
A 1/3 to 3/4 motor is sufficient for the majority of residential and light industrial projects.
But a higher power is required for larger holes or longer usage.
When you need to drill a few holes in softer woods, you can easily use a 1/3 hp machine that works well for holes up to 1/2 inch, and compared to that, 2/3 HP is reasonably well in hardwoods.
But on extended drilling runs, such as when you will be drilling 200–300 holes, it does have a tendency to overheat. So, in that case, you should use a ½ HP drill press like Jet.
Because the powerful one does not get heated up easily, not even in hardwoods. So, if we compare Wen and the Jet drill press based on horsepower, the Jet drill press is definitely the winner.
The swing size of the drill press is the measurement of the throat of the drill press. The Swing size is crucial to a woodworker throughout the working process. You must take precise measurements to produce the exact results needed for the job.
Different drill presses and tools are needed for every woodworking project. You can not use the same swing size of drill press for both easy and heavy projects. The small-size drill press is generally used for easy tasks, and a bigger-size drill press is used for difficult or heavy tasks.
Knowing the swing size of the drill press improves the accuracy and precision of work. Precision is assured when you use the proper swing size of the drill press for a certain project.
You should also know the dimension of the drill press. It will enable you to tell what size holes the drill press can make if you work with wood. As the Jet drill press is bigger than the Wen drill press, you should use the Jet drill press for bigger projects.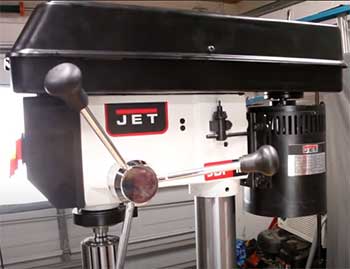 Although a drill press is a useful and adaptable tool, many people are unaware of how to choose the right speed for one.
As a result, they accidentally use the incorrect speed, which leads to damaged materials, burned drill bits, and causes twice as much work.
The diameter of the bit and the material being drilled will determine the ideal speed for drilling wood.
Hardwoods and larger diameter bits both require a slower speed. A speed of 3000 RPM is needed to drill through softwood, whereas hardwood needs a speed of 1500 RPM.
The Jet drill press's speed range is started from 200 RPM. That means the Jet drill press is more suitable for hardwoods, and the Wen drill press is ideal for softwoods.
Customer reviews for the Jet drill press are very positive. They are satisfied with the performance and durability of the Jet drill press. The reviews for the Wen drill press are also positive, but they have some complaints, such as the overheated motor, which also started smoking, a strange clicking noise, etc.
Frequently Asked Questions (FAQs)
Is Wen a Chinese company?
No, Wen is an American tool company. It was founded in 1951.
What is the difference between a Wen 4214 and 4214T?
The motor is the main differentiator between these two. The WEN 4214 has a keyless 3/8′′ chuck, whereas the 4214T has a 1/2′′ chuck. The 4214T is better for larger tasks because it can handle greater bits.
Speed is another difference. While the 4214T features a variable speed trigger that ranges from 0-2,800 RPM, the WEN 4214 has only two-speed triggers (0-600 RPM and 0-1,700 RPM).
What is a good HP for a drill press?
Motor power is measured in horsepower (HP). For infrequent users or people who only occasionally need to drill holes in lighter materials, a drill press with a 3/4 HP motor is ideal. A drill press with a 1/2 HP motor is suitable for professionals who use them daily.
What is the difference between a 8 inch and 10 inch drill press?
The press swing makes a difference in this situation. A 10′′ drill press has 5′′ of space between the chuck's center and the column, and the 8′′ drill press has a 4′′ swing width. Therefore, a 10′′ drill press can handle bigger workpieces than an 8′′ press.
Final Words
Modern models of these drill presses have a lot to offer and are great for precise holes in wood, metal, and other materials.
A drill press is a perfect addition to a workshop since it improves accuracy and safety while facilitating hazardous tasks.
But people are often stuck in Wen vs. Jet drill press when they buy drill press for the first time since both are excellent in quality.
If you're one of them, first determine the intensity and frequency of your work, and then choose the right drill press accordingly.