Thickness planers are a must-have tool for most woodworkers, and when it comes to comparing two popular options, WEN Pl1326 and Dewalt DW735, there are some differences.
While both thick planers pack the same raw power, DEWALT DW735 has a two-speed gearbox and dust management, giving it a clear lead over its competitor.
Benchtop thickness planers are an excellent option for small workshops and woodworkers on the move to carry as a portable option. Below the comparison between WEN Pl1326 and Dewalt DW735 will help you decide which will be the best suit for your woodworking projects.
A Quick Comparison Table
| | | |
| --- | --- | --- |
| Specification | WEN PL1326 | Dewalt DW735 |
| Feed rate | 26 feet per minute | 14 feet per minute, 26 feet per minute |
| Cut accuracy | Decent accuracy | More accurate |
| Dust collection | Good | Better |
| Ease of adjustments | Complex adjustments | Convenient adjustments |
| Warranty | Two years limited warranty | Three-year limited warranty |
| Price | Less expensive | More expensive |
Key Differences Between WEN PL1326 And Dewalt DW735
Now that you have seen the comparison let's discuss the differences in detail. The differences will help you figure out your priority and get yourself a perfect fit.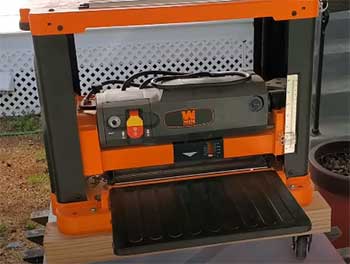 The feed rate decides both the lumber planning speed and the smoothness of the finished wood plank.
In this sector, Dewalt DW735 seems to have the lead with a dual-speed motor.
This double-speed planer allows you to run DW735 at feed rates of 14 feet per minute or 26 feet per minute.
So, whether you prioritize speed or smoothness, you can get both with DW735.
On the other hand, WEN PI1326 only has a feed rate of 26 feet per minute, limiting your options.
The main job of a thickness planer is to smoothen wooden boards or planks. It cuts the rough parts and reduces the wood piece to the exact thickness you need. WEN Pl1326 and Dewalt DW735 have knobs that decide the cut depth and accuracy.
As per live testing, DW735 had a lower deviation from the cut depth compared to WEN Pl1326. So, if your projects need super accurate cuts, Dewalt DW735 is your best bet.
A proper duct collection system is essential to keep your workplace clean and helps you avoid respiratory problems while working. While both thickness planner offers dust port, Dewalt DW735 has a more sound system.
This planer has a fan-assisted chip ejection system that breaks down the wooden debris and sends it to the floor or the vacuum hose.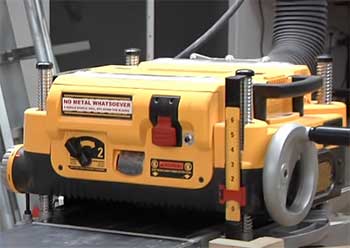 Tabletop thickness planners are used mainly by semi-professionals, and the ease of adjustment matters a lot to them.
The accuracy of the planer table often comes with deviations, and adjusting needed to reach the lever surface was easier with Dewalt DW735.
Besides, it has a proper Allen wrench to unscrew the clutter head and replace the blades.
On the other hand, WEN PI1326 has a convenient knob for depth adjustments, but the lack of screws makes it hard to adjust the PI1326 surface.
Warranty is an excellent indicator of product quality that showcases that manufacturer's confidence in their product. In this sector, WEN Pl1326 offers two years limited warranty, while the Dewalt DW735 has a warranty of 3 years.
We are all aware that both WEN Pl1326 and Dewalt DW735 come in very lucrative price tags. However, some users might have second thoughts considering the higher price of DW735. However, if we look at the extra features, DW735 is an easy investment, and that extra money is worth it.
Which One Will Be The Best Fit For Your House?
Dewalt DW735 has the lead in various factors, despite having the same power under the hood. Depending on how you will use your thickness planner, the price can significantly impact your purchase decision.
However, if you can arrange the money for the Dewalt DW735, I assure you'll love the user experience even more. And if you do love it, here is a video explaining how to use it.
Frequently Asked Question (FAQs)
How many HP is DW735?
Dewalt DW735 packs a 2-Hp engine under the hood. This powerful motor easily allows DW735 to go through any semi-professional projects.
Is the Dewalt 735 planer worth it?
Dewalt DW735 is a true workhorse worth every penny for the money. A strong 15-Amp, 2 Hp motor, and 2-speed gearbox help DW735 make a clear transition from an underpowered planer to a decent portable thickness planer.
Does DW735 come with blades installed?
Yes, DW735 has three blades, all of which are pre-installed in the planer. On top of that, these blades are reversible, disposable, and changeable pretty quickly.
What is the minimum length of Dewalt planer?
Dewalt DW735 has a minimum length of 12 inches and a thickness of 1/8″. For a semi-profession thickness planer, that's a decent length and thickness for most jobs.
Final Words
That's a wrap for today. I hope my comparison will help you decide which of the figure out the differences between WEN Pl1326 and Dewalt DW735. Of course, both thickness planers have their strengths.
At the same time, WEN Pl1326 offers a superior steel base for reduced vibration and cutting.
On the other hand, Dewalt's easier control and dual-speed gearbox for precisely fine-tuned woodcuts. So now, you need to decide which aspects you prioritize and purchase one that suits your need.