When it comes to a discussion of any integrated wall sheathing system to ensure that a house is firmly protected from unfavorable wind and air, both WeatherLogic and Zip have brought forth a narrow competition.
They are quite similar with little differences, but these differences play a vital role in the choice.
WeatherLogic is more affordable, less popular, and comes with no benefit to its warranty when compares to Zip. Let's go through these with a detailed approach for better understanding.
A Quick Comparison Table
| | | |
| --- | --- | --- |
| Specifications | WeatherLogic | Zip |
| Water/Moisture Resistance | Resists | Resists |
| Warranty | 30 years | 30 years with small benefit |
| Price | Lower | Higher |
| Popularity | Less | More |
| Structural Durability | Structural 1 | Structural 1 |
| Needs Housewrap to Install? | No | No |
Key Differences Between WeatherLogic And Zip Sheathing
Water/Moisture Resistance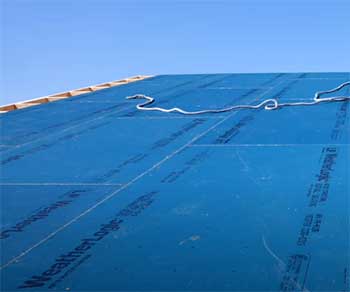 Both companies are keeping a well-established reputation in the market by providing products built with the highest technology which ensures proper water/moisture resistance.
Therefore, the attentively built water-resistance barriers have enough permeability which allows excess water to stay out but allows the water vapor to pass in and out at ease.
Thus, the living environment doesn't feel stuffy or uncomfortable since a balance is achieved which promises the right ratio of drying protection and water protection.
Little is revealed about the perm value for each brand. However, during purchase, such numbers are made transparent to buyers.
The basic warranty limit for such devices is 30 years sharp. It has been noted that both WeatherLogic and Zip have maintained this value.
Zip however decided to step up their game and included an additional 180-day exposure guarantee!
This added feature makes it quite alluring compared to WeatherLogic as there is more consideration that favors cost efficiency if things go wrong.
WeatherLogic is more affordable, so if you're trying to save money this is the choice to land on. It is important to keep in mind that this company offers top-notch products at an affordable value.
They just need a little more time and development to step up their game even more.
There aren't too many significant differences, so it's completely up to the buyer's opinion. If you think that a few extra bucks for some additional features are worth it then Zip is totally fine to purchase, if not then best to get WeatherLogic.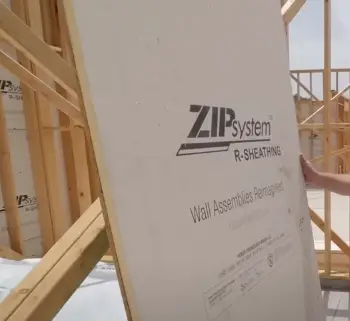 Zip has existed in the market long enough to be known by a vast crowd.
Compared to that, though WeatherLogic has introduced itself as a worthy opponent, the brand has yet to reach such a point of recognition.
Due to less awareness, WeatherLogic's whereabouts/availability in certain areas is still unknown.
Furthermore, this unaware feature makes it less preferable since buyers don't know what they are getting into.
Rest assured, this brand is evolving quite impressively and is worth the shot!
System panels offered by each brand come with a Structural 1 rating. This means that panels are manufactured with well-engineered wood to maintain resistance to excess water and air penetration.
Moreover, this gives it more sturdiness to withstand strong winds which is particularly a huge benefit for buildings/houses built in areas that are subjected to strong winds.
Needs Housewrap to Install?
Installation is yet another aspect they've met eye to eye with.
The installation has been made easy and cost-efficient for these two companies.
The integrated panel sheathing technology makes it easier to install without placing any wrap on the structure once the sheathing installation has been dealt with. Ergo, the wrap is not needed at all in this advanced installment process.
As stated, this is also very cost-efficient since so extra cost is required for labor, which would be the opposite if wraps were needed. Here is how to install WeatherLogic sheathing.
Frequently Asked Questions (FAQ)
What is WeatherLogic?
WeatherLogic is a rather new company that provides integrated wall sheathing systems which supply both water and air protection. They further escalate the structural integrity of the building.
Though it hasn't existed longer than its competitors, it has performed remarkably which is quite unexpected for a young brand. This company has shown promising potential and is affordable, product quality is increasing as it further innovates.
Is Zip System Better Than Tyvek?
As both are each other's competition, there's been claims made for each of them to be better than the other.
Both brands offer services with pros and cons and differences and similarities. There isn't a definite nor universal answer, to the question of which is better than which since at the end of the day, your purchase will be based on your preference and requirements.
The best thing to do is to consult with building envelope experts and an insurance provider. It is also recommended that the warranties are reviewed professionally by a lawyer before finalizing the decision of which product should be installed. This is strongly advised to avoid any high risk.
Is Zip sheathing worth the cost?
It has been discussed earlier that Zip is not the cost-friendliest option.
Despite this, it has maintained a great height of good reputation in the market thanks to its service provided. In fact, in this modern day and age, it is preferred by most builders due to having such an easy application. This simplicity paired with its being energy efficient makes it more reliable.
It also comes with an exposure guarantee, which is quite rare come by. Possessing such attractive and reliable features truly compels one to believe that every penny spent on this purchase has been spent with no waste.
So yes, Zip sheathing is worth the cost.
Is Zip system better than house wrap?
The ZIP system has been shown to hold up better resistance against the strong wind to withstand any damage it can lead to. There is a further resistance to uplift and tear which adds up to the strength and durability of the structure. This also reduces the extra cost that would've been required for damage repair. Plus, it is especially important to bring into consideration if the residing area is prone to strong winds.
Such high functionality is not an available feature for quite a few rival companies. That being the case, this system is therefore better than house wrap.
Conclusion
WeatherLogic vs. Zip is a battle that has little to debate between. In fact, it is safe to say that WeatherLogic is directly just one step behind Zip. It's truly shocking to see a new company doing so well.
Limited information is sadly available unless each company is directly approached. Since they are quite similar, the purchase made ultimately depends on preference and what amount the buyer is willing to spend!