Planning on a repaint job in your house?
The first thing you need to do is remove the old paint from your walls. And to do that, you need a sanding machine. Wagner Paint Eater is a good machine for removing paint from your wall.
But I'm sure you want to know the alternatives. It will surely give you an upper hand in choosing the best paint remover. That's why I will show you some of the worthy substitutes for Wagner paint eater in this article.
So, without wasting any more time, let's dive into it.
Wagner Paint Eater Substitutes For Removing Paint
Here is a list of these alternatives I am about to talk about:
Black+Decker Random Orbit Sander
Makita 5 Inches Disk Sander
Tacklife Random Orbiting Sander
Dewalt Random Orbit Sander
Bosch Power Tool
Now, let's talk about them in detail.
Black+Decker Random Orbit Sander
Black+Decker Random Orbit Sander is one of the most used paint removers after Wagner paint eater.
This orbit sander has 5 inches circular disk that covers more area at a time and helps you complete your task faster.
Apart from paint removal, it can take up many other jobs too.
With a lightweight plastic body of 3.16 pounds, you can easily hold it for a longer time.
Besides, its construction helps absorb any shock. You will get a dust collecting bag with the sander machine to collect the debris while removing paints.
Most importantly, you will get excellent usability from this machine.
Makita 5 Inches Disk Sander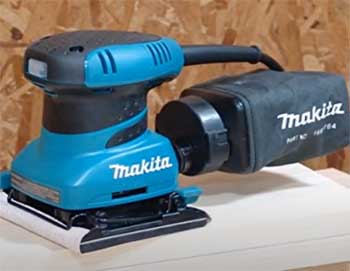 Our next paint remover is from Makita.
With a 5 inches disk, this paint remover machine is exceptionally robust and durable.
It has two handles- a rubber grip handle and a side handle.
As a result, you can conveniently hold the machine and apply the power it produces, which is 440W.  
A feature like winding slope gear allows the Makita disk sander smoothly remove paint from your wall without any trouble. You can remove paint from a square foot area in just about 20 seconds.
On top of that, the 2.6 pounds weight makes this machine very lightweight and easy to handle.
Tacklife Random Orbiting Sander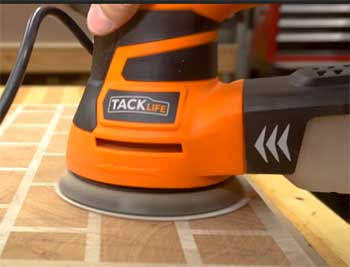 If you want precision in removing paint and get an excellent finish, the Tacklife random orbiting sander can be a good choice.
It has 5 inches disk that can cover a large area at a time.
Besides, its 6-speed operation will finish your task quickly and conveniently.
From its 3A motor, you will get 13,000 RMP. That's a lot of disks rotating. So, no wonder you will finish up your tasks fairly quickly.
The whole package comes with 12 disks- that's a gainer for sure. The machine is overall well-designed. It weighs only 3.4 pounds. So, you can hold and run it quite comfortably.
Dewalt Random Orbit Sander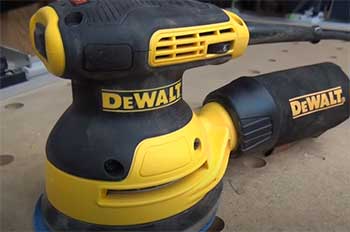 Dewalt 20V Max random orbit sander is another good alternative for Wagner paint eater.
You will get 8,000 to 12,000 OPM from this powerful machine. It's possible because of the brushless motor that comes with it.
So, you can remove paint efficiently with this sanding machine. You will get a speed controller in the handle to operate it conveniently.
Besides, the low profile height allows you to get closer to the wall you will remove paint from.
It also has a dust-sealed switch, so nothing will enter the machine while removing paint. On top of that, this Dewalt sanding machine has an 8-hole hook and loop sanding pad for quick paper changing.
Last but not least, the Bosch power tool offers dual sanding modes. With its random orbit mode and turbo-driven orbit mode, you can easily remove any stock of paints from your walls quickly.
This machine is 5 times more robust than normal random orbit sanders. It offers smooth finishes at a fast pace on various surfaces. You will get a 6 inches disk, which is larger than most sanding machines. With its counterbalance system, you can hold and operate it comfortably.
Is Wagner Paint Eater Worth It?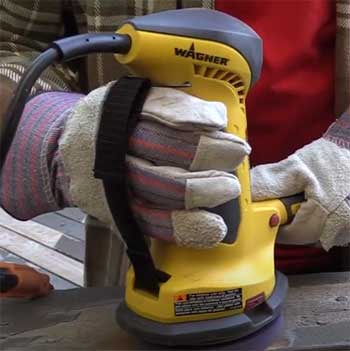 Wagner paint eater is one of the best and most used paint removers in the market.
With a bold name, this machine offers exceptional paint-removing performance.
It has a highly abrasive disk that makes your task easier.
With 3.5 pounds weight and multiple grip options, you can hold this machine and operate it quite comfortably.
Besides, it offers an excellent balance between control and power.
That's why people love this machine and it is a go-to option for many professionals. So, the Wagner paint eater machine is completely worth your money.
Frequently Asked Question (FAQ)
How do you use a Wagner paint eater?
Wagner paint eater is a widely used paint remover you can use to remove old paint from your interior and exterior walls. Its spun fiber disk has an abrasive embedded into the fiber. This sanding machine effectively removes paint chips from your walls but does not load up with paint and dust.
How do you remove the disk from a Wagner paint eater?
Removing the disk from the Wagner paint eater is an easy task. Firstly, turn off your Wagner paint eater machine and unplug the power cable. Then press the disk lock on the bottom of the unit. Finally, unscrew the disk by turning it counterclockwise.
Can I use an orbital sander to remove the paint?
Yes, you can use an orbital sander to remove the paint. There are a few types of sanders available for removing paint from walls, orbital sander is one of them. It rotates and vibrates during operation. As a result, the risk of leaving circular patterns on the wall becomes very less.
How do you remove paint from an angle grinder?
An angle grinder is a pretty good machine to remove paints from a wall. It also allows you to remove paint from metal, wood, and plastic surfaces. An amazing feature of this machine is its easy and fast operation. You can quickly remove paint without much labor.
Wrapping Things Up
Wagner paint eater alternatives are as good as Wagner itself. So, you have to be very critical while choosing the best one.
What you can do is look at your task and decide which type of sander will give you the best utility.
In any case, Wagner paint eater will be an excellent choice. Although it's slightly heavier than its alternatives, you can still hold it comfortably because of the multipoint holder.