Wood ripping has become a hectic job for those new in the saw world. But these days, many woodworkers are sharing their opinions about the Veritas Rip Tenon Saw for its excellent sharpness, versatility, and compatibility with ripping.
So in this guide, I'll walk you through the detailed review of Veritas Rip Tenon Saw. Including that, I'd like to share my personal experiences, letting you know why it can be your eventual saw for the upcoming projects.
Features of Veritas Rip Tenon Saw

For dealing with heavy-duty materials, there is nothing better than a well-built, sturdy, and large-sized saw blade. That's why choosing something larger has always been one of my prime considerations!
That's where the Veritas Rip Tenon Saw comes into play! Unlike the typical blades out there, this one right here comes in a size of about 400 mm, meaning it will be less than 15.7 inches.
Due to its extended length, you're allowed to make smoother cuts, no matter what. Moreover, I've found it a wonderful option for cutting through cross grains.
Undoubtedly, sharpness is the key point of every type of saw blade. Because it doesn't matter whether the blade is larger or affordable, that won't give you the ultimate benefit unless it is ultra-sharp.
So, talking about the material, the Veritas Rip Tenon Saw has got you covered with its advanced high-carbon steel blade. Once I used it for the first time while making rip cuts, I realized that its ultra-sharp blade is 2x sturdier and sharper than the typical choices.
Another advantage is that it doesn't require frequent sharpening compared to its competitors. As a result, even beginners can get the most out of it using the Veritas Rip Tenon on their desired woodworking projects.
Performs Ripping Precisely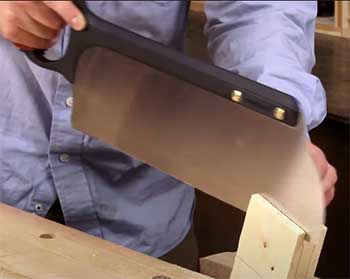 Believe it or not, rip-cutting isn't child's play, especially if you don't have the right tool.
Even I personally faced difficulties before getting the Veritas Rip Tenon Saw.
As the name suggests, Veritas Tenon Saw Blade is specially manufactured to perform "rip cutting" as it features 9 TPI (tooth pitch).
Furthermore, the 14-degree rake with a combination of 60-degree cutting angle makes it a fantastic choice for quick, precise cutting, especially for tenon cheeks. Let it be yellow pine, white oak, or anything else; its saw blade will really come in handy for you.
In addition, having a minimal set of teeth is always a plus, which ensures precise sawing to any crucial components or a straight line. And this is what you'll get right here in the Veritas Rip Tenon Saw.
Convenient Hardwood Handle
Alongside the blade, the handle of a saw plays a key role. It is the place where you get your gripping in terms of cutting any materials. So it really has to be comfortable and durable at the same time.
In this case, I don't think the Veritas Rip Tenon Saw will let you down! Ask me why because I've found a convenient handle right here made of solid hardwood.
In fact, the area of gripping seemed spacious enough for my hands. That is why I got enough space to grab it firmly while cutting through wood pieces.
The interesting part of it is the curved-shaped design it comes with. Because of this, you'll feel much more comfortable carrying it. Your fingers won't fatigue, even after holding for too long. That's what I liked most about the Veritas Rip Tenon Saw.
What Could Have Been Better With Veritas Rip Tenon Saw?
Not Friendly With Crosscutting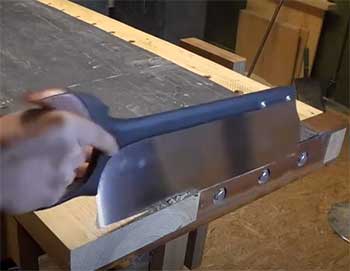 If you're looking for a saw to make crosscuts, then the Veritas Rip Tenon Saw can't be your go-to choice.
As the name suggests, the manufacturer has made it workable for rip cutting. This is why it features 9 TPI, whereas a crosscut saw blade generally comes in 12 TPI.
But as you know, there is always a silver lining! Surprisingly, the maker of Veritas Tenon Saw offers two variants; one for ripping and the other for crosscutting.
As a result, if your purpose for buying a saw is to make crosscuts, simply look for the other variant of Veritas, which include a 15-degree rake along with an angle of 60 degrees.
There is no surprise that steel blades get rusty over time. After a specific period, you may end up with corrosion or rust unless you keep the blade out of its enemies!
So guess what? Your saw's blade shouldn't get into contact with the water. That doesn't mean you can't use water to keep your blade clean! You must use it after completing your woodworking project.
But for this, pay equal attention to keeping the blade dry by wiping it off through a piece of rag or cloth. Both washing and drying are necessary to reduce the presence of rust as much as possible.
Frequently Asked Questions (FAQ)
Where are Veritas saws made?
Veritas is a popular saw manufacturer brand manufactured in Canada. The majority of its saws are well-balanced, stiff, and durable for razor-sharp blades.
Should a tenon saw be ripped or crosscut?
According to experts, a tenon saw is ideal for cutting or trimming through wood grains. The model of Veritas I've picked here is commonly known as a "rip tenon saw," making it friendly with ripping.
Can Veritas saw be sharpened?
The best technique to keep your Veritas saw's blade long-lasting is to sharpen it after a certain period. This way, you can hold its sharpness for an extended period.
Can you sharpen a Veritas dovetail saw?
Yes, you can. As the blade of a Veritas saw blade is of high-carbon steel, you're allowed to get the teeth to sharpen while needed. In this case, take the manufacturers' advice if you don't know how to get it done.
Last Words!
Veritas Rip Tenon Saw Review shows all of its striking features, including its benefits and what could have been better. I'd say it's worth spending on it as it offers an ultra-sharp steel blade with a combination of a hardwood handle.
Moreover, it performs ripping like no other can do in this price range. So right now, the ball is in your court!