One of the most crucial aspects of aquarium maintenance is keeping the water clean. By spending money on a good filter, you can easily keep your water clean and fresh.
The size and stocking of your fish tank, your maintenance practices, light levels, and even the amount of available space outside the tank can all affect which aquarium filter is best for your needs.
Top Fin PF-L filter is one of the best aquarium filters available in the market, but you can consider some other filters with various features and qualities.
Top Fin PF-L Filter Substitute You Can Consider For Aquarium
Here is a list of those alternatives:
AquaClear Fish Tank Filter
MarineLand Penguin Power Filter
Tetra Whisper Power Filter
Aquapapa Sponge Filter
DIY Filter
Let's have a detailed analysis of some of the Top Fin PF-L filter substitutes for your better understanding:-
AquaClear Fish Tank Filter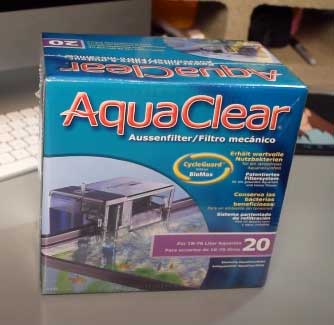 The AquaClear Fish Tank Filter is well recognized for both its strength and filtration capacity.
It is one of the most popular hang-on-back filters globally.
This fish tank filter has proprietary refiltration technology and water flow rate control.
Since the AquaClear power filter has a magnetic impeller, it consumes less energy and has a longer lifespan than similar products.
In order to protect beneficial bacteria, this power filter features CycleGuard filtration technology, which enables all of the stages of filtration to be completed in a single chamber.
This filter is available in five different sizes. The Aqua Clear filters are ideal for quick and simple setups. It offers excellent value for the money, is very dependable, and effectively completes all three stages of filtration.
It also allows you to use both biological and chemical media. The only negative side of this filter is its sound. So if you don't want any extra noise in your house, this filter might not be for you.
MarineLand Penguin Power Filter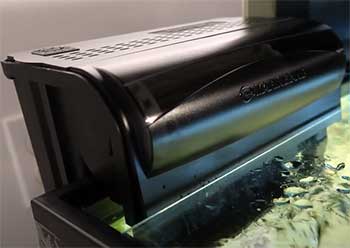 It is not necessary to spend a fortune on a great filter.
The Penguin Power Filter from Marineland meets all the requirements for only $30.
It removes all the dirt and debris; also its three-stage filtration procedure removes chemical pollutants and biological hazards.
Depending on the size of your tank, you can choose the model of this filter. Most people who have used the Marineland Penguin Power Filter filtration system for tanks have noticed how effective and silently it functions.
Its distinctive BIO-Wheel immediately eliminates ammonia and nitrites while promoting the growth of good bacteria that facilitates natural filtering.
Tetra Whisper Power Filter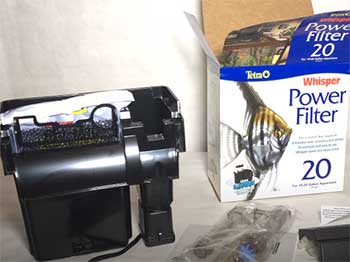 This filter is a fantastic option for aquarium beginners because it provides a lot of value while still performing all the functions that a competent fish tank filter should be able to do.
This model's exceptional quietness is the favorite feature of the customers.
This efficient filter removes all the pollutants, undesirable substances, debris, fish waste, and stink.
The fact that this model can be applied to both freshwater and saltwater ecosystems.
This filter is suitable for aquariums that are small to medium in size because it can accommodate tanks up to 60 gallons. Users also love its adjustable water flow feature, which adds great value to the filter.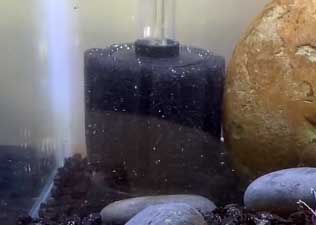 This filter is a fantastic choice if you are a beginning aquarist searching for a simple sponge filter for your tank.
Its installation is quite easy because it doesn't require any difficult parts or processes to complete, unlike most filters on the market
Just attach the filter to an air pump, and it will start cleaning your tank.
To ensure effective filtration in your aquarium, rinse the sponge once every two to four weeks.
Finding ways to DIY a filter for your aquarium can sometimes save you hundreds of dollars or more because aquarium filters can get quite pricey. Even though constructing a DIY filtration system may seem scary, you can make it happen with a few things.
With a 5-gallon bucket, bio balls, and a cover, you will be able to build an efficient filtration system. In fact, you can use this filter with large bioload generators like Koi, Goldfish, and Oscars.
Another way to make a DIY filter is by using a multi-purpose sponge, PVC pipe, PVC cap, drill, and glue gun. This DIY filter is commonly known as a PVC sponge filter, and the instruction videos are available on youtube.
This project is simple enough for beginners to complete quickly. This is an excellent alternative for low-bioload tanks or little fish, but it is not appropriate for heavy-bioload producers.
Frequently Asked Questions (FAQ)
What can I use instead of a filter cartridge?
You can use filter floss from any pet store and wrap it around an old one if you can't find the right size refill cartridges. Lava rock, pumice, or porcelain rings can also be used instead of a filter cartridge.
Can you replace a filter cartridge with a sponge?
Yes, but you will need the sponge specifically made for aquariums because a typical sponge won't flow enough to function. Trickle filter foam will be best in that case.
How do you slow down a top fin filter?
The waterfall opening can be filled with a block of sponge to slow down a top fin filter. Another suggestion is to use string or zip ties to bind craft mesh across the waterfall entrance.
Can you clean a top fin filter?
Yes, but make sure you clean your aquarium filter properly by following the guidelines. The helpful bacteria that keep your aquarium healthy thrive in filters. So, cleaning them improperly might destroy these bacteria and cause more harm than good.
Final Words
An aquarium filter can be useful for you whether you need it for freshwater or saltwater, a large or small tank, a planted aquarium, or an aquarium with fish.
Don't compromise when it comes to a filter because your fish in the aquarium need proper care.
Choosing the right aquarium filter is more difficult than it seems, and I hope this Top Fin PF-L filter alternative analysis will make your task a bit easier than before.
All these filters have some unique characteristics; you just need to identify which feature you need the most.