While working on something we want to install or mount on our walls, we need Bolts or wedge anchors. But when choosing Titen bolts or wedge anchors, you may be disturbed on deciding which option is better.
A Wedge anchor from Titen provides more durability and support than a bolt.
Because the wedge anchor comes with a nut and a washer, the bolt is just a sleeve bolt that can be installed in the wall. However, both have significant differences that we will loom into this article!
A Quick Comparison Table
| | | |
| --- | --- | --- |
| Specifications | Titen Bolts | Titen Wedge Anchors |
| Key Form Factor | Sleeve Bolts that directly go into the wall or concrete | Have a nut and a washer that provides more solid support |
| Usage | Used in concrete and non-concrete surfaces to install or mount things | Used in concrete and non-concrete surfaces to install or mount things |
| Material Made With | Carbon Steel | Carbon Steel |
| Finishing | Galvanized or zinc platted | Galvanized or zinc platted |
| Loading Conditions | Not recommended to use in highly corrosive or permanent outdoor usage | Qualified for static and seismic  |
| Special Drill Bit | Not Required | Not Required |
| Removability | Yes | A Little Hard |
| Second Time Usage | Not Recommended | Use if it's in good condition |
| Pricing | Low | Medium |
Key Differences Between Titen Bolts And The Wedge Anchors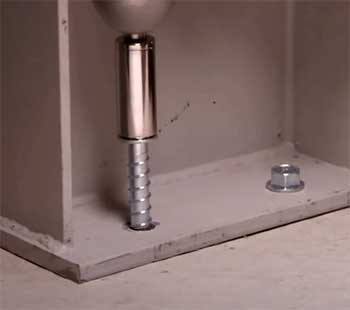 The main difference between a Titen Bolt and a wedge anchor is that the former doesn't come with a washer and a nut.
It is just a sleeve bolt that you can fix into the wall after drilling a hole.
On the other hand, the latter comes with a washer and a nut that you can fix on that wedge anchor to provide maximum support and durability.
These can bear more lead than a normal sleeve bolt from Titen or any other brand.
Both have somewhat similar usage, whether you are going to use an anchor or a bolt for outdoor or indoor purposes.
Any high-strength bolt or wedge anchor can easily be used for those cracked or uncracked concrete surfaces.
Plus, you can have them for uncracked masonry as well. These bolts or wedges ensure lower installation torque with the excellent performance you would expect. So, the purpose they have is the same.
You may find no difference in bolts or wedge anchors when we confirm the material they are made of.
Both are made from high-quality stainless steel/ carbon steel material, which stands durable and provides excellent support.
They won't bend while you are using a hammer on them. Plus, they use a drill machine to make a comfortable space on the wall.
To keep these bolts or Wedge anchors safe from environmental effects such as corrosion or rusting, a good layer of zinc plate or galvanization is ensured upon them.
Such a layer converts this carbon steel into galvanized steel with lower rusting properties than non-galvanized steel.
Therefore, no matter which surface or environment these bolts or wedges are working on, you will never have a complaint.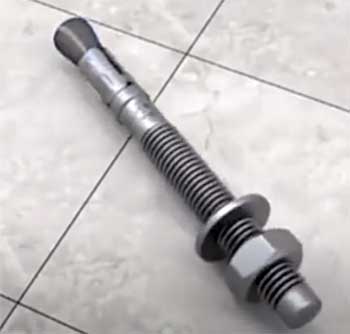 When it comes to testing the ability of either the wedge or the bolt to bear maximum loading capacity, the Wedge anchor always wins.
Because they have a strong grip that comes through the nut and the washer.
These are highly recommended to use in all static or seismic conditions wherever you want to.
But Titen bolts are not recommended for highly corrosive or permanent outdoor usage.
And thats because they may not be able to stand as solid as a wedge anchor in extreme loading conditions.
There is no need for a special drill bit for a Titen Bolt or a wedge anchor. You can use your regular drilling machine, drill holes into that specific surface and install these bolts or wedges without any problem.
Bolts are way easier to remove than Wedge anchors. You can have a hammer with a bolt pulling side and pull them out of the wall or any other surface.
However, for the wedge anchor, you must dissemble the nut and washer first and then remove them from the wall. But both are removable in all conditions.
Usually, Titan doesn't recommend using bolts for installing something in your house the second time.
Because during the first usage, you will get most of them. However, since the Wedge anchors come with a total of three parts, there can be a chance of using them again if they are in good condition.
But they don't cost much. Therefore, you can buy some new ones for your next project.
A Titen Bolt is always less expensive than a Titen Wedge Anchor. There are no extra costs for the nut and washer when you buy a bolt.
But in the Wedge Anchor case, you will be charged for a nut and washer that would be coming with the wedge anchor.
Which Is Better For You, Titen Bolt Or Wedge Anchor?
By coming this far, you might have realized that a Wedge anchor is something different from a Bolt.
That's the only difference between these two pieces of equipment from Titen. Selecting either of them depends on you.
 I would suggest going for a Wedge anchor if you have any outdoor installation of something or anything heavier.
However, you can use the bolts when it's interior installation and of something with less weight.
Frequently Asked Questions (FAQ)
What Are Titen Bolts Used For?
Titen bolts are used for mounting or installing various stuff on the walls and cracked or uncracked surfaces. It could be a painting, any award, a banner, or anything else where you want to use it. A bolt is also used when you do carpentry work and create something new.
What Is The Strongest Concrete Fastener?
Wedge Anchors are undoubtedly one of the strongest concrete fasteners you can use nowadays. The excellent grip of the washer and nut ensures maximum load and longer durability.
Are Wedge Or Sleeve Anchors Better?
Wedge anchors are always better than sleeve anchors. Because they have a washer and nut that provide more support than a straightforward sleeve anchor can ever do!
What's The Difference Between A Sleeve Anchor And A Wedge Anchor?
The main difference between a wedge anchor and a sleeve anchor is that the former comes with a nut and a washer and the latter comes with no nut and washer. One is more durable and easier to a little expensive. Other is cheaper but less durable.
Final Thoughts
After knowing the difference between Titen Bolts and wedge Anchors, I am pretty sure that you would always go for choosing the Wedge Anchor. That's because it is durable, has more load-bearing capacity, and can be installed in any environment.
But using bolts for normal applications is also worth it. However, let me know if something becomes disturbing in your mind.
Have a glossy day!