When choosing the perfect entryway, two prominent brands often come to mind: Therma-Tru and Andersen. However, Andersen doors consist of premium materials compared to Therma-Tru.
This comparison article will delve into the features, materials, energy efficiency, customization options, and overall performance of Therma-Tru and Andersen doors. 
Here is a quick comparison chart highlighting the main specifications of Therma-Tru and Andersen Doors.
Quick Comparison Chart 
| | | |
| --- | --- | --- |
| Specifications  | Therma-Tru  | Andersen Doors |
| Materials  | Traditional Fiberglass Woods | High-Quality and Sustainable Woods |
| Durability  | Comparatively Low Durability  | High Durability  |
| Performance  | Resist Dents, Rust, and Rot, | Resist Warping and Rotting, Withstanding Impact, and Weathering |
| Efficiency  | Good Efficiency  | Really High Efficiency  |
| Customization Option  | Specific Selection of Customization Options | Extensive Selection of Customization Options |
Key Differences Between Therma-Tru And Andersen Doors
The above table gives you a brief idea about the critical specifications of Therma-Tru and Andersen Doors. It's time to identify the main features of the two products.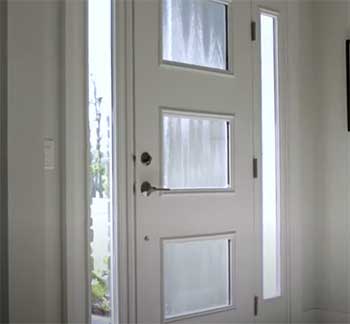 Therma-Tru, founded in 1962, is a leading entry and patio door system manufacturer. 
They are known for their expertise in fiberglass door manufacturing and have received several awards for their innovative designs and energy-efficient products. 
With a strong focus on quality and durability, Therma-Tru has established itself as a trusted brand in the industry.
Andersen, established in 1903, is a well-established and reputable company known for its wide range of door and window products. 
They have a long history of craftsmanship and innovation, and their doors are renowned for their exceptional quality, aesthetic appeal, and energy efficiency. 
Andersen offers a diverse selection of materials, including wood, fiberglass, and vinyl, catering to different homeowner preferences.
Therma-Tru specializes in fiberglass doors, and its product lineup boasts many styles, designs, and finishes. 
Their fiberglass doors mimic the look of wood, offering the warmth and elegance of traditional wooden doors without the associated drawbacks.
Fiberglass is a durable material that resists warping, cracking, and splitting, making it ideal for areas with extreme weather conditions. 
Therma-Tru doors are also known for their exceptional insulation properties, contributing to energy efficiency and reducing heating and cooling costs.
Andersen offers a diverse range of materials for their doors, including wood, fiberglass, and vinyl. 
Their wood doors are crafted from high-quality, sustainably sourced wood, offering a classic and timeless appeal. 
Fiberglass doors from Andersen provide superior durability, low maintenance requirements, and excellent energy efficiency. 
Additionally, Andersen's vinyl doors offer affordability and are well-suited for homeowners seeking cost-effective options without compromising on quality.
Therma-Tru doors prioritize security, offering features that help protect your home and loved ones.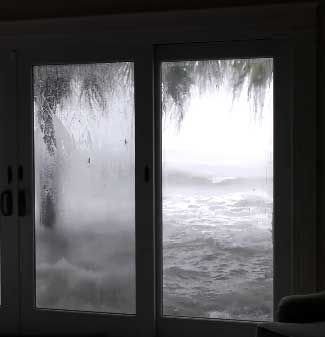 Their doors can be equipped with multi-point locking systems, which secure the door at multiple points along the jamb, providing enhanced resistance against forced entry. 
Therma-Tru also offers impact-rated doors that meet stringent building code requirements in hurricane-prone regions, ensuring the safety and security of your home even in extreme weather conditions.
Andersen doors are designed with security in mind, incorporating features that contribute to a secure entryway. 
Many of their doors are equipped with a multi-point locking system, which offers added security by securing the door at multiple points along the jamb.
Andersen also provides optional security glass, which is designed to be more resistant to break-ins, further enhancing the security of your home.
Therma-Tru doors are designed with energy efficiency in mind.
The fiberglass material used in their construction provides excellent insulation properties, helping to maintain a comfortable indoor temperature and reduce energy consumption. 
Therma-Tru's doors are also available with energy-efficient glass options, such as Low-E glass, which further enhance thermal performance by minimizing heat transfer. 
Their commitment to energy efficiency has earned them recognition, including ENERGY STAR® Partner of the Year awards.
Andersen has a strong focus on energy-efficient door solutions. 
Their doors are crafted with advanced insulation technologies, weatherstripping, and multi-pane glass options to enhance energy performance. 
Andersen offers a range of glass options, including low-emissivity (Low-E) glass, which helps to minimize heat loss during winter and reduce heat gain during summer. 
The company's dedication to energy efficiency has resulted in many of its products meeting or exceeding ENERGY STAR® requirements.
Therma-Tru provides a wide range of customization options, allowing homeowners to personalize their doors to suit their preferences and home style. 
From various door styles, finishes, glass inserts, and hardware options, Therma-Tru offers a plethora of choices. 
They also offer the option for homeowners to create custom designs, enabling them to achieve a unique and personalized entryway.
Andersen understands the importance of customization and offers an extensive selection of customization options for their doors. 
Homeowners can choose from various styles, finishes, hardware, grille patterns, and glass options to create a door that perfectly complements their home's architecture and individual style. 
Andersen's attention to detail and diverse customization choices ensure that homeowners can find the perfect door for their unique needs.
Performance and Durability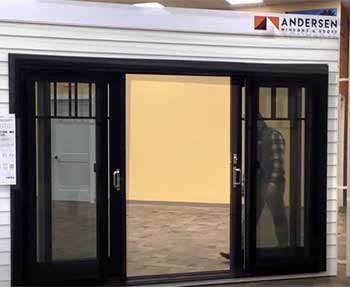 Therma-Tru doors are engineered to withstand the test of time. 
The fiberglass material used in their construction offers exceptional durability and resistance to harsh weather conditions, including moisture, extreme temperatures, and UV radiation. 
Therma-Tru doors are also engineered to resist dents, rust, and rot, providing homeowners with a low-maintenance and long-lasting solution.
Andersen doors are renowned for their performance and durability. 
Whether crafted from wood, fiberglass, or vinyl, Andersen doors are designed to withstand the rigors of daily use and environmental elements. 
The wood doors are carefully constructed to resist warping and rotting, while the fiberglass and vinyl doors offer excellent durability, withstanding impact, and weathering. 
Andersen's commitment to quality ensures that its doors are built to last.
Andersen doors offer a wide range of price points, catering to different budgets and preferences. 
The cost of Andersen doors can vary depending on the material, style, customization options, and additional features selected. 
Wood doors from Andersen are typically priced higher than their fiberglass and vinyl counterparts due to the premium nature of the material. 
Vinyl doors tend to be more budget-friendly, offering affordability without compromising on quality.
Which Door To Pick?
Since Therma-Tru and Andersen Doors give a head-to-head competition, it's tough to select the best option among them. 
However, Andersen takes a slight lead due to their lucrative designs, premium composition, high energy efficiency, and excellent reputation. 
Moreover, Andersen Doors are renowned for their durability and strength. Hence, you can always rely on the sustainability factor of the products. 
Price is the only drawback of Andersen Doors. But the high-quality components and designs justify the high price range of Andersen Doors. 
Overall, Andersen Doors tick all the boxes of being the best option for your apartments. 
Frequently Asked Questions (FAQ) 
Who makes the best entry doors?
Pella, Andersen, Stanley, and Therma-Tru are some renowned names regarding the best entry doors. 
What are the disadvantages of fiberglass doors?
Price and fittings are the two significant disadvantages of fiberglass doors. 
What is the best door to buy?
Security Steel doors provide the most durable and efficient doors. 
What type of exterior door is the most insulated?
Fiberglass exterior door is the most insulated door in the current market. 
Are Therma-Tru doors made in China?
No. Therma-Tru doors are made in Indiana and Mexico. 
Conclusion 
Andersen Door is the winner in this comparison of Therma-Tru and Andersen doors. 
The combination of exceptional performance, high durability, strong resistance, and premium materials make Andersen Doors special. 
Therefore, if you are searching for the best fiberglass doors for your apartment, then Andersen Door is the perfect destination.