The main difference between Terra Kaffe and Breville's automatic coffee machines comes in their cost, ease of use, frothing, and programmability.
Who doesn't want to start a day with a perfectly brewed cup of coffee? Sadly, making that same espresso at home or the office is a lot of work. Not all of us have the luxury of that time or manual skill.
Now, if you don't want to go through all these hassles, an automatic espresso machine is what you need. The comparison below between Terra Kaffe and Breville will help you decide the best pick for your need.
Quick Comparison Table
| | | |
| --- | --- | --- |
| Specifications | Terra Kaffe | Breville |
| Design | Good | Better |
| Build and Size | Less compact | More compact |
| Programmability | More options | Fewer options |
| Milk Frothing | Automatic | Steam wand |
| Bean and Water Capacity | 12 oz., 57 fl oz. | 8 oz., 67 fl oz. |
| Cleaning and Maintenance | Slightly tricky | Easier |
| Cost | Around $825 | Around $600 |
Key Differences Between Terra Kaffe And Breville Barista Express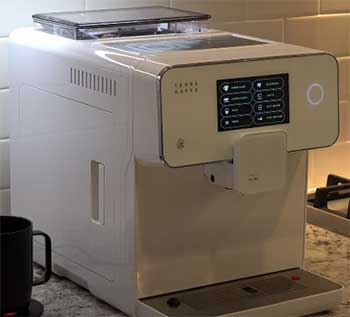 Coffee makers allow us to make café quality coffee in the comfort of our homes.
However, this machine can also uplift the beauty and aesthetic of your kitchen or countertop.
Coffee makers always had unique designs, and both Terra Kaffe and Breville Barista Express follow different design languages,
Terra Kaffe has a simple design with just buttons on top. It comes in two colors, black and white.
On the other hand, Breville Barista Express has a polished silver color with a vintage look, buttons, and knobs.
These aspects might seem a bit irrelevant, but they can significantly influence your experience with the espresso machine. First, you must be sure where you will put the espresso machine.
Though automatic coffee machines are small, if you place one in a congested space, the difference of inches can make a huge difference. Terra Kaffe has a larger dimension here compared to Breville Barista Express.
Also, ask yourself whether you want plastic or metal as the material. Terra Kaffe has a plastic build, whereas Breville has a metal build. Naturally, metal is more durable and will last much longer.
We are dealing with automatic coffee machines here. So, how much you can program the machine according to your need should play an important role in purchasing.
Both of these machines, Terra Kaffe and Breville Barista Express, have basic controls and programs.
However, Terra Kaffe seems to take the lead with separate controls to make various coffees. Looking at the front, you'll notice it has a programmed button for Americano Espresso, Cappuccino, and Latte.
On the other hand, Breville Barista Express has no such buttons.
However, barista Express provides manual control over grind amount, filter size, auto-clean function, and pressure, unlike Terra Kaffe.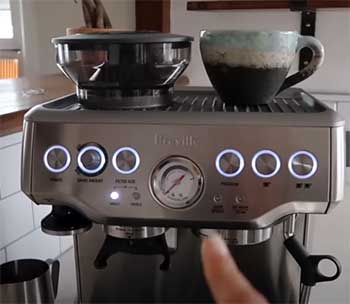 Milk frothing should be essential if you prefer a milk shot in your coffee.
There are two ways this milk frothing is done: an automatic function in the machine or a steam wand.
As the name suggests, the automatic one does all the work for you.
You would prefer it if you don't want the glass of steaming milk or work on your latte art skill.
On the other hand, you have to do all the work yourself with a steam wand, but this way, you can create better foam and work on your latte art.
Automatic espresso machines have various sizes and options. However, another aspect that varies from machine to machine is the water and bean hopper capacity. This capacity determines how much coffee you can generate without needing to refill again.
While the water capacity of both Terra Kaffe and Barista Express is the same, Terra Kaffe has a much larger hopper that can hold 12 oz. beans at a time compared to 8oz of Barista Express. You must consider this capacity carefully if you have a large family or office.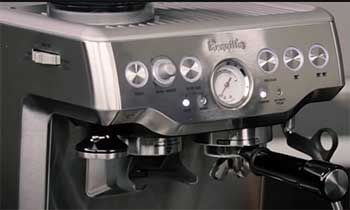 Coffee machines are bound to get dirty at a point, and with more use, you might need frequent cleaning too.
But you need to consider how easy the cleaning and maintenance will be here.
If the cleaning is tricky, it might discourage you from cleaning, and your machine will get damaged in the long run.
Terra Kaffe's bin is relatively easy to clean. But the drip tray cleaning might seem tricky as you must pull it out regularly. On the other hand, Barista Express is much easier to clean with fewer moving parts or milk reservoirs to mess up the machine.
Automatic coffee machines have always been expensive, and you should already know it since you are here. However, one thing you need to know is that there are less costly models who are doing a great job.
Also, ask yourself what features you need. Machines that have extra programs and features usually cost more. If we look at the price, Terra Kaffe costs $825, while Barista Express costs around $600.
Which Coffee Machine Is Better For You?
In the end, the question remains which automatic coffee machine will suit you? Both brands have shown strengths and weaknesses in different areas, and the decision will be subjective.
If you are looking for an easy-to-use programmable machine for a larger group of people, go for Terra Coffee. On the other hand, if you want better design, manual control, ease of control, and affordability, you should stick to Breville Barista Express.
Also Read:
Differences Between Lelit Victoria And ECM Casa V Espresso Machines
.[/su_noe]
Frequently Asked Questions (FAQ)
Which espresso machine brand is best?
Today's market is filled with espresso machine brands due to the popularity of espresso. Many brands are doing well in this sector and vary in different aspects. However, if I have to pick a brand, Breville is the best, with decent pricing, performance, programmability, and ease of use.  
What is better than Breville Barista Express?
Breville Barista is more than a decent machine and one of the best automatic espresso makers in its respective price range. However, if you want a better and more capable machine, you can check out Breville's Barista Pro, which has better heating, LCD control, and more programmability.
Where is Terra Kaffe manufactured?
Terra Kaffe is a Brooklyn-based brand founded just back in 2018. Terra Kaffe's research and design go on in their Brooklyn facility with great care and enthusiasm. The manufacturing also goes in the US with strict quality control.
What is the best barista coffee maker?
Barista coffee makers come in different shapes, sizes, functionalities, and prices. So, it's difficult to pick the "best" as the best will be different for everyone. However, if I have to pick one machine that almost checks all the boxes, it has to be Nespresso Virtua Next.
Final Thought
That's a wrap for today. I hope this comparison between Terra Kaffe and Breville coffee machines will give you a detailed insight into their features and help you pick the right option.
While it's something almost everyone desires, most of us don't have the time to visit a coffee shop every day and get that coffee. In that regard, Terra Kaffe and Breville can help you get that same coffee experience at home or the office.
Both automatic coffee makes are pretty good with different specifications. Only individual preferences will separate decisions. So, get your priorities straight and get the best machine that goes with your needs.