If you are looking for a perfect one for the wall of the exterior wall, you may dive into a lot of confusion. Limitless options are there. Surface Bonding Cement and Stucco are the two most popular magical building materials.
But which one to choose from surface bonding cement and stucco?
Both options are great. However, they are made for special purposes. And each of them has some unique specifications that set them apart.
Let's dive in!
A Quick Comparison Table
Want to have a brief idea on Surface Bonding Cement and Stucco? You can have a look at the below comparison table to have a quick knowledge about them.
| | | |
| --- | --- | --- |
| Specifications | Surface Bonding Cement | Stucco |
| Materials | Glass fibers and acrylic additive | Cement, sand, water, and lime. |
| Appearance | Looks good | Create beautiful appearance |
| Finish Type | smooth, concrete finish | traditional, straightforward finish |
| Interior or exterior | Only for exterior use | Interior or Exterior use |
| Ideal usage | Waterproofing and strengthening block walls | decorative coating for walls and ceilings, exterior walls, |
| Drying Time | 24 hours | 48 to 72 hours |
| Hydrating time | Minimum 48 hours | Minimum 48 hours |
| Durability | More durable | Good durability |
| Price | $10 or more per square foot. | $5 to $6 per square foot |
Main Difference Between Surface Bonding Cement And Stucco
Just because you have some brief points about both cement-based coating, does this mean it is enough to make an effective decision?
If you prefer to have a complete idea about surface bonding cement and Stucco, check out the below section.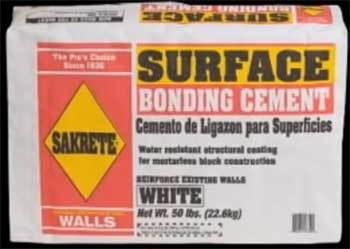 The material used for exterior coating is not similar. They have different formulas.
A surface bonding cement is made of fiberglass and special acrylic additives.
The inclusion of fiberglass additives makes it impact-resistant and boosts its tensile strength.
Also, it will ensure a minimal amount of shrinkage and cracking issues.
Surface bonding cement has improved properties due to acrylic additives. This makes the product more effective in using various exterior walls.
On the other hand, Stucco coatings are made of cement, sand, water, and lime. The inclusion of lime reduces the curing time and ensures easy complete coverage. It also improves the bond strength.  
Both protective coatings leave a decent appearance on the walls. But many users who used both of them liked the Stucco appearance more than surface bonding cement.
The reason is that it creates a beautiful and even texture before adding paints to the wall. Also, it is more forgiving. However, your working efficiency will highly determine how good the final results will be.
Like paints, cement-based coatings leave a particular finish on exterior wall surfaces. But their pattern and texture vary from each other.
Since surface bonding cement includes screed and trowels, it can provide a smooth, concrete finish. But concrete finishes are available in various types.
It depends on the particular brand and types you choose.
This type of finish has several advantages. It is easier to clean. Water, stains, odors, bacteria, and even fire won't be able to affect its durability heavily. Moreover, you can customize it.
They won't get scratch marks easily.
On the contrary, Stucco is mainly a decorative-based coating that will add a traditional, straightforward finish to your preferred surface. It adds a unique color appearance to beautify the finish.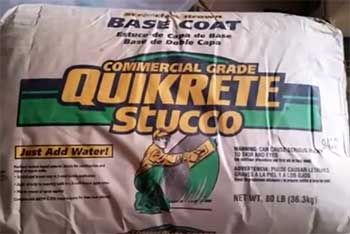 Compared to surface bonding cement, Stucco is more versatile. You can use Stucco both on interior and exterior walls. It will add an extra design element.
But you need to use two different Stucco products.
Generally, One Coat Stucco is ideal for indoor purposes since they are not highly vulnerable to getting affected by sunlight and inclement weather.
One coat is an inexpensive solution and easy to apply. It takes less to complete the project. Many household owners like this version. But it is pretty thick.
In addition, exterior walls need three coat systems. This is the original formula of Stucco. It is two times thicker than One Coat Stucco.
 But three coats are more expensive than one coat and take a considerable amount of time to complete a project. More importantly, it is highly durable to lasts for years.
When choosing a particular exterior wall coating, you must consider its ideal usage. It may not be suitable for the specific wall you want to use.
Both surface bonding cement and Stucco are highly flexible to use a wide range of walls.
You can use surface bonding cement on concrete and masonry firewalls, building dry stack block walls, conventional masonry block, brick walls, etc. Watch this video to learn how to use this bonding cement.
In contrast, Stucco is ideally suitable to use on walls, ceilings, and many different surfaces. The main reason people use Stucco is to get a decorative coating on their preferred surface.
After applying the cement coating, letting the coat dry for a particular period is necessary.
Generally, surface bonding cement will take around 24 hours to dry completely. Its effective formula and high-quality additives take minimal time to cure.
On the other hand, Stucco will take around 48 to 72 hours to cure completely. It takes a little more time since it doesn't contain any additives.
It is crucial to water the cement-based coating once it has dried properly. This will make the plaster stronger and more long-lasting.
Usually, you need to apply water for a minimum of 48 hours for both surface bonding cement and Stucco. The better care you take, the stronger they will be.
The outside environment often affects the quality of the cement-based coating. The more effective formula a cement coat has, the extended durability it will have.
Compared to Stucco, Surface Bonding Cement is a little bit more durable. The reason is that it includes several additives and has passed many tests to ensure extreme durability.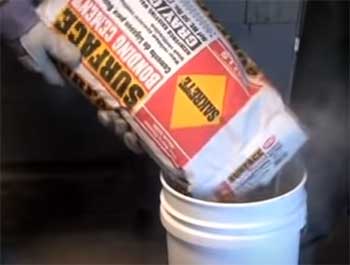 Price is a big factor for cement-based coatings when handling a bulky project.
The average cost for surface bonding cement is around $10 or more per square foot.
On the contrary, you need to spend around $5 to $6 per square foot for Stucco.
This means Stucco is a more affordable option than surface bonding cement. But considering their durability and respective using purposes is also important.
Which Cement-Based Coating To Choose For Your Resident?
Since our house structure and preference vary, we won't prefer the same product. Surface bonding cement is an ideal option if you are looking for a highly durable, multi-purpose, and decent-quality product.
But Stucco is also a good option if you want to add a decorative coating for indoor and outdoor purposes at an affordable pricing option.
Frequently Asked Questions (FAQs)
What is surface bonding cement used for?
People generally use surface bonding cement to make the block waterproof and highly strong. It creates a decorative appearance too.
Can you use cement instead of Stucco?
Yes, you can use Stucco instead of Stucco but using wood or concrete is crucial to act as a load-bearing object.
Is Portland cement the same as surface bonding cement?
Though Portland cement is not 100% the same as surface bonding cement, you can use them for a similar purpose as surface bonding cement contains Portland cement.
How thick can you apply surface bonding cement?
The maximum thickness for surface bonding cement is 3/8″, but it can be as low as 1/8″.
Final Thought
So, which cement-based coating have you decided to choose between surface bonding cement vs. stucco? Both options are no less. They are own their suitability based on the surface wall you want to use them.
Hopefully, you have got some valuable details after going through this post to make the right decision. Thanks for reading!