Lawn maintenance is one heck of a job. That's why you need a strong maintenance tool like Stihl KombiSystem. This comes in homeowner and professional variants, and both of them are pretty similar.
But when you compare them together, some factors like build, performance, durability, and cost make them different.
You never know what tool you might need for your lawn maintenance, that's why the Stihl KombiSystem is a good option. But which one of them should you choose, homeowner or professional? Here's a comparison to help you decide.
A Quick Summary of Comparison
| | | |
| --- | --- | --- |
| Feature | Kombi Homeowner | Kombi Professional |
| Build | Heavier, good engine power | Lighter, better engine power |
| Performance and durability | Good, durable | Better, more durable |
| Cost | Affordable | Less affordable |
Done with the gist? Here's a detailed comparison, let's dig in.
Key Differences Between Stihl Kombi Homeowner And Professional
Anyone who has used both tools will tell you how similar they are. Both have a similar build, a solid reputation, and good outputs backing them up. So differentiating between them is harder than you'd imagine.
But it isn't impossible. There are some subtle and not-so-subtle differences between the bows. Their build, performance and durability, and cost are the biggest differentiating factors here.
Let's see how the machines are different from each other.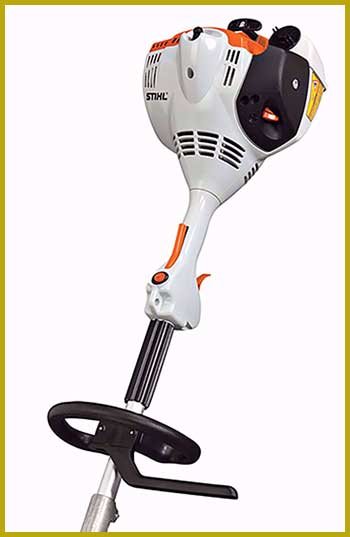 Well, this goes without saying. The build is the biggest difference you'll notice before you start using any one of the versions.
The professional version has better engine power and is lighter.
The homeowner version is heavier and is a little behind on engine power.
The homeowner version of Stihl KombiSystem is a gas-fueled mechanism.
The official Stihl website lists the engine's power as 1.07 bhp.
This version is surprisingly heavier (powerhead weight listed as 9.5 lbs) and has lower fuel capacity.
The professional version is much more well-rounded. You can find engine-operated versions and battery-operated versions.
In both cases, the powerhead weights are less than the homeowner's version. It also has higher fuel capacity and the engine power output is better.
The thing is, the engine power output doesn't differ drastically. Sure, you'll feel the difference in power but don't expect to get a full different kick.
Performance And Durability
This is where the difference between the two versions gets more noticeable. The homeowner version is made for smaller tasks and very casual maintenance.
The professional version is made for big-scale tasks. This is what makes the difference in their performance output.
The Kombi homeowner version is made for smaller tasks. So if you have a bigger yard, you'll have a little trouble working around. It will take longer for you to finish the job and you might even need a go-over to properly finish it.
The homeowner version is good for smaller and more subtle maintenance but anything other than that will leave you scrambling for something a little more powerful.
The professional version will save you from that. It is made for bigger-scale tasks so anything you throw its way, it can handle it. You'll finish up quickly and won't need to go over anything because this one is just that powerful.
This is why a lot of people prefer the professional version even for small yards. And on top of that, there is the question of durability.
The homeowner version is predictably worse in the durability department. It will last for fewer years so if you want a long-term solution, this isn't it.
The professional version lasts longer and needs fewer maintenance breaks. You won't have to worry about replacements for a pretty long time down the road.
This is another very visible difference. KombiSystem tools are usually considered slightly above the average price range anyways, but there are layers to that too.
You'll be buying the same (or at least similar) attachments for both versions, but the difference is in the base price.
The homeowner version costs less than the original engine without attachment. The professional versions cost higher but that is kind of justified given its specifications.
Which Multi-Task Tool Should You Choose?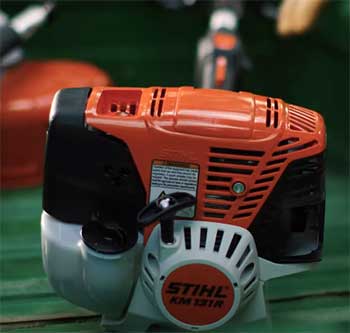 Well, you already know how similar they are.
That means there won't be any simple or straight answer to this question.
The whole point of KombiSystem is versatility.
With both models being KombiSystem, that part is definitely off the table.
So you'll have to look at other factors to pick one of them.
But still, choosing one between the two models will be pretty hard. You'll have to do some serious trade-offs to get your answer.
The important thing here is to know what you're looking for. Once you put a finger on that list, the trade-off and choosing will be much easier.
If you have a small lawn or want something starter-level, the homeowner version is a good choice. A lot of people find it easy to use.
The only problem is the performance and durability. Finishing work will take longer and it won't last as long as the industrial-level stuff.
If you're okay with splurging a little and want something long-lasting, go with the professional version with your eyes closed.
You'll get better output and durability, the machine will last longer and you won't have to worry about replacement anytime soon.
This model is also lighter than the homeowner version. That can make it easier to operate especially if you have back problems.
Overall, the professional version will give you better output so it's the no-brainer choice here. But if you want something lighter and aren't looking for long-term solutions, the homeowner version is a mighty good choice too.
Frequently Asked Questions (FAQ)
Here are a bunch of questions people ask about the Stihl KombiSystem lineups, both professional and homeowner versions.
How much does the Stihl Kombi system cost?
That depends on what model you're getting. The homeowner version retails for around $240 and the professional version starts from around $400.
Will other attachments fit Stihl Kombi?
Yes, that is the whole objective of the KombiSystem. Stihl has a big range of attachments available. Any other brand has a high chance of not fitting.
Can you use Stihl attachments on Echo?
Unfortunately no. Stihl and Echo attachments aren't interchangeable.
What is a KombiSystem?
KombiSystem is a versatile, multi-purpose home maintenance tool. You can add any attachment you want and use one engine for multiple purposes.
Final Verdict
Picking a good maintenance tool is a serious job. This is probably why the Stihl Kombi Homeowner and Professional comparison stays alive. But in the end, both machines are amazing.
What you choose will depend on what you prefer personally. But overall if you had to choose one, the professional version will be the better choice.