StarCraft vinyl and Oracal 651 is a tense competition as you begin contrasting the two. They both exhibit many of the same characteristics.
There are a few significant differences between them as well. It is expected that they should in fact have certain similarities as they are based on the same material.
What sets them apart is their thickness, storage conditions the available finish, etc. Keep reading to know the details of these differences.
A Quick Comparison Table
| | | |
| --- | --- | --- |
| Specifications | StarCraft Vinyl | Oracal 651 |
| Applications | Decals on solid surfaces can be used both inside and outside | Decals on solid surfaces can be used both inside and outside |
| Thickness | 3 mil | 2.5 mil |
| Adhesive | pressure-sensitive permanent adhesive made of clear acrylic | Permanent, based on solvent |
| Shelf Life | 2 years | 2 years |
| Storage conditions required | 50% relative humidity at 70° F | 50% relative humidity at 68°F |
| Durability | 5 to 6 years | 6+ years |
| Water Resistance | 100% waterproof | resistant to water (hand wash recommended) |
| Finish | Gloss and matte finishes | High Gloss (Available in Matte Black/White) |
| Film Type | Calendered | Calendered |
| Release Liner | Paper with silicone coating | specialized custom silicone-coated paper |
Key Differences Between StarCraft Vinyl And Oracal 651

Both types of vinyl are perfectly suitable for decals on solid surfaces and can be used both inside and outside.
For crafts, long-lasting graphics, decals, lettering, signage, and practically any other application needing sturdiness and longevity, StarCraft HD (High Durability) Permanent Adhesive Vinyl is great.
The Oracal 651 vinyl can be used for a variety of projects, including windows, car decals, signage, stencils, scrapbooking, and any permanent application.
It is compatible with all home hobby and craft cutters. You can also use this for medium-term lettering, marking, and decoration both indoors and outdoors.
Remember that mil does not stand for millimeter. To determine thickness, mil units of measurement are frequently employed in manufacturing. It is equal to one-thousandth of an inch.
When in concern with thickness for such adhesive vinyl, the lesser the thickness the better the vinyl.
Or at least that is how it usually goes. That is just the general belief. This of course is not a baseless statement; it is well backed up with popular priorities.
It is more common to have the vinyl have a low and standard thickness value since this makes it easier to work with.
Oracal 651 is only 2.5 mils thick while StarCraft is ahead at the thickness of 3 mils.
The difference is not very high.
Sometimes depending on the task and your preference, you may require vinyl that is a bit thicker. However, it is recommended that beginners start with the one that has a lower thickness value.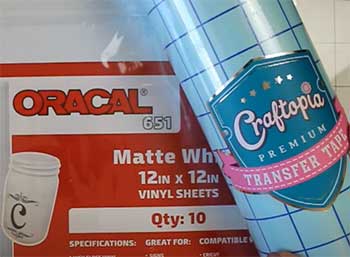 StarCraft Vinyl comes with pressure-sensitive permanent adhesive made of clear acrylic.
This will stick to almost any solid surface, especially hard, shiny surfaces such as glass.
However, you must keep in mind that adhesive films may not stick or cure effectively to surfaces having textures or coatings.
Applying vinyl can frequently be facilitated by rubbing it onto the surface with a hard rubber ball.
Oracal 651 comes with persistent, solvent-based, clear adhesive. The paper backing on the vinyl adhesive Oracal 651 preserves the adhesive until it is peeled off.
Shelf life is defined as the amount of time that an item can be stored and still be usable.
In this case, products from both the discussed companies have a shelf life of 2 years.
The specific storage conditions to ensure their wellness in this 2-year period vary and are elaborated below.
Storage Conditions Required
For StarCraft, 70° F and 50% relative humidity are ideal storage conditions. Long-term storage apart from those circumstances may shorten shelf life.
The latter brand, on the other hand, requires a condition of 68° F at 50% relative humidity.
The humidity levels are the same and the temperatures are not too far off.
StarCraft Vinyl promises to deliver its product with a durability period of 5 to 6 years.
Oracal 651 ensures the lower limit is a value higher than the former mentioned. The durability for this is over 6 years. There isn't any higher limit provided, therefore it is best to assume that it will serve till its finest for 6 years.
It is important for vinyl to be moisture-resistant and both brands have ensured such outcomes.
StarCraft Vinyl is fantastic to weed, simple to apply, and completely weatherproof.
Oracal 651 is water-resistant, although hand washing is advised. The recommendation doesn't lower its value, the choice is up to you. It will be fine either way since it is weather resistant and waterproof.
For all hues, StarCraft HD vinyl is available in both glossy and matte finishes.
59 high-gloss colors plus matte white and black are available which are offered by Oracal 651.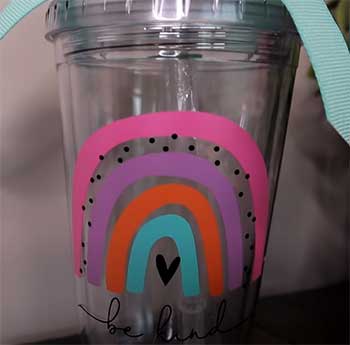 Both companies have a calendared film type!
Calendered film is created using a "melt" process rather than the painted casting technique and uses the same materials as cast film.
They are frequently referred to as short-term or intermediate films.
Calendered vinyl is less expensive, has little shrinking, is highly durable, and has exceptional conformability.
In the case of StarCraft, the release liner is paper with a silicone coating that has a stronger grip for easier weeding.
And for Oracal 651, which comes with custom silicone coating and unique release properties, the paper may be weeded and released with great results.
Superior contrast for weeding is provided by a customized blue silicone paper liner for matte and gloss white.
Frequently Asked Questions (FAQ)
You can never know enough about a subject. There are always a few questions itching to be answered. The answer to the listed frequently asked questions will surely scratch that itch!
Is StarCraft a good vinyl?
Yes, it is. It works well for crafts, long-lasting graphics, decals, lettering, signs, and nearly any other application that calls for toughness and permanence.
Which brand of permanent vinyl is best?
The Oracal 651 Craft Vinyl Roll is the ideal option for vinyl with permanent adhesive.
Is StarCraft permanent vinyl waterproof?
Yes, it is waterproof.
Is permanent vinyl the same as oracal 651?
Oracal 651 Vinyl comes with a permanent adhesive backing and protective paper backing.
Conclusion
Both being fine brands of adhesive vinyl, the comparison of StarCraft vinyl and Oracal 651 is somewhat plentiful with Oracal 651 obviously being in the lead.
Regardless, the renowned StarCraft Vinyl manufactured in the United States is nothing to overlook at all. They bring forth great competition and offer exceptional fine-quality products as well.
Their differences align with your purchase with respect to preference and requirement.