Slipfence is a fencing company that supplies solutions to your fencing problem. They have a variety of fencing options to suit different kinds of requirements.
But at times, you need more from the quality to satisfy you. That's when you may want to go with an alternative route.
Here, I will go through some Slipfence alternative supply companies you can check out. If you are unsatisfied with the service from Slipfence, this article will help you find the perfect supply company for your needs.
Let's get rolling with it.
Alternatives To Slipfence Fencing Supplies You Should Know About
There are plenty of fencing supply companies you can find out there. The ones I have here for you focus on providing quality over everything else. Since you are probably wandering here searching for a good quality supply company, I will satisfy you with the choices.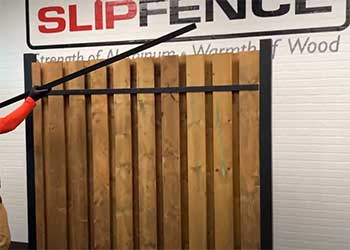 Here is a list of them:
FenceTrac
HOFT
Angi
American Fence Company
Check them out individually and see what kind of facilities each provides.
By the end of this discussion, you should find the choice that specifically suits your needs.
FenceTrac is one of the best alternative options you can find for Slipfence. The reason for that is the locality. Both of them serve the same areas. So, you can expect services from FenceTrac wherever you had service from Slipfence.
Now, there are several other reasons to choose FenceTrac as the fencing supplier for your home. First, their collection has plenty of options in terms of looks and style.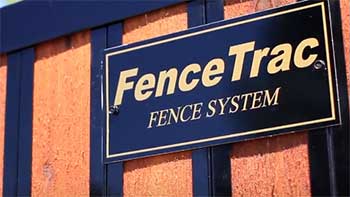 Their fencing materials tend to be quite long-lasting.
They are great choices if you want to enhance the appearance of your home through fencing.
Lastly, they are pretty easy to use. You can quickly assemble the fences and maintain them.
The supply company also lets you customize the fences very easily. Altogether they are excellent as an alternative to Slipfence.
The issue with FenceTrac compared to Slipfence is that you can get the fences only from their website. These fences aren't available at Home Depot or Lowe's.
Another issue is with the material. FenceTrac use galvanized Steel, and Slipfence uses aluminum. The problem with galvanized Steel is that when the galvanized layer comes off, the Steel may get rusty.
Another good alternative for Slipfence fencing supply is HOFT. One quality that makes them so great is that you can easily install fencing in your backyard.
They use a sliding mechanism for the installation. The process is straightforward. You plant the aluminum poles on the ground and then slide the wood fences on them.
Need to be more convincing?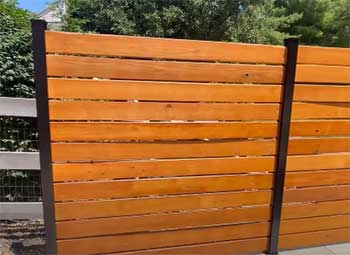 No need to worry at all.
Something that will convince you for sure is the fact that you can easily accessorize the fencing system.
It helps you create a unique appearance through the fencing and make your backyard look appealing.
In addition, it means you get the power to customize your fencing system yourself.
One of the best things about Hoft is its easy-to-navigate website. You can find what you are looking for through their website.
It's not just about navigation, and the website is relatively modern. You won't have any trouble understanding or using the website whatsoever.
The only thing that might trouble you with HOFT is their pricing. You may not find the prices pocket-friendly, especially considering them as a Slipfence alternative. So, considering that you don't mind spending money, HOFT can be an excellent choice.  
Here's another fence supplier that can become your next choice to get fencing in your backyard. Angi is outstanding in its service area as it can serve nationwide without trouble.
You can easily sort through their services and fence collections when you enter their website. They let you sort through the fences based on your projects which can be very helpful if you are looking for fencing services for a particular project,
If you need to learn about fencing and want proper fencing in your backyard, then Angi can be a great choice. They will take you through the whole fencing process and install the fences in your backyard without too much hassle.
Whether you are thinking about product availability or website usability, or available services, Angi is a good choice. However, one troublesome factor is the whole process involves you giving up your phone number, email, and other personal information.
Also, they are very persistent with their emails. So, if you choose not to go with Angi, you may find them annoying.
Do you plan to have a large fencing project?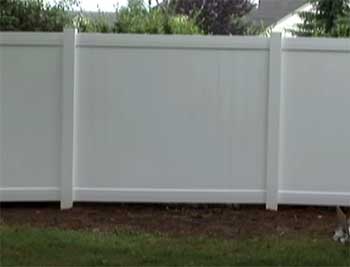 In that case, I would say go with American Fence company.
They are ready to serve the USA with their professional services.
When you contact the company, they will travel to your location if the project is large enough to fulfill their criteria.
You can rely on them for customization as well. You can discuss your personal design needs and demands from their services.
They offer various materials for sale for anyone who wishes to work on a DIY project. You don't get to see it with other fencing services.
Something that may interest you is that you can also get fencing services on rent. If you want to rent fencing for an event, you can easily discuss the quotes with them.
One issue you have to get through with an American fence company is that they need to be more suitable for smaller projects. You may find them very expensive for your needs.
So, if you are looking for an alternative to Slipfence for a larger project, American fence company can be a good choice.
Is Slipfence Worth It?
Yes, you have alternative options, but does that mean Slipfence isn't worth it? Not at all. Slipfence fencing supplies have their set of unique values that make them worth it.
The first factor is that they are better than regular wood fencing. With the aluminum construction and wood, you can rely on the strength and security of the fencing even more.
Of course, they are a bit pricey, but the quality and safety are pretty good.
What makes them so great is that you can find the fences at Home Depot and Lowe's. It is excellent for the availability factor, as you can get them for your fencing purposes almost all the time.
Frequently Asked Questions (FAQ)
What is the best composite fence?
Trex is one of the best composites fencings you can find out there. They use plastic and recycled wood fiber blend to make their fences.
What material fence lasts the longest?
Vinyl fencing lasts the longest. It can easily go up to 30+ years in longevity.
Can I use metal posts for the wood fence?
Yes, you can use metal posts for wood fencing. They are great for adding durability and making the fencing even stronger.
How do you attach wood to a steel post?
A pipe rail tie is the easiest way to attach wood to a steel post. It wraps the wood around the steel post, and you can screw the wood panels as well.
Conclusion
Summing up, several Slipfence alternative fencing supplies are out there to serve you. Based on your needs, you can choose any alternative services for your home fencing needs.
As for the Slipfence fencing, they are excellent choices for DIYers with their fence collections.