Securing your home is a top priority for most homeowners. With so many home security options on the market, deciding which system best meets your needs can feel overwhelming.
In this comprehensive guide, we'll compare three of the most popular DIY smart home security systems—SimpliSafe, ADT, and Vivint—breaking down their key features, primary differences, customer reviews, and overall value to help you determine the right fit.
A Brief Comparison Table
| | | | |
| --- | --- | --- | --- |
| Feature | SimpliSafe | ADT | Vivint |
| Equipment | Wide range of DIY sensors and devices. Affordable packages starting at $200 | Professional install packages from $1,500+. Robust equipment options | Customized packages. Built-in upgrade policy every 4-5 years |
| Installation | DIY or pay $199 professional install fee | Free professional installation included | Free professional installation |
| Monitoring | No contract. Starts at $15/month | 36 month contract $37-$60/month | 3-5 year contract $40-$55/month |
| Smart Home | Limited compatibility. No hub | Full integration with Command panel | Seamless integration controlled through Vivint panel |
| Contracts | No long-term contract | 36 month monitoring contract | 3-5 year monitoring contract |
| Customer Reviews | Excellent. 4.5 out of 5 stars | Mixed. 1.5 out of 5 stars | Mixed. 3.5 out of 5 stars |
Overview of SimpliSafe, ADT, and Vivint
SimpliSafe, ADT, and Vivint are all reliable home security providers that offer customized equipment packages, professional monitoring, and mobile app access. However, there are some notable differences between these brands: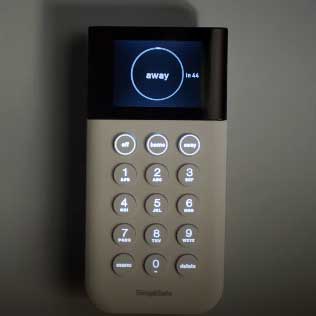 SimpliSafe is a DIY solution with no long-term contracts.
They offer an affordable upfront equipment cost and month-to-month professional monitoring.
Customization options and smart home add-ons are more limited compared to the other providers.
ADT is a longstanding home security company with professionally installed systems.
They require multi-year contracts and have higher monthly fees, but provide robust equipment options and integration.
ADT offers the assurance of a big brand name and U.S.-based support.
Vivint focuses on seamlessly integrating security, automation, and energy management. While expensive, Vivint systems are professionally installed with customized packages. Contracts are flexible at 3-5 years. Support and equipment upgrades keep these systems up-to-date.
Key Differences Between SimpliSafe, ADT And Vivint Home Security Systems
Now let's explore the key features and differences in greater depth.
Equipment and Installation
The equipment available and overall installation process varies significantly between SimpliSafe, ADT, and Vivint systems.
SimpliSafe
Equipment: SimpliSafe offers a wide selection of DIY security hardware to protect entryways, rooms, windows, and valuables. Entry-level packages start around $200. Options include:
Base station
Keypad
Motion sensor
Entry, window, glass break, water, smoke, carbon monoxide sensors
Indoor/outdoor cameras
Panic button
Installation: SimpliSafe is a DIY install. The modules use adhesive or freestanding mounting. No wiring or drilling is required. Many customers report 30-60 minute straightforward setups. However, larger systems take more time and expertise. Professional installation assistance is available for a fee.
ADT
Equipment: ADT offers a huge variety of equipment from basic to advanced. Higher-tier systems cost $1,500+ and include options like: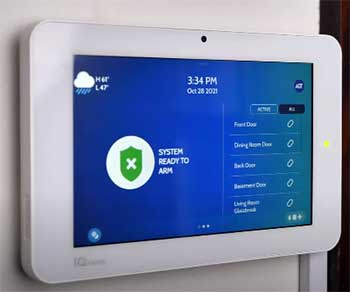 Touchscreen command panel
HD indoor/outdoor cameras
Automation hub
Flood sensors
Panic buttons
Smart thermostats
Carbon monoxide and fire monitoring
Installation: ADT professional installation is included with monitoring packages.
The installers will customize the setup, connect hardwired components, and ensure full integration. Appointment times are short with typical installations taking 2-4 hours.
Vivint
Equipment: Vivint designs comprehensive packages based on your home's layout and needs. Components are professionally installed and come with a 4-5 year built-in update/replacement policy. Options include:
Smart hub
Wireless door/window sensors
Motion and glass break detectors
Indoor/outdoor security cameras
Touchscreen wall panel
Panel or mobile app controls
Smart locks, lights, and thermostats
Installation: Vivint offers complete smart home integration, so installation is an all-day process. Vivint technicians will customize sensor and camera placement, set up the hub, connect devices, and test the system thoroughly. Appointments average 5-7 hours for initial setup.
Monitoring and Support
24/7 professional monitoring provides an added layer of security. We'll outline how SimpliSafe, ADT, and Vivint monitoring compares.
SimpliSafe
Monitoring: SimpliSafe offers flexible no-contract monitoring starting at $15/month. When a system is triggered, the signal is sent to SimpliSafe's U.S.-based monitoring center. Operators will dispatch emergency services if needed.
Support: Support options include 24/7 phone, email, and online chat assistance. DIY troubleshooting help is also accessible through the mobile app and online knowledge base.
ADT
Monitoring: ADT professional monitoring is $37-$60/month, based on the equipment package. Dispatchers at 6 nationwide centers monitor signals and coordinate with police, fire, and EMS.
Support: ADT provides U.S-based phone, email, and online chat support 24/7. Technicians are available for on-site troubleshooting if you experience technical issues.
Vivint
Monitoring: Vivint monitoring costs $40-$55/month and includes advanced features like smart home automation control and energy management. Monitoring centers are located in Utah.
Support: Vivint offers 24/7 phone and online support from both in-house techs and authorized service providers. Scheduled maintenance visits are also included. Remote access allows Vivint support to diagnose and update systems through the smart home panel.
Smart Home Automation and Control
Integrating your security system with other smart devices provides convenience and added functionality. Here's how the providers compare when it comes to home automation:
SimpliSafe has limited compatibility with third-party smart home devices. There is no automation hub. Control is primarily through the SimpliSafe app.
ADT offers full integration powered by Command, a control panel hub. ADT plans include automation features like smart locks, lights, and thermostats that can be controlled and automated through the app.
Vivint is designed for robust smart home control. Their panel hub seamlessly integrates security monitoring with lighting, locks, cameras, thermostats and more. Vivint enhances automation over time and keeps systems updated.
So for advanced smart home capabilities, ADT and Vivint have a clear advantage. SimpliSafe focuses more on core security functions.
Contracts and Fees
SimpliSafe, ADT, and Vivint take different approaches when it comes to system pricing models and contracts.
SimpliSafe
Equipment Cost: $200+ for entry-level kits. Scales upward based on add-ons.
Monitoring Contract: Month to month, cancel anytime.
Monitoring Fees: Start at $15/month, no annual fees.
Installation: Free self-install or $199 pro install fee.
Other Fees: No activation fee. No cancellation fees.
ADT
Equipment Cost: $99+ installation kit fee, plus $300-$1500 for equipment, depending on tier level and add-ons.
Monitoring Contract: 3 year minimum contract.
Monitoring Fees: $37-$60/month. No activation fee, but early cancellation fee applies.
Installation: Free professional installation.
Other Fees: Up to $200 activation fee on higher tier packages. Up to $1,500 cancellation fee if terminated early.
Vivint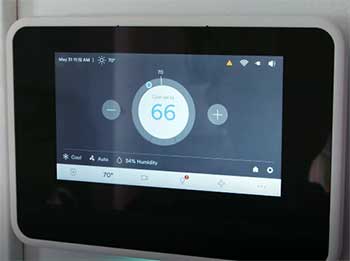 Equipment Cost: Free equipment with monitoring packages. Around $600 retail equipment cost.
Monitoring Contract: 3-5 year contract depending on plan.
Monitoring Fees: $40-$60/month with no activation fee. Cancellation fees apply.
Installation: Free professional installation.
Other Fees: Up to $800 activation fee on certain equipment packages. Up to $1,000+ cancellation fee if contract terminated early.
Be mindful of long-term contracts, early termination fees, and equipment upgrade limitations when evaluating these systems. SimpliSafe provides the most flexibility.
Customer Reviews and Reputations
Here's a brief overview of customer feedback and company reputations:
SimpliSafe earns consistently positive reviews for ease of use and cost-effective monitoring. Complaints cite connectivity issues and lack of video camera integration. Overall rating is 4.5 out of 5 stars.
ADT has mixed reviews. Customers praise the professional installation and monitoring but complain about poor customer service and misleading sales tactics. Overall rating is just 1.5 out of 5 stars.
Vivint also gets mixed yet generally positive feedback. Customers rave about the technology and automation capabilities but often have frustrations with expensive contracts and fees. Overall rating is 3.5 out of 5 stars.
While all three systems work well when installed properly, SimpliSafe seems to offer the best overall customer experience based on reviews. ADT and Vivint receive more complaints regarding their pushy sales tactics.
Frequently Asked Questions (FAQ)
What is the #1 rated home security?
Based on independent testing and reviews from consumer sites, SimpliSafe consistently earns the highest marks across key criteria like ease of use, value, reliability, and customer satisfaction. Their DIY approach, transparent pricing, and contract-free flexibility appeal to many homeowners.
What is the difference between SimpliSafe and ADT?
SimpliSafe is a DIY system with no long-term contract. ADT requires professional installation and a 36 month monitoring contract. ADT has a wider range of equipment options but SimpliSafe is more budget-friendly. Both offer reliable monitoring and mobile access. SimpliSafe focuses on core security while ADT incorporates more smart home features.
Is there a lawsuit against Vivint security?
Yes, Vivint has faced multiple class action lawsuits primarily around deceptive sales claims and bad business practices. Lawsuits allege Vivint lied about contract terms, used bait-and-switch tactics, and made it extremely difficult to cancel monitoring services. These lawsuits highlight the importance of reading contracts closely and being cautious when considering Vivint.
What is better than SimpliSafe?
Overall, SimpliSafe offers the best balance of DIY-flexibility, transparency, and affordability when comparing top DIY providers. However, Vivint is better for advanced automation features. And ADT offers greater equipment options and video camera integration, but locks customers into long, expensive contracts. It depends on your budget and specific needs. For most homeowners, SimpliSafe is very hard to beat.
Closing Remarks
SimpliSafe, ADT, and Vivint all offer reliable home security solutions. SimpliSafe excels at delivering straightforward, DIY protection at affordable price points.
ADT provides professionally installed systems with robust equipment options, while Vivint focuses most on integrated smart home control.
Carefully compare equipment, monitoring, contracts, and overall value when choosing a system for your needs. And don't forget to check out customer reviews. While pricing varies, investing in home security upfront can give you invaluable peace of mind.