It's a concerning moment for every dog parent when you frequently notice a dog scratching the same spot. Fleas are incoming!
During the summer and spring, avoiding the beautiful outdoor class in nature is impossible, and that's when all the fleas and ticks attack our dog.
No matter where you live or how the climate is there, these parasites are inevitable, causing different health complications. Simparica Trio has been a popular and effective product to fight these parasites.
But if you want to try some alternatives, I have got you coved the parasite medications I reviewed below will get you the same result as Simparica.
Alternatives To Simparica Trio To Protect Your Dogs From Parasites
As you are here, you have already used Simparica Trio, or some have recommended it. Vets have widely recommended Simparica Trio for its effectiveness against almost all parasites.
However, if your dog doesn't have the necessary weight or is sensitive to specific ingredients, you must look for alternatives to prevent the infestation. So, in this list, I will cover some widely used medications that are alternatives to Simparica.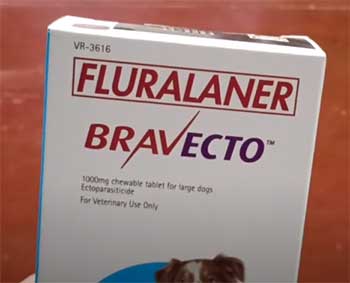 If you are looking for one of the best oral chewable for dogs, Bravecto has got your back.
Especially if your dog has long hair, this chewable is much more effective.
The effect is super-fast, killing the parasites within two hours of chewing.
Just one chewable dose offers protection for three months.
The only slight drawback of Bravecto chewable is that it doesn't kill on contact; instead, the flea must bite the dog to work. There are four chewable sizes available for different weight categories of dogs.
Credelio has an effective rate of 100% so it can be a great alternative to Simparica Trio. It takes around 48 hours to take effect, and that's slower than other options.
However, considering the available options, the 100% administration success rate makes sit one of the best parasite medications. Each chewable offers protection for one month.
If your dog has a previous history of seizure or neurological disorder, be cautious about the administration of Credelio.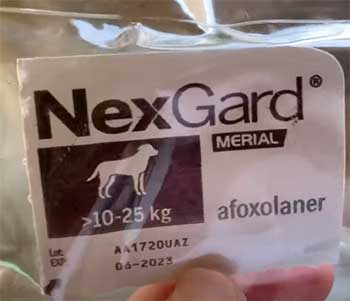 If you are looking for the best overall parasite medication, NextGard is the one you should go for.
The price is higher than most options but its features well-justifies that.
NextGard comes in a soft chewable with beef flavors so that it can be easily administered to puppies and adult dogs.
This medicine is FDA-approved, so the administration is 100% safe.
Like Bravecto, NextGard also comes in four different sizes. It's a prescription-only medicine; you must consult a veterinarian before administering it.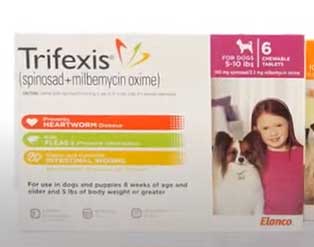 Trifexis is a product that has a lot of similarities to Simparica Trio.
It's an oral parasite medicine that offers solid parasite protection for one month.
As far as worm goes, Trifexis can effectively eliminate whipworms, hookworms, and roundworms.
The success rate of Trifexis is almost 98 to 99.8%, which is significantly better than most parasite mediation on the market.
However, it's ineffective against ticks, mange mites, and chewing lice, which can be a drawback in some cases. If you are looking for a quick result, Trifexis is the absolute best, as it takes only 30 minutes to start working.
Frontline is the first product on this list that has tropical administration. This medicine contains Fipronil as the generic active ingredient.
This ingredient is very effective in fighting against adult fleas and ticks. Your dog will be safe for one month with one dose of Frontline.
The snap-open tube makes it very easy to administer the medicine on your dog's shoulder and back. However, it's tropical and is entirely safe for other pets or children.
After application, Frontline becomes waterproof just within a day. Frontline has three variants, the Gold, Plus, and the Shield. You must consult a veterinarian to know which will work best for your dog.
Capstar can be an excellent solution if you have a puppy, even for just four weeks old or two lbs. of body weight. After administration, it takes effect just within thirty minutes. On top of that, you can safely administer it on pregnant dogs too.
There is no need for a prescription to administer Capstar. However, you must remember that it's only a short-term solution to your parasite problem. It remains effective for 24 hours and works only against fleas.
So, if you plan to use Capstar, you need to back that up with other medications to prevent parasites for the long-term effects.
Is Simparica Trio Worth It?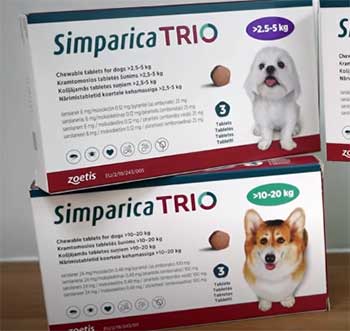 Yes, absolutely. Simparica Trio offers more protection against most parasites than any other product on the market.
This makes it one of the best parasite fighters on the market.
One pill of Simparica Trio protects your dog for one month.
There are other valuable features, too, like it's chewable, comes in beef flavor, and is safer for dogs and puppies.
It's a prescription-only drug, so a veterinarian's suggestion is a must before administration.
Simparica Trio works pretty quickly, too, within 4 hours to kill ticks ad 4 hours to kill fleas. Overall, Simparica Trio is worth everything, even with the high price tag.
Frequently Asked Questions (FAQ)
What can I use instead of Simparica Trio?
Parasite medication needs to qualify from many aspects. They have to be effective, safe, reliable, and age-appropriate. Regarding the first three features, you can rely on all the alternatives I have discussed above, which can be used as Simparica Trio alternatives.
Is there a generic version of Simparica Trio?
A: Simparica Trio has a generic available like any other medicine. Generic means the active ingredient in the drug, and in Simparica Trio's case, the generic ingredient is Sarolaner. It spreads through the body with blood and kills parasites whenever they bite the dog.
What is Simparica Trio equivalent for dogs?
Simparica Trio has some essential qualities that make it so effective and popular among dog owners. For example, Simparica Trio protects against worms like heartworms, roundworms, and fleas.
Then, it comes in chewable form in a tasty beef flavor. If we talk about an equivalent with these qualities, Trifexis is an equivalent-worthy product.
Which is safer NexGard or Simparica Trio?
Safety is a significant concern for any parasite treatment. So, if we look at Simparica trio and NexGard from that perspective, both are safe as long as you follow the instructions. One key difference is that Simparica can prevent more flea species and works faster.
Wrapping Things Up
That's a wrap for today. I hope my guide will help you find the best Simparica Trio Alternative available. If you have used Simparica Trio before, you should know just how great this chewable parasite medication is.
However, if you want to see how other medications perform, you are more than welcome to try them. Skin lesion, severe scratching, hair loss, and sometimes even flea dropping from the dog indicates a flea infestation.
Before applying the alternatives, ensure you have correctly checked the user manual, as there are regulations about size and ingredient sensitivity among dogs.