Sheartak cutterheads are made from Sintered Tungsten carbide, whereas Shelix is made of K10 grade solid tungsten carbide. Shelix headcutters create less noise than Sheartak. Plus, the maximum adjustable height for Sheartak is higher than Shelix.
Are you struggling to make smooth and accurate holes or shape them ideally using your cutterhead?
Choosing a dedicated quality rotating cutting tool can make the job breeze. Here, we have come up with a comparison session on Sheartak and Shelix.
Let's dive in!
A Quick Comparison Table
Wondering how Sheartak is different from Shelix? Look at this small table to get a brief idea quickly.
| | | |
| --- | --- | --- |
| Specification | Sheartak | Shelix |
| Material | Sintered Tungsten carbide | K10 grade solid tungsten carbide |
| Finish | glassy surface finish with no tear-out | virtually indistinguishable surface |
| Maximum Radius height | 8 inches | 4 inches |
| Dust collection system | Simple dust extraction | Quickly sucks up all wood chips |
| Noise level | A buzzing sound | A noise reduction of up to 50% |
| Durability | Good | Better |
| Price | Lower | Higher |
In-depth differences Between Sheartak And Shelix
Choosing the right headcutter requires you consider their all important features. Here is a head-to-head discussion to learn all essential aspects in detail.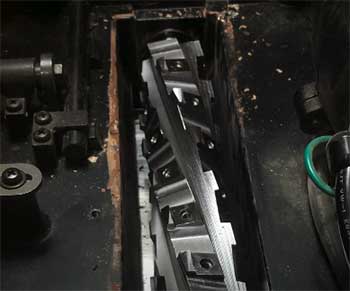 Sheartak cutter heads are made from Sintered Tungsten carbide, which is highly rigid and sturdy than high-speed steel.
It has increased flexural strength and is resistant to high wear.
On the contrary, Shelix headcutters are made of K10-grade solid tungsten carbide.
They have increased sharpness and stability. These cutting tools have improved bending strength too.
Sheartak produces a glassy surface finish with no tear-out. This ensures increased protection against abrasion, corrosion, and chemicals. Cleaning the surface is also simple.
In contrast, Shelix cutterheads create a virtually indistinguishable finish. This superior finished surface looks slightly different from the regular surface finishes of other headcutters.
The maximum adjustable radius height for Sheartak is 8 inches. So, the designation of your workpiece will be more versatile.
On the flip side, Shelix offers only 4 inches of maximum radial height. Though it is not as flexible as Sheartak, your cutting results will be more precise.
Sheartak cutterheads produce smaller and thinner chips. Hence, dust extraction will be easier. But they may slightly crawl if you keep the radius at a higher level.
In contrast, Shelix cutterheads cut only ½ inch at a particular. So, they generate a limited amount of chips. Sucking up these small chips is relatively easier for this cutting tool.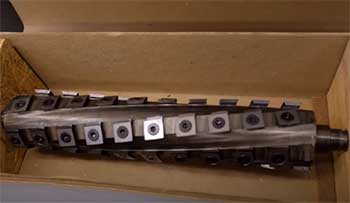 Sheartak creates only a buzzing sound while cutting wood pieces.
It is much kinder on the ears and the neighbors.
On the contrary, Shelix can reduce the noise level by up to 50%.
This mainly happens because it removes only 15mm at a particular time and doesn't follow a spiral pattern.
Though both headcutters have decent durability, Shelix is a more durable option than Sheartak. Blades of Shelix remain sharp for an extended time.
You can even cut MDF and plywood with this cutting tool. The lifespan of these carbide knives will not be affected. You need only to replace the knives when all four edges become dull.
Compared to Sheartak, Shelix is slightly expensive. Due to high-quality Carbide Inserts, its price is higher than Sheartak. But it is worth the price you spend due to its impressive performance.
Moreover, you don't need to spend too much money on replacing knives. It will cost a fraction in most cases. This makes it a more convenient purchase.
Which Headcutter Is The Best For Your Work?
Since our job requirements and preference vary, not all will like the same headcutter. If you prefer to buy highly adjustable Spiral Cutterheads, Sheartak appears to be a reliable choice.
Plus, this type of cutting tool comes at an affordable price. Due to their higher availability, you can get them easily. But, it is made in China. So don't e expect them to be highly durable.
Anyhow, watch this amazing video on this cutterhead.
On the other hand, Shelix is a better option for reliable and precise cutting. Its blades will last a long time. You will not have to replace them too often. This makes it a long-term investment.
However, it is a little bit pricey. You will need a reasonable budget to buy it. But once you purchase it, you can stay stress-free due to its fewer failures and minimal replacement costs.
Bottom Lines
When choosing a reliable headcutter, you can't overlook its noise level, dust collection system, replacement cost, durability, and finish. This helps you choose the best one.
We have already outlined all crucial aspects to assist in choosing a reliable option. You can go for either option if it suits your requirement and budget.