Backer boards have become an integral part of tiles installation regardless of where you are installing tiles. These tile backers offer waterproofing, insulation, and a smooth and flat surface for tiling.
These benefits make the tile backer board an instant hit. However, due to the plethora of options, homeowners often seem confused about which board will be perfect for them. For them, I have brought the Sentinel cement foam board.
So, without wasting time, let's see what Sentinel cement board will add to your tiling project.
Features Of Sentinel Cement Foam Board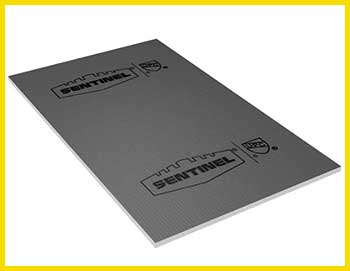 One of the best parts of Sentinel cement foam board is its multiple layers.
In total, there are total four layers of Sentinel cement board. The first layer of the board consists of polymer mortar.
Then comes the alkali mesh and repetition of polymer mortar.
Finally, the board is finished with extruded rigid foam. These layers combined give you the most durable tiles installation out there.
Waterproofing is a must before installing the tiles, whether on the floor or the wall. The tiles you are installing now will get drenched with water for years.
When this water seeps in, and the backer board fails to prevent that water, your wall or floor can permanently get damaged. While many overlook this feature, Sentinel cement foam board has this feature.
So, you are covered for years with this backer board.
Insulation might not be an essential feature of a backer board, but it never hurts to have it on board. Sentinel cement foam board brings state-of-the-art heat insulation for dry lining structures.
So, if you are worried about the insulation of your bathroom or overall heating efficiency, Sentinel cement foam board has your back.
The lightweight backer board brings a lot of benefits to the table. Lighter backer boards are easy to install, control and cut. Moreover, in the long run, more lightweight boards put way less stress on the floor below.
Considering all these benefits, many tile workers look for this feature. While cement boards are not the lightest backer board out there, Sentinel cement foam board is one of the lightest in the cement board category.
As I previously mentioned, Sentinel cement foam board is waterproof and can handle moisture effectively. However, the layer of extruded hard foam does a miracle regarding moisture leak prevention.
The board and the floor underneath can quickly get saturated and damaged due to mold growth. However, the foam layer can now do a magnificent job of preventing it.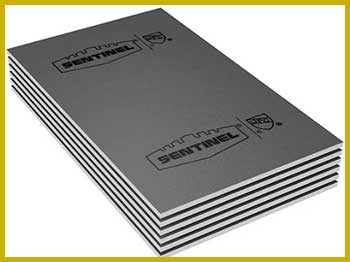 Sentinel cement foam board is super easy to install and cut.
While this feature is not directly linked to performance, easier installation and cutting make it easier to install the board precisely.
In addition, this cement foam board is compatible with any proprietary tile adhesive on the market, making it an ideal board to tile on.
Cutting this board is pretty straightforward too. You can easily do it with a utility knife.
Sentinel cement foam boards come with cUPC certification. This certification stands for the Canadian Uniform Plumbing Code, and the boards are manufactured by following these codes.
As a result, customers are guaranteed to have a safe and sanitary plumbing system.
You don't install tiles in your bathroom every day. So, when using cement boards underneath, you must ensure the board will serve you for a long time without any issues and keep your floor and tile safe.
In that regard, Sentinel offers 10 years of limited warranty with its cement foam boards. With this warranty and excellent customer support, you don't have to worry about investing in Sentinel cement foam boards anymore.
What Could Have Been Better With Sentinel Cement Foam Board?
As you have seen above, Sentinel cement foam board is a good and reliable option for any tile installation project. However, there are a few drawbacks, and fixing them can make the product even better.
Different backer boards come in different sizes. While cutting is definitely an option, more sizes make it easier to install and choose the exact fit for the tiling projects. In that regard, Sentinel can work a bit, as there are currently only two available sizes of this board.
Though I mentioned Sentinel cement foam board is lightweight, that's only in the cement board category. If we talk about the backer board overall, Sentinel cement foam board is far from a light choice. This heaviness can stress the floor and make it hard to cut.
Frequently Asked Questions (FAQ)
What is Sentinel foam board?
Sentinel foam board is an alternative to the cement backer boards available for tiling today. This board has some unique properties that make it more durable, waterproof, and lightweight than traditional backer board options on the market. Also, unlike other cement backer boards, a foam core is inside the board to prevent mold.
What can I use instead of cement board?
If you are looking for an alternative to cement board, glass mat gypsum board can be a good option/. These water-treated gypsum boards offer almost the same moisture and mold resistance. On top of that, glass mat gypsum boards are reinforced by fiberglass on both sides, making it easier to cut.
Is cement board better than green board?
Both cement board and green board have their pros and cons. However, the main difference between them is the protection against water. While green boards are only water resistant, cement boards are waterproof. For this reason, the cement board is slightly better, as the water exposure won't limit you.
Final Words
That's a wrap for today. I hope my Sentinel cement foam board reviews will help you better understand this tile backer board.
Several types of backer boards are available on the market with various thicknesses. Cement foam boards are mainly known for their versatility and firm foundation.
Thanks to Sentinel, they have created the perfect cement foam board plumbers, and homeowners can reliably invest in them.