Being a cat guardian, I know how essential it is to have a proper litter box to ensure the house is spotlessly clean and with a fresh scent.
ScoopFree is one of the best self-cleaning boxes due to its low maintenance and simple structure. Besides ScoopFree, there are plenty of other options you can consider.
Buckle your seatbelt and let the journey begin!
ScoopFree Substitutes That You Can Consider
Here are the ScoopFree Tray alternatives that you and your pet need!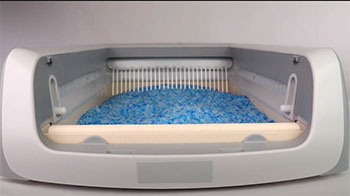 Forever Litter Tray is made from a tough, non-porous, stain-resistant, exceptionally high-quality plastic material.
More importantly, it is super easy to install and clean.
The tray contains an antimicrobial plastic layer that controls odor.
And with the anti-scratch surface, the tray can serve you for generations due to its increased lifespan.
The tray is an affordable choice and environment-friend; therefore, Forever Litter Tray is a superb substitute.
World's Best Cat Litter formulas can be used on both kittens and cats. You can choose from six options: Zero Mess, Picky Cat, Original Unscented, Multiple Cat Unscented, Multiple Cat Lavender Scented, Low Tracking and Dust Control, and Multiple Cat Lotus Blossom Scented.
The product is made of whole-kernel corn components, free of silica dust, allowing you and your cat to breathe easily. Through the naturally-absorbing nature of the corn, waste is quickly trapped before it gets to the box.
More interestingly, any smell produced gets trapped inside the litter; thus, you don't have to worry about any stinks.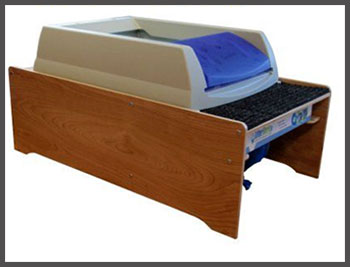 Another awesome alternative for the ScoopFree tray is the Litter-Bagger.
This brand is called the automated waste bagging system, which allows you to put dirty crystals inside the bag under the automatic box.
The unit is made of unfinished plywood, which requires frequent assembly measures.
So, it can be more expensive compared to other options. But the best part is that you don't have to replace or move the tray.
Did I also mention that there is an excellent reduction of the odor?
Any cat owner needs some CatGenie in their life. Reason? Where do I start?
CatGenie ensures a scooped, cleaned, and hot-air-dried box is delivered after every use. The non-absorbing washable granules drain all the liquid, and then the solid waste is liquified using an odor-trapping system.
Also, this litter system is one of the most sanitary since it washes, scrubs, and purifies the washable granules leaving them and the cat area spotless.
Better yet, all waste is flushed for good, leaving no dirty litter to clean or smell. This is perfect if you want an easy, less cumbersome process.
This self-cleaning litter box creates a clean space for your cat 24/7 by rotating the litter through the grate to separate waste from clean litter.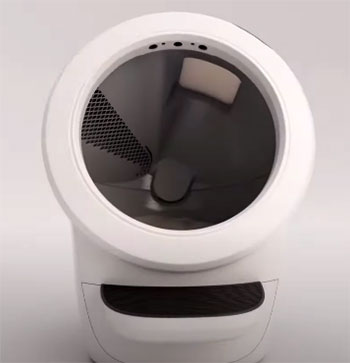 Also, it can hold enough waste to allow you to empty it only once a week.
Once the kitty is done with their call, a timer counts down to allow the litter to clump.
Moreover, this robot box implements a carbon-filter technology that eliminates unwanted smells.
Do you have more than one cat?
Don't worry!
This waste disposal mechanism can accommodate up to four cats.
And since it is Wi-Fi-enables, you can monitor your cat's activities from the comfort of your phone.
Nature's Miracle Jumbo Disposable Litter Box
Nature's disposable box is made of a breathable layer that enables excellent airflow and removes the moisture that builds up the odor. This durable pan has baking soda that protects against ammonia components.
It is super easy to clean, therefore ensuring your cat always has a sanitary place to go to. There is no need to scrub the boxes.
Once you are done with the plastic box, throw away the disposable box. After every four weeks, you must replace the litter pan to ensure maximum freshness.
Petmate Booda Dome Cleanstep Litter Box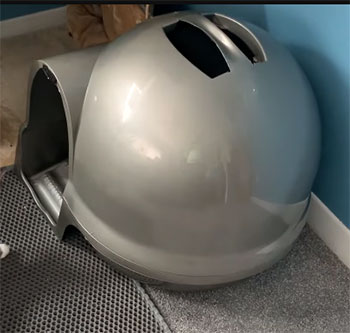 This box provides privacy to your cat through the hooded top and the igloo structure.
It has a unique entrance pathway designed to trap the cat's litter from its paw.
This ensures that the waste remains in the box and not on the floor.
With the built-in handle, cleaning and moving the box is a walk in the park.
In addition, it has a charcoal-filter technique that keeps your house clean always, even if you have more than one feline.
Last but not least, it is made of recyclable products, so it's 100% eco-friendly.
Van Ness Enclosed Litter Pan
This large-enclosed litter pan is very convenient for big cats. Also, it contains a flap-design door to eliminate scatter and give your pet the privacy they need.
In addition, the pan has high resistance to stains, and cleaning up is a breeze. Plus, the changeable air filter takes kin foul odors, leaving a distinctive pleasant aura.
Purina Tidy Cats Litter Box System
Sick of the stinking litter smells? Purina Tidy Cat system ends that by creating an odor-free space for you.
The grated floor traps moisture in the disposable pads as the solid waste is captured and dried for scooping purposes.
Arm and Hammer Sifting Litter Pan
This litter pan features a sturdy reinforced rim structure that increases its longevity. Additionally, the Arm and Hammer box is high enough to hold litter liners in place and avoid scattering.
The three-level sifting system creates a smooth and quick cleaning process. It's not fun coming home from work tired only to spend hours washing your cat's mess.
Besides, the litter pan has a micro-ban finish that offers antimicrobial protection.
No more cumbersome space for your pet!
Modkat has a three-position lid that gives your cat flexibility and comfort. On top of that, the interior is incredibly spacious, making it easy to scoop and clean.
The boxes are designed using smooth tarpaulin and are highly resistant to scratches, lasting up to four months.
Also, the liners are perfectly and firmly positioned, so they don't come down, no matter how much the kitty scratches them.
IRIS USA Open Top Cat Litter Tray with Scoop and Scatter Shield
Invest a few bucks to consider a super strong Open Top Cat liter tray just like this IRIS USA.
It is made in the United States, and it's a strong product to offer many functional as well as comfortable solutions for your cat's bathroom needs.
It comes with an Open-Air kitty litter pan, making it easier for your cat to enter and get out of the tray.
Such a facility has never been made so easier until and unless you have this tray. The open-top cat litter also ensures your cat's required level of privacy by providing tall walls from the scatter shields.
With this, monitoring your cat's habits is also easier, and cleaning comes far easier. It is another great choice or substitute for Scoopfree Tray for your cat.
Petmate Arm & Hammer Large Sifting Litter Tray
With this masterpiece, you won't need any Scooping. It's a product that is easy to use, durable, and made for a large cat that comes with one sifting box and 2 regular boxes.
When you clean it, the patented sifting technology lets the litter pass through easily. It does have a Built-In Microban protection that inhibits the growth of odor-causing bacteria.
Experience less odor and easy cat littering with this by spending a few bucks, which makes it a greater alternative to the Scoopfree tray.
Kitty Sift (6-Pack) Disposable Cat Litter Box
Enjoy the quickest and most convenient cat-littering method while using this Kitty Sift 6-pack disposable Cat litter box.
It may not work with you for a lifetime, but in case you need an alternative to Scoopfree, you can have it.
It comes with 100% post-consumer plastic-free material and recycled cardboard material.
The purchase of this box is very economical and keeps the litter dried and fresher for a longer period.
This masterpiece gives your cat a perfect place for littering by providing a natural and peaceful environment for cats.
Besides being a good product, it gives you less odor and reduces the buildup.
Purina Tidy Cats Hooded Litter Box System
It's like a home for your cat that comes by spending a little more money than a Scoopfree litter tray.
It is a hooded litter box system with all the accessories, such as Litter Pallets, Pads, and boxes.
There are disposable cat litter pads used to keep the moisture locked in, which ensures a dry and comfortable environment for your cat.
Such pads last for almost 7 days for a single cat. It works on the principle of absorbing, tossing, and replacing, which makes it much easier for you and your cat so that the cat might poo easily!
Is ScoopFree Tray Worth It?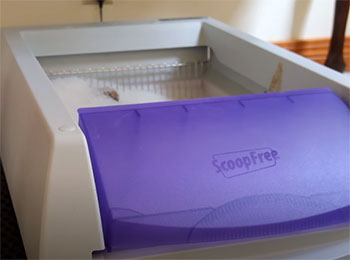 There you have it! Detailed piece-by-piece information on the substitutes is at your full disposal.
Let's go back to ScoopFree Tray for a little bit.
ScoopFree has low maintenance; remove the tray and replace it with a new one.
It also has excellent longevity. Plus, it's extremely convenient.
When your cat makes a mess, clean and change the crystals, and the toilet box is ready to use!  
Frequently Asked Questions (FAQ)
What can I use instead of a litter tray?
A couple of options have been tested and tried out and proven efficient. Such include chicken feed mixture, baking soda, sand, shredded paper, wood shavings, sawdust, whole wheat, and junk mail.
Can you reuse the ScoopFree tray?
Yes, you can reuse the tray over and over again. To extend the life of the tray, you can mix the crystal litter once a week. However, after 30 days, you can do a replacement.
Can you use any crystal litter in the ScoopFree litter box?
ScoopFree litter box is compatible with any reusable trays so long as they quickly absorb urine and dry the solid waste. Nonetheless, the most recommended one is the Deluxe crystal litter.
How long do ScoopFree litter trays last?
A ScoopFree tray needs to be replaced at least every 30 days. You can throw away the disposable litter boxes.
Closing Remarks
ScoopFree is an exceptional choice, but so is the ScoopFree Tray alternative. Based on their attributes, you should decide which works best for you.
A great litter box should be easy to clean, durable, versatile, and have maximum odor control. Drop the hefty litter chores and upgrade to a more automated system!