Rust Bullet Concrete and DuraGrade are both excellent options to choose from. DuraGrade has a dry film thickness of 8 while the other brand in question has 6 and offers a metallic finishing while Rust Bullet is 6 mil DFT with glossy finishing.
DuraGrade is relatively more expensive with an accurate value provided for the time taken to dry. The differences are not too significantly far apart, and the choice is ultimately more about preference than performance.
A Brief Comparison Table
| | | |
| --- | --- | --- |
| Specifications | Rust Bullet Concrete | DuraGrade |
| Full Cure Time | 72 hours | 72 hours |
| Dry Film Thickness (DFT) | 6 mil DFT | 8 mil DFT |
| Number of Coatings | 2-coat | 2-coat |
| Cost | Comparatively more affordable | About 50% more costly than Rust Bullet Concrete |
| Shelf Life | At least 2 years | At least 2 years |
| The Time Taken to Dry | Approximately 2 to 6 hours | Very accurate 4 to 5 hours |
| Finishing | Glossy | Metallic |
Key Differences Between Rust Bullet Concrete and DureGrade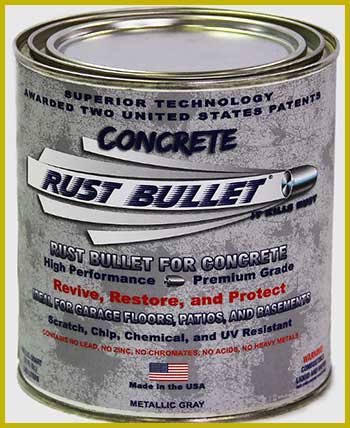 From the term, it's easy to understand that this is the time taken for the substance to cure.
But what does curing exactly mean here?
Bottom-line, this is the total time needed for an adhesive or sealant chemical to complete the reaction it undergoes to reach its optimum strength.
The full cure time for them both is 72 hours.
This, as a matter of fact, is the generic value of any well-reputed product of this sort.
It is important to keep in mind that the full cure time is impacted by the temperature of the surface and relative humidity of the environment, hence varies accordingly.
However, this is not too significantly changed unless the conditions are extreme. There isn't much to worry about here unless the environment you're working in has extreme conditions. In this case, it is best to hire professionals.
The dry film thickness (DFT) is the thickness of the coating based on what is measured above the substrate, it basically measures the total (not the individual layers).
This isn't limited to a specific quantity of layers as it can be referred to as a single or double layer.
The battle of dry film thickness values is won by DuraGrade. Their products offer a measure of 8 DFT whereas Rust Bullet Concrete is yet to technologically improve and thus is behind by 2, at a value of 6 DFT.
Both companies have met eye to eye regarding this specification. They both come with a 2-coat feature.
Now, this is quite a game changer. The price for Rust Bullet Concrete is in the range of values that are more affordable to consumers in the market. The service provided by their products in fact matches up to the standard set by the pricing.
DuraGrade on the other hand is relatively more expensive. Their price range is roughly about 50% more than that of Rust Bullet Concrete.
They do offer advancement to certain features (given in the comparison table) for which it is expected to be sold at a higher price.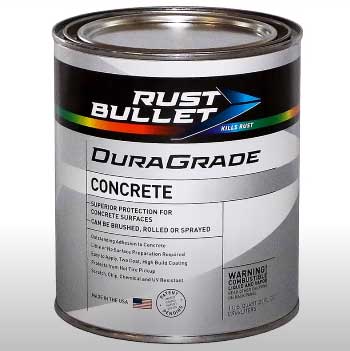 However, it is questionable to think if such a few numbers of differences are worth the price to be at a range that is more than half the value of the other company at hand.
It was also noted that even when at the sale, the price range was still quite high.
Ultimately, this comes down to what you as the buyer prefer.
If you want to save more money and think that a few numbers of differences aren't too high, then Rust Bullet Concrete is the way to go.
The differences don't make it a bad product nor have given it a bad reputation in the market. They are at the standard minimum value for a few specifications but are still top-notch in terms of service provided.
But if you're willing to spend more and want a product that is farther ahead in the game then DuraGrade is the one for you.
The shelf life refers to the period during which the product stays at a stage that is fit for usage, in other words when products are unopened.
The shelf life for both DuraGrade and Rust Bullet Concrete has yet again met eye to eye at a period of 24 months (2 years).
Once the seal has been removed, both products have a shelf life of approximately 1 month.
For Rust Bullet Concrete, the time taken for drying is approximately 2 to 6 hours. This is relatively less compared to most companies. It is true that something drying faster is convenient, given that this is your priority.
DuraGrade, on the other hand, is precise about its drying hours which is apparently strict to its range of 4 to 5 hours.
It is rather difficult to determine this time to such precision, but this probably just means that they are that advanced and good at what they do. It is important to remember that the maximum time between each coat is 12 hours.
Rust Bullet Concrete delivers a pretty and neat glossy finish while DuraGrade is known for its fine metallic finish.
This is simply a matter of preference and requirement.
Frequently Asked Questions (FAQ)
There are very few mind-boggling questions that are likely to arise regarding this subject. We will now look at the answers to them.
Is Rust Bullet an epoxy?
No, Rust Bullet is not an epoxy. It is in fact water vapor curing polyurethane. This product has a smooth consistency and is easy to sweep. Furthermore, it comes with a gray sheen which is quite satisfying.
What is the best coating for garage floors?
The most popular voted one would probably be a 2-part epoxy finishing. This is mainly because of its durability. This sort of coating can be obtained through the mixture of a separate hardener or catalyst into resin or any base material.
Conclusion
This article on Rust Bullet concrete vs. DuraGrade comes to an end with a brief comparison making it easy to decide which to buy.
Even though the value in price is too high with such little differences, each difference has shown to be quite prominent, and the technology invested in making that happen is probably the reason for such a big price gap.
The cheaper one is still fine if you're on the budget and it matches your requirement. We hope you find a suitable one.