The best way to add a little zing to your DIYs is with Rub n Buff, am I right?
Decorative gilding wax can elevate your furniture rework to newer heights. But have you ever searched for Rub n Buff substitutes due to cost and availability issues?
Worry not; you can finally stop searching and take a gander at these selections of replacements that we've listed! You can have a game-changer with one stroke of gilding wax, so let's dive in!
Rub n Buff Substitutes

We all know the potential that Rub n Buff holds. However, if you're looking for alternatives, take a quick gander at the list below. The discussion below will elaborate if you can invest in alternatives or good old Rub n Buff.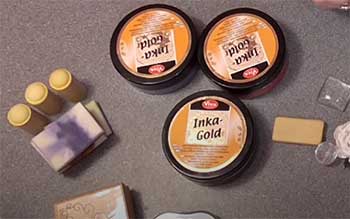 This new product has taken the market by quite a storm as one of the best replacements for Rub n Buff.
Inka Gold comes in a whopping nine shade range with a paste-base wax and can be used on various materials.
You can highlight or paint your DIYs, and this highly concentrated color will not budge or scruff off.
It will dry off within 10-15 minutes after application in a non-tacky, hard wax finish.
Did you know you can make your own Rub n Buff DIY at home? It's just as effective, and you can even make them in any shade you want!
To make your very own homemade Rub n Buff add boiled linseed oil, and only a few drops of it should work. Add the droplets to metallic powders such as powdered pearls or pearl ex. keep mixing this concussion until it forms a paste-like, thick consistency.
Lastly, take a clean tight-fit jar and pour in the mixture. Remember always to boil the linseed oil and not use the raw version; otherwise, the mixture will not dry down and thus, will be unusable for application.
Lastly, use a soft cloth or cotton to swap the paint.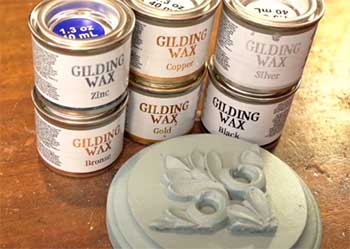 The Dixie Belle wax comes in all the beautiful colors you'd need starting from silver to bronze and even gold.
The metallic lusters this gilding wax brings out in your DIYs are unmatchable.
It has an oil-based formula that can ornate any piece, enhancing textures and detailing if that's the look you're opting for.
The product comes in a 40ml container with a quick drying formula that allows the layers to dry within 30-60 minutes after application.
So, you will get similar results to the well-known Rub n Buff, and the fine finishing is also a sweet surprise!
DecoArt Metallic Lustre Wax
Another big hit in the decorative market is the DecoArt lustre wax finish. It comes in three different sizes and has opaque and permanent coverage.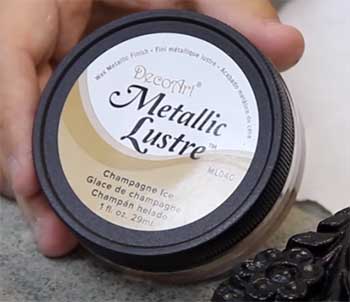 Moreover, the best part about this bad boy has to be its easy clean-up properties.
You can simply use water and soap to clean up the mess after application, and it's even more reliable to do so as it dries relatively quickly.
But, the real charm with this Rub n Buff substitute is that it has a brilliant shine thus, an exquisite finish when applied atop DIYs.
The pigments are highly concentrative, which makes one application go a long way.
Furthermore, it can adhere to various absorbent surfaces, even metal, which makes it a top-notch competitor against Rub n Buff.
Rub n Buff Glue Substitute DIY
One of the most excellent Rub n Buff substitutes has to be this budget-friendly and homemade version that most households have. It's pretty simple to make, and you can also make various colors out of the main base.
To begin, you will need a tacky or Elmer's glue tube.
However, remember only to use glue with a clear base for this project, as clear glue dries quicker and can bond well with pearls or other color bases. Next, you'll need to take mica powders or pearl powder and mix that with the glue.
You can make different colors and store them in tiny jars. Not only will these perform equally well, but they dry quickly and lets you customize ant color, which is a huge plus!
Prima Marketing Art Alchemy-Antique
If you're looking for that perfect addition to your creative collection, don't skip n this art alchemy collection. When users want to bring out different styles and suave in their DIYs, they love using the Prima antique brilliance, which also comes in multiple colors so that you can pick as your heart desires!
The wax has a permanent finish but also lets users mold vintage effects, bring out darker surfaces, and glide on generous amounts of colors for the best results.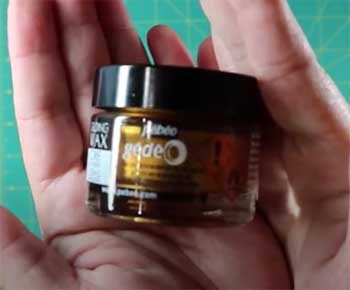 The 30ml Pebeo gilding wax comes in five different color options and lets you add a little shine and lustre to any project.
Pebeo is genuinely one of the best alternatives if you crave an antique and vintage look alongside reviving your furniture.
But, don't worry, rejuvenating these projects isn't the toughest either, as it's super easy to use with a wide range of applications.
Not only is the product applicable on any surface, but you can use it with brushes or soft cloths to bring depth, texture, glaze, and a fine professional finish.
Is Rub n Buff Worth It?
Now you know all about the alternatives, so let's get to know a little about the Rub n Buff.
Rub n Buff comes in many colors with the sturdiest base. One stroke with a brush or even a glide with your fingertips can truly create magic atop your DIY projects.
The lustrous finish that people achieve with this product is simply exemplary. Moreover, you can use these on light fixtures, frames, glass, home decor, furniture, and more!
So yes, there are endless opportunities, but the same goes for our listed alternatives! Thus, there's no right or wrong with whichever product you select, but now you can make a better selection based on your needs and budget.
Frequently Asked Question (FAQ)
What can I use in place of Rub n Buff?
The new product that has taken the place of Rub n Buff is the Inka Gold which has a wax base and paste-like texture. It comes in around nine colors and various shades and highlights.
Is Rub n Buff the same as gilding wax?
Gilding wax is offered by multiple renowned brands namely, Rub-N-Buff and Pebeo Gilding Wax. Users love their effectiveness and usage variability.
What kind of paint is Rub n Buff?
Rub n buff has a metallic paint base mainly used on surfaces to incorporate a touch of gilding wherever needed. Rub n buff is quick-drying, easy to work with and apply, and doesn't require expertise techniques.
Does Rub n Buff last?
Fortunately, Rub n buff is long-lasting and permanent. It will be durable on spray or any other type of paint unless the surface is scratched.
Wrapping Things Up
Oh, the colorful designs you can create now! We encourage you to try out the Rub n Buff alternatives because trust us, you will not be disappointed.
You can try out a few color and base ranges within these alternatives to ensure top-tier results and creativity. It's tough to acquire substitutes that remain as effective as Rub n Buff, but now that you know the secret products, don't delay and grab the best creative tool to uplift your DIY projects!