Think up what it would be like when you are shifting, or construction work is happening in your house. Everything's just lying here and there. But above all, your floors and walls are unprotected, and there are so many ways they can get damaged.
That's why many people use the Ram board in these situations. But do you know there are some other practical alternatives to this?
You will after reading this article because here I'm going to show you some alternatives which will give you almost similar protection. So, without further ado, let's get down on the road.
Substitutes To Ram Board To Protect Your Floors & Walls
Ram board is very good at protecting floors and walls while a renovation is happening in your house or you're moving out. But it is costly as well. That's why many people look for its alternatives.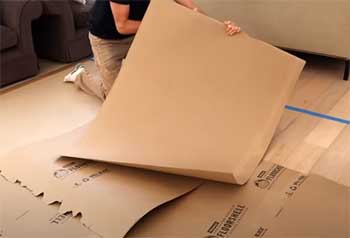 Here is a list of such alternatives:
Rosin Paper
Masonite
Hard Floor Protecting Plastic Films
Carpet Protecting Plastic Films
Door Mats
Runners & Rugs
Cardboard
There is a good chance you might be familiar with some of the alternatives. If not, this piece of writing will be beneficial to you.
So, here are all types of alternatives that you can use for protecting your floors and walls.
Hard Floor Protecting Plastic Films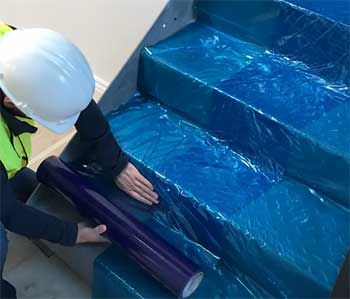 Plastic film is another excellent way to protect your hard floors. This plastic film is specially designed for marble, vinyl, tiles, concrete, etc., floors.
You can easily install them on your floor as they will remain perfectly attached to your floor.
Plastic films can protect your floors and walls from dirt, water, debris, and moisture.
That's why it's an excellent alternative to Ram board. Besides, they are pretty cheaper and readily available as well.
Being transparent, you can see your floor while working. Most importantly, you can cover your entire floor and walls with this protective cover.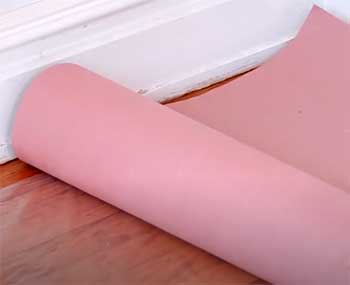 Rosin paper can offer extra protection to your floor. But it works best with Masonite.
You can use it under the Masonite, so your floors get an extra layer of protection.
So, you should not use just the Rosin paper.
However, you will find red and brown color Rosin paper. Make sure it does not get wet while using it; otherwise, it can tear.
Nonetheless, it is a cheaper alternative to the Ram board. You have to use it carefully.
Another good alternative to ram board is cardboards. Because of the low price and availability, it is often a go-to option to cover floors while renovating or moving out of your house.
The good part is that you might not have to buy it since we all have some unused boxes.
But it has similar issues to runners. Being abrasive, it can slide around pretty easily. Ensure that you don't use any tape on it since it might damage your floor. Again, if cardboards become wet, its prints can transfer to your floor.
So try to use new cardboard without any prints, and do not use them for a very long time.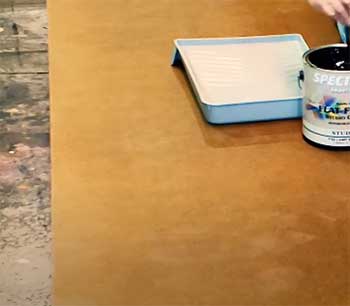 Masonite is an excellent choice for floor protection. It is one of the most durable and densest floor protection options available. You can easily install this flexible protective cover while renovating your house or moving out.
With its thickness and versatility, you can protect your floors from damage and destruction. There are various types of Masonite available in the market.
But most of them come in the form of a roll. So, you can easily lay them on your floor.
Typical Masonite is made of steam-cooked plywood fibers; that's why they are pretty durable. But the tempered Masonite is molded in extreme heat and pressure. As a result, it is dense and flexible.
Carpet Protecting Plastic Films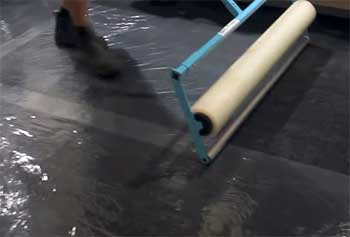 Another type of plastic film is available, specially made for carpets and soft surfaces, but you can put it on any surface, including any hard floor.
It will ensure that your floors, walls, and carpets do not suffer any paint, dirt, or stain.
Another great thing about this plastic film is that you can use it under any other protection, and you can also use it for underlayment.
Besides, you won't need any tools to put it on your floor.
Like any other plastic film, this one is affordable. You can quickly cover all your floor and walls with it. And the good part is, it will stay in its place and won't slide.
You might think I'm crazy for suggesting door mats as an alternative to Ram board. While it might not be able to protect the floor of your entire house, it has its own work.
Placing door mats in critical areas will protect your house from outside dirt.
When you and movers move things out of your home and walk through your lawns and driveways, you bring dirt. It will make things worse for you.
But a doormat can save you from that. It will protect your floor and won't let it become dirty and slippery.
Runners and rugs are another two components that you can use as alternatives to Ram board to some extent. You can create a pathway using runners from the door going through places around your house.
But there is a problem with the runner, which is it moves. Your runner might move while you walk on it, especially on smooth floors.
So, you have to ensure there is no wrinkle in the runner. There are some non-slip runners available; you can use them for safety.
Rugs can also be effective as floor protection. You can use it in the same way as runners.
Corrugated Plastic Sheets
Corrugated plastic sheets are lightweight, waterproof, and highly durable. They are made from high-density polyethylene material to withstand heavy foot traffic, spills, and impacts.
These sheets are also easy to cut and can be used to protect floors, walls, and other surfaces during construction and remodeling projects.
Moreover, Corrugated plastic sheets are reusable and can be easily cleaned and disinfected. It makes them a cost-effective and practical choice for contractors and DIY enthusiasts.
On top of that, these plastic sheets come in a wide range of colors, including red, blue, black, green, yellow, etc. So, it's an excellent substitute for Ram Board.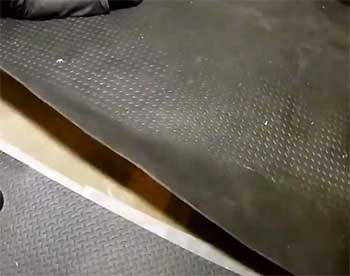 Rubber matting is a heavy-duty floor protection product.
It is highly sustainable and can withstand heavy foot traffic, dirt, and elements.
It is made from rubber and is available in various thicknesses and sizes.
Rubber matting is ideal for protecting floors in high-traffic areas such as hallways, construction places, entryways, and lobbies.
In addition, it requires minimal maintenance and can be reused multiple times. However, they cost more than the Ram Board, making them a relatively expensive investment.
Builder board is a heavy-duty, temporary floor protection product similar to Ram Board.
It is made from a breathable, non-woven material. The long-lastingness and robust build makes it a convenient substitute for Ram Board.
Builder board is easy to use and can be used to protect floors, walls, and other areas during construction projects. It is also reusable and quickly rolled up and stored for future use.
Surface shields are a range of temporary floor protection products. They are available in various types, such as adhesive films, mats, and runners.
Surface shields are easy to modify according to your needs and construction area. Moreover, they are highly resistant to punctures, tears, and spills, making them a reliable choice for contractors and DIY enthusiasts.
Check out the Surface Shield website for a more precise idea about the products.
Ram Board Plus is an upgraded version of the original Ram Board product. It offers the same level of protection as the original Ram Board.
But, the added features such as a spill-resistant coating, pre-taped edges, and a smoother surface make it more efficient. The new pre-taped edge design makes the installation time 40% faster.
Moreover, the powerful spill protection technology keeps your floor neat and clean from mud, water, and more.
Ram Board Plus is immensely viable and can conserve floors, walls, and other surfaces during construction.
Despite being more costly than the Ram Board, it is a much better product to protect your walls and floor.
Is Ram Board Worth It?
Ram board is widely used for covering floors while renovating homes or moving things around or out of the home. There is a reason so many people use it.
This protective cover is thick and can effectively protect your floors from any damage.
Installation is easy as well for Ram boards. I've discussed Ram board and its alternatives and tried to show the pros and cons of each product. So, it's your discretion which one you'll use.
Frequently Asked Questions (FAQ)
Is Ram Board the best?
Ram board is an excellent choice for protecting floors while fixing things in your house. It's quite easy to install and remove. Because of its thickness and build quality, your floor will remain safe and protected.
What is Ram Board made of?
The manufacturer of Ram board follows an environmentally friendly process. It is made of 100% reclaimed paper containing at least 90% post-consumer material. That's why extremely eco-friendly.
What to use to protect floors during construction?
You can use various protective covers to protect your floors and walls during construction work. It can be products like Ram boards, Masonite, Plastic films, etc. Again, you can use cardboard, runners, door mats, etc.
What is the thickness of Ram Board?
A Ram board is considerably thick compared to other similar products. That's why it can effectively protect your floor. A ram board is generally 46 mils thick, which is pretty good, to be honest.
Final Thoughts
After reading everything about the Ram Board alternative, you have a clear picture in front of you. Either use Ram board or pick up any of the alternatives.
While not all alternatives are similarly effective, some will offer as good results as ram board. So make your decision wisely because fixing a damaged floor will cost far more than any of these protective covers.