If you have hardwood floors in your home, keeping them looking beautiful probably feels like a full-time job. Between scratches, dulling, and just general wear and tear from daily activity, it can be tough to keep your floors looking refreshed.
When it comes time for a deep clean, you have a couple options. You can hire professional cleaners to come buff and recoat your floors, which can get pricey. Or you can restore them yourself using a wood floor restorer.
Two popular options for DIY wood floor restoring are Quick Shine and Rejuvenate. Both promise to refresh dull, worn floors and protect them from future damage. But which one actually works better?
In this article, we'll compare Quick Shine and Rejuvenate wood floor restorers. We'll look at how they work, their key features and differences, cost, and effectiveness based on real customer reviews.
Let's dive in!
A Brief Comparison Table
| | | |
| --- | --- | --- |
| Feature | Quick Shine | Rejuvenate |
| Application Process | Mop on, mop off | Clean, apply, buff |
| Active Ingredients | Detergents, carnauba wax, polymers/acrylics | Detergents, jojoba oil, silicon dioxide, aluminum oxide |
| Sheen Level | High gloss | Satin finish |
| Durability | Up to 3-5 months | 6+ months |
| Cost | $42 for starter kit (500 sq ft) | $60 for starter kit (500 sq ft) |
Key Takeaways: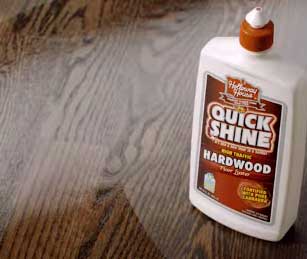 Quick Shine provides faster high-gloss results but requires reapplying every 1-2 months.
Rejuvenate enhances the natural look of wood for longer-lasting durability, around 6 months between applications.
Rejuvenate offers scratch-filling abilities that Quick Shine does not have.
Rejuvenate works better for polyurethane floors while Quick Shine is ideal for wax finishes.
Overall, Rejuvenate provides longer-lasting restoration that looks more natural compared to the quick yet temporary shine of Quick Shine.
How Do Quick Shine and Rejuvenate Work?
First, it's helpful to understand what wood floor restorers actually do.
Products like Quick Shine and Rejuvenate are designed to:
Remove dirt, grime, and residue from floors
Buff away dullness and light scratches
Repair deeper scuffs and damage
Restore natural shine and luster
Protect floors from future wear
They do this using a combination of mild detergents, polishing oils, and acrylic sealants.
When you use them as directed, the detergents break down and lift away built-up gunk. The polishing oils then work their way into the grain of the wood, conditioning and revitalizing it.
Finally, the acrylic sealant forms a protective barrier over the floor. This prevents dirt and spills from seeping back in and gives your floors that "just polished" look.
Now let's look at the key differences between the Quick Shine and Rejuvenate systems.
Quick Shine And Rejuvenate: Key Features And Differences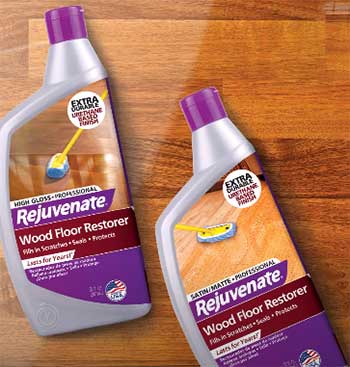 Quick Shine uses a mop-on/mop-off process.
You apply the solution with a microfiber mop, let it sit for 5-10 minutes, then mop it dry with clean pads.
Rejuvenate uses a clean/apply/buff process.
You first sweep and mop your floors with Rejuvenate Floor Cleaner.
Then you apply the Rejuvenate Floor Restorer with an applicator pad.
After letting it dry 20 minutes, you buff the floors with white pads.
So Rejuvenate requires an extra product and buffing step that Quick Shine does not. But this may allow it to penetrate deeper for better results.
Quick Shine's main active ingredients are detergents, carnauba wax, and polymers/acrylics.
Rejuvenate contains detergents as well but relies more on jojoba oil, silicon dioxide, and aluminum oxide as abrasives. It also includes kaolin clay.
Both contain slip-resistant additives. But Rejuvenate seems more natural with its use of jojoba oil and kaolin clay. Quick Shine relies on more synthetic chemicals and waxes.
Quick Shine aims to provide a high-gloss finish. So it will make your floors noticeably shinier.
Rejuvenate offers more of a satin finish. It helps enhance the natural look of the wood rather than overly gloss it up.
So if you want a shiny gleam, Quick Shine is likely the better option. For a more natural, subdued sheen, go with Rejuvenate.
Quick Shine states that its polymers form a durable acrylic shield to protect floors. The company claims this sealant can last 3-5 times longer than wax finishes.
Rejuvenate doesn't make specific claims about durability. But users report needing to reapply it more often than Quick Shine.
So Quick Shine seems to have the edge for longer-lasting protection. But that extra durability comes from synthetic chemicals rather than natural oils.
Cost Comparison
Let's break down the costs between these two options:
Quick Shine Starter Kit
32 oz Cleaner/Restorer: $20
Microfiber mop: $12
4 mop pads: $10 Total: $42
This kit provides enough solution to treat approximately 500 sq ft.
Rejuvenate Floor Restoration System
32 oz Wood Floor Cleaner: $20
32 oz Floor Restorer: $25
Applicator pads: $5
2 buffing pads: $10 Total: $60
Rejuvenate's 32 oz floor restorer bottle covers approximately 500 sq ft.
So Quick Shine comes in a little cheaper, at least to start. But since Rejuvenate may need reapplying more frequently, the long term costs could be higher.
Both brands sell refill sizes that offer more value for less. So the prices even out more with ongoing use.
Effectiveness of Quick Shine And Rejuvenate Reviews
Rather than just taking the companies' word on how well these products work, let's look at feedback from real customers:
"I used Quick Shine on my 10 year old hardwood floors that had completely dulled from pets and kids. It brought them back to a nice shine. They look freshly polished now."
"Quick Shine definitely made my floors shinier. But I find I have to reapply it every couple of months to keep the shine up."
"Rejuvenate restored the rich color of my maple hardwood floors. I like that it doesn't make them overly glossy."
"I was impressed at how Rejuvenate Fill stick evened out some deep scratches in my floors. It really works to repair damage."
"One application of Rejuvenate kept my floors looking great for nearly 6 months. Much longer protection than other products I've tried."
Based on user feedback, here are some key takeaways:
Quick Shine does effectively add shine to dull floors. But the high-gloss finish requires frequent reapplication.
Rejuvenate brings out the wood's natural color and texture. It offers durable protection that can last months when applied properly.
Rejuvenate's fill stick helps repair deeper scratches and gouges. Quick Shine does not offer scratch-filling abilities.
So while Quick Shine offers quicker, glossier results, Rejuvenate seems better for longer-lasting restoration that looks natural.
Which Is Better For Different Floor Types?
Keep in mind that not every floor is the same. Some types may benefit more from one product over the other: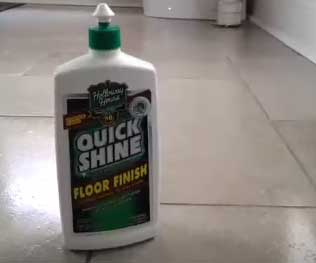 For polyurethane-coated hardwood: Rejuvenate is likely the better choice.
The jojoba oils and cleaning pads help cut through polyurethane haze better than Quick Shine.
For wax-coated floors: Go with Quick Shine. Its wax components cling well to wax finishes without causing build-up.
For darker wood species: Either product will work, but Quick Shine can help lighter woods like maple or birch look richer.
For scratched/damaged floors: Rejuvenate has better scratch-filling capabilities. Its Restorer and Fill Stick help minimize the look of deeper marks.
No matter what type of floor you have, be sure to spot test products first. Make sure they don't negatively impact the finish.
Quick Shine and Rejuvenate Floor Restorer FAQs
Still have some questions about using these wood floor restorers? Here are answers to some frequently asked questions:
How long does Quick Shine last?
With proper floor prep, Quick Shine can last 3-5 months. But many users find it only lasts 6-8 weeks before dullness returns. Frequent foot traffic shortens duration. Reapplication brings back shine.
What's the best product to shine wood floors?
For a natural-looking shine that lasts, Rejuvenate is the best product. Quick Shine works faster but requires more frequent reapplication.
Is Quick Shine good for wood floors?
Yes, Quick Shine is safe for sealed hardwood floors. It restores shine well. Just be prepared for upkeep every 1-2 months. Its acrylics may build up over time.
Is Quick Shine safe for vinyl floors?
In general, yes. Always spot test first. Make sure pooling doesn't cause vinyl to bubble or peel. Don't use on floors with wax or oil finishes.
Final Recommendation
When it comes to wood floor restorers, Rejuvenate stands out as the winner over Quick Shine.
While Quick Shine does effectively add gloss, it just doesn't last. Rejuvenate offers longer-lasting shine along with deeper cleaning and scratch repair. Its jojoba oils nourish wood floors naturally without a lot of gloss or buildup.
Rejuvenate takes a little more effort, needing separate cleaning and buffing steps. But user reviews confirm that the results are worth it. Just one application can refresh your floors for months rather than weeks.
So if you want your hardwood floors to shine beautifully with minimal upkeep, Rejuvenate Floor Restorer is the clear choice. Let the jojoba oil nourish your wood naturally while keeping dirt and damage at bay for longer.