Many people do not know the differences between PVC cleaner and PVC primer. As a result, they often end up buying the wrong one.
If you are a little confused about these two products, my PVC cleaner vs. primer review will come in handy.
Both PVC cleaner and primer can clean PVC products, but there are some fundamental differences that you should know. This article will explore the features they hold and the differences, so you understand them well and make the right call in your next purchase.
Let's dive deeper into it.
A Quick Comparison Between PVC Cleaner and Primer
If you are in a hurry but wish to learn the differences between PVC cleaner and primer quickly, this comparison table will help you. You will learn where they differ from one another, and eventually, you can decide which one you should purchase.
Both PVC cleaner and primer are great products in terms of quality and usability. They both are equipped with materials to clean any PVC-made items you have at your place.
But you can choose one product if you know their differences and make a distinction between them.
So, here's a quick comparison table between PVC Cleaner and Primer:  
| | | |
| --- | --- | --- |
| Aspects | PVC Cleaner | PVC Primer |
| Types | Solvent-Based Cleaner | Cleaning and Fitting Agent |
| Usage | Cleans PVC Surfaces | Cleans and Joins Pipes |
| Characteristic | Remove Printing & Shine | Does Not Remove Them |
| Application | Spray-On | Spray-On & Container |
| Performance | Does not Require a Long Time | Requires a Long Time |
Key Differences between PVC Cleaner and Primer

You have gathered a quick idea from the comparison table. But it's just a glimpse. If you are further keen on knowing the differences in details, you will have to read through this part.
Here I will discuss their features and compare them in great length.
PVC cleaner is a product for cleaning PVC-made items such as PVC pipes, windows, etc. It is specially formulated to clean dirt and oil and remove grease from various PVC surfaces, making them squeaky clean.
On the other hand, PVC primer is formulated to clean PVC materials, join the pipes, and fit them securely. It makes the PVC pipes melt slightly and join them in the process.
Here are some key differences between PVC cleaner and primer. As it is a bit tricky to understand their differences, read them carefully:
PVC cleaner is only formulated for cleaning PVC pipes and other materials. Its sole purpose is to clean.
It contains a lot of chemical solvents that can dissolve stains from PVC surfaces.
This cleaner is very aggressive while removing stains but does not damage the structural integrity of PVC materials.
On the other hand, PVC primer serves two purposes simultaneously. It can clean PVC surfaces, but they are specially formulated for joining PVC pipes.
It does a splendid job in joining pipes. However, there are two types of PVC primer: white and grey. Only the white primer can clean PVC surfaces.
As we already know, PVC cleaner is made for cleaning various PVC surfaces. It is a solvent-based cleaner with many chemical elements that can clean PVC materials like windows, pipes, doors, etc.
On the contrary, PVC primer does a fantastic job of joining PVC pipes. It can clean various PVC surfaces, which is a plus point.
However, the cleaning it does is not inferior to PVC cleaner. In fact, it cleans PVC surfaces without yielding any damage to those surfaces.
Although both products offer similar purposes, there are still many fundamental differences in their characteristics that make them different. PVC cleaner very aggressively cleans any stains from PVC surfaces and doing that, sometimes it removes printings and marks from surfaces.
Another characteristic of PV cleaner is that it softens the pipes and removes the shine from any PVC surface. As a result, they become dull to look at.
In contrast, PVC primer does not remove printing and marks from PVC surfaces. It also does not make PVC pipes soft and dull. What it does is melt the pipes a little to join them ideally.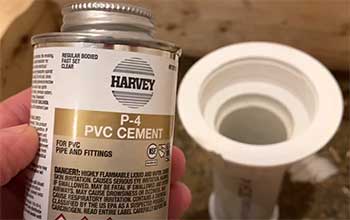 Application and its method are also different for both products.
PVC cleaners come in sprayer bottles in a spray-on form. You can apply it on different surfaces quite easily.
You have to spray on the surface you intend to clean and give it enough time to penetrate.
After spraying, you can easily wipe off the stains and dirt with a paper towel or rag. You might have to reapply if the surface doesn't clean on the first try.
On the other hand, PVC primer comes in two packaging options. The first one is the sprayer. You can easily spray it on various surfaces, just like PVC cleaner.
Another option for PVC primer is a container. You will need a brush to apply primer from a container.
The performance of PVC cleaner depends on the temperature. It might simply take longer to work correctly in cold, wet, and humid conditions.
But in general, PVC cleaner takes very little time to work. However, it does not work in water-based areas.
But for PVC primer, the temperature does not have much leverage. It can perfectly work in wet and humid conditions. So, you can use them in wet areas as well. Nonetheless, it generally requires a long time to work.
Which Product Is Best For You?
I've given a clear idea of the features and differences between PVC cleaner and primer. Choosing the right product that gives you an optimum result shouldn't be challenging anymore.
But if you still find it difficult, take my suggestion and buy PVC primer next time.
You will get two purposes served at the same time. It will perfectly clean your PVC materials but won't remove printing from them or make them dull.
Besides, you can choose between a sprayer and a container.
PVC primer might take a little longer time to work but look on the bright side. It works excellently in wet areas.
Frequently Asked Question (FAQ)
Do you need cleaner and primer for PVC?
Yes, you need PVC cleaner and primer for cleaning PVC surfaces. However, you can use any of the two products for this purpose.
Do you really need PVC primer?
While you might not require PVC primer for every PVC job, you can still use it for a better result. It will give you a leak-free joint and squeaky clean surface.
Is it necessary to use PVC cleaner?
PVC cleaner is a specially formulated material that cleans pipes and other PVC surfaces. But a primer can clean surfaces and joint pipes. So, PVC cleaner is not an absolute necessity.
What is PVC Clear cleaner used for?
PVC cleaner has many chemical solvents that remove dirt, grease, and debris from various PVC surfaces. It will dissolve stains without damaging the material.
Conclusion
From pipes to windows and doors, we have many PVC materials in our house that require regular cleaning. But if you fail to use the right product to clean them, these materials will decay long before their actual lifespan.
Now that you know everything about PVC cleaner vs. primer, there is no way you will choose the wrong one. Just make sure to buy the white one if you intend to buy PVC primer.