When you are building your home, one of the major concerns for you is to decide on the corners. Whether they will be rounded or square can be a crucial decision that you have to make. 
But I will not discuss that here, as that's another topic.
This is an article for those who are interested in rounded corners. I have gathered all the pros and cons of rounded drywall corners for those. This will give you a clear picture of the advantages of having this kind of corner truly. 
You also get to know about the drawbacks of making a much more informed decision.
Let's get on with the whole thing.
The Benefits And Drawbacks Of Rounded Drywall Corners 
Here's a table of all the pros and cons you get to experience with rounded drywall corners. This will help you get a basic idea of the whole thing.
| | |
| --- | --- |
| Pros  | Cons  |
| They are great for a unique appearance  | Installing baseboards gets difficult  |
| They aren't prone to chips or fractures  | It gets costly at times  |
| Softens up the room with fewer edges  | |
| It's quite easy to do rounded corners  | |
| They are suitable for modern homes  | |
Yes, sure, you get the basic idea, but is it enough to make a decision? Unless the cons are deal-breaking, you have to look for the details to understand the whole thing better.
The Advantages Of Rounded Drywall Corners 
First, let's get an in-depth idea of the advantages of having rounded drywall corners. This will surely give you the whole idea, and you can easily see what benefits you will get from a rounded corner.
Creates A Unique Appeal At Home 
One of the major reasons people go for rounded drywall corners is because of the unique appeal.
When you have rounded corners around your home, it makes your home unique in terms of how it looks. It also provides you with the option to arrange your furniture with ease.
They Don't Get Chips Or Fractures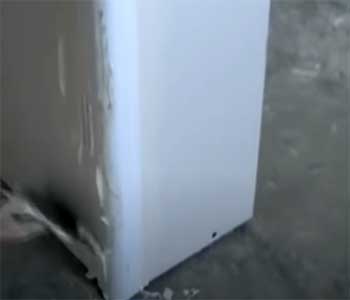 A great thing about rounded drywall corners is the fact that you don't get fractures or chips around your home.
You get into a room; you surely don't want to see chips and fractures all around the corners, right? 
You would want a clean and smoother-looking surface.
With rounded drywall, you won't have that issue at all. Whereas the traditional square corners tend to have that problem with fractures and chips. 
So, that's a pretty effective benefit you get for rounded drywall corners over square ones.
Provides Softer Edges On The Room 
Since rounded drywall corners mean softer edges, you can always end up with a smoother-looking room. And honestly, it's not just about the looks, the feel of the room also changes. 
You won't have any feeling of sharpness around the room.
There is nothing wrong with the square ones; it's just about preferences. The rounded drywall corners just have a smoother feel and appearance; that's pretty much it.
Easy To Create And Workaround 
Rounded walls are much easier to construct than other kinds of walls. So, when you get to the building part of this, you will indeed have a better experience building this. 
Also, you get to work around the drywall corners much more easily because of the smoother edges.
Well, these are the specific benefits of having rounded drywall corners. As you can tell, they can be a better choice in some cases over square corners. 
But where they fall behind is also something to consider. So, let's take a look at the disadvantages as well.
The Disadvantages Of Rounded Drywall Corners 
Typically, there are a couple of disadvantages with rounded drywall corners. While they aren't major ones, they can surely be problematic ones. 
Here's what may bother you about rounded drywall corners –
It's Challenging To Install Baseboards With Rounded Drywall Corners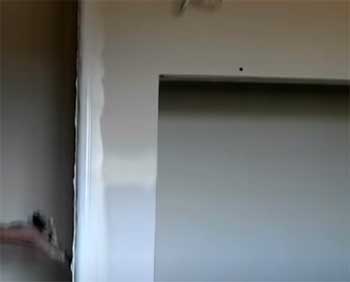 When it's about installing baseboards on a rounded drywall corner, you will have a much more difficult time.
I mean, the reason is simple. You can get the 90-degree angle with square walls, which makes it super easy to install baseboard.
The surface is a bit smoother with rounded walls, making it hard to fit baseboards on.
It Can Be A Bit More Costly Than Square Corners
Rounded corners are usually costlier to build than square corners. Square corners don't require too much material; on the other hand, you will have to use more material with rounded corners. 
This is because shaping the material into a rounded corner requires more work and material.
Now, these are issues that only matter if you have any personal problems with them. And these are issues that you just face at the time of building and never again. 
So, I don't think these should bother you too much if you are on board with the advantages.
Frequently Asked Questions (FAQ)
Let's check out some of the common questions a lot of people have regarding rounded drywall corners –
Are rounded drywall corners better?
Yes, in some aspects, rounded drywall corners are better. Especially because they don't fracture or chip away too much. They are pretty smooth as well.
Are rounded corners in style 2022?
I would say, yes, they were pretty much in style even in 2022. They are getting more and more appeal as time is passing by.
Are rounded corners stronger?
Yes, rounded corners are pretty strong, considering they don't fracture or chip that easily. You can lay down stuff on rounded corners much more easily without worrying about damaging them.
Are rounded corners still in style? 
Yes, rounded corners are becoming the more popular choice these days. They are getting in style for modern homes. Most modern homes are going for rounded drywall corners over square ones.
Conclusion 
In short, the pros and cons of rounded drywall corners are pretty balanced. Whether you choose them or not depends on your personal needs completely. 
But if you are looking for corners that won't fracture or chip, then this is surely the pick for you. But if you want to save money, even a little bit, then go for square corners.