The gas installation in our house requires a lot of piping and fitting equipment. Sometimes, deciding which brand is worth spending money on while buying these tools could be challenging.
In that case, if you are also stuck to finding which is best to choose between Pro Flex and Home Flex, I am here to help.
The Home flex fittings are usually made of plastic, but they also have brass-made fittings. Whereas the pro flex only makes highly durable brass fittings. Both brands give the same 1-year warranty, but in comparison, Pro flex is cheaper than Home flex.
A Comprehensive Comparison Table
| | | |
| --- | --- | --- |
| Credentials | Pro Flex Fittings | Home Flex Fittings |
| How do These Brands Define Themselves? | An independent brand making and selling high-end stainless-steel gas pipelines and installation services | Home flex fittings is a brand of Valencia Pipe company that makes ABS, PVC, Poly Pipe, and other heavy-duty pipes |
| Product Line | Tubing, Fittings, Termination options, Safety Devices, Optional accessories, Gas valves, Gas connectors | Adapters or fittings, Corrugated stainless steel tubing, Tempered Steel striker plate, FPIT Manifold, Cutter, Gas Leak Detectors, and more |
| Installation of Fittings | A lot easier | A little tough |
| User's Recommendations for using either brand's products | Higher | Lower |
| Warranty on fittings and other products | 1 year limited lifetime warranty | 1 year limited lifetime warranty |
| Economic Factor | Less Pricy | Pricier |
| Construction and Durability of Fittings | Made out of high and stainless steel and brass construction | These components are made using pure steel and coated with brass. Also, some plastic-made fittings are available |
Key Differences Between The Pro Flex And Home Flex Fittings
How Do These Brands Define Themselves?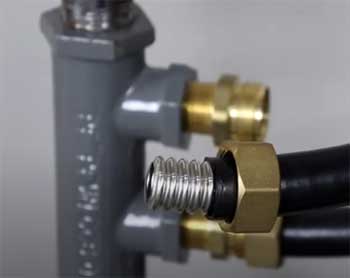 Each has a history regarding finding what's so particular about either Home Flex or Pro Flex fittings.
Both are great brands that sell high-end gas pipelines and other fittings for every type of gas pipeline installation.
The Home Flex is sold at Home Depot and is usually compared with the Pro flex.
Most people consider if both brands are the same. But that's not the case, as both are incompatible.
Pro flex fittings are not a subsidiary company of any other company or brand. It's an independent brand that helps you do more in installation and home plumbing.
At the same time, Home Flex is a brand of Valencia, a well-known company for making PVC, ABS, and other plastic pipelines. When finding the best channel or other fixings, you will find significant variance in each brand.
It's just not the fittings you'll get from these brands. Because they have more to offer. A complete setup of gas line installation, including the needed pipes, fittings, cutters, and more, is there to help you complete the installation process.
The Pro flex has more product variety than the Home Flex. It helps a buyer in buying a specific item more quickly.
Usually, the pro flex fittings are easier to install because of their most compatible options with multiple pipelines.
In contrast, you may not find the Home Flex products or fittings better in installation just because, at most times, they are not proven to be compatible with other supply lines or gas pipelines.
User's Recommendations For Using Either Brand's Products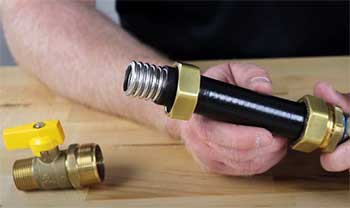 Looking at the reviews of both brand's fittings and other products, most people don't recommend using the Home Flex products.
These people have complaints about low-quality construction and less durability.
But at the same time, most people have appraised the Pro Flex fittings and other products.
In that case, you can always rely on the brand highly appreciated by most people in the market for buying the next fittings.
Warranty On Fittings and Other Products
Both brands give their customers the same warranty of almost one year. You can return your defective products to the brand during this warranty period and look for any alternative.
Or you might get them prepared.
Although there is little difference between the price of the products from both brands, it is still noticeable.
The fittings from Pro Flex are slightly cheaper than the Home Flex brand. Therefore, you must choose whatever suits best to your budget.
Construction and Durability Of Fittings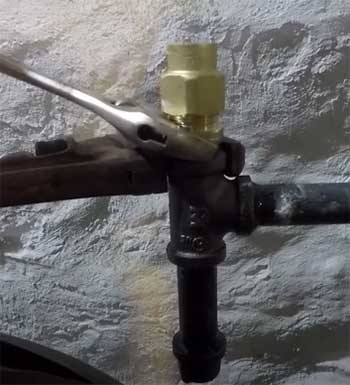 All the fittings from Pro Flex are pure stainless steel or brass.
These are highly durable and made to work for more extended needs.
But if you browse for the Home Flex fittings, there are also some plastic-made fittings.
You must decide whether you need brass-made fittings for gas pipeline installation or if you are happy with something else.
Always choose which stays for a more extended period.
Pro Flex or Home Flex, Which To Choose For Fittings?
Choosing between these brands depends on which one you'd be more comfortable with. If Home flex inspires you because of its more options for fittings and products, you must consider it.
I won't like recommending plastic-made fittings. But I can ensure that things will never go wrong when you are working with the pro flex fixings in your house. These are durable, hard made, and their products have multiple positive reviews.
Frequently Asked Questions (FAQ)
Are Pro-Flex And HOME-FLEX The Same?
No, they are not the same because neither brand is compatible.
What Is The Difference Between Black And Yellow CSST?
The Black CSST is 400 times stronger and more resistant than a yellow CSST. It tends to be extra damage-proof and works for more extended periods.
Can Pro-Flex Be Used For Propane?
Yes, it can also be used for propane and natural gas.
Can Proflex Fittings Be Reused?
These components and fittings from pro flex are reusable. Even the older parts might be helpful at some points!
Wrapping Up
In all notes, a fitting from Pro Flex will always perform better than a fitting from the Home Flex. So, while comparing the Pro Flex with Home Flex Fittings, always choose the one that becomes the most compatible with your installation.
If you are buying the whole gas pipeline installation, including pipes and everything from Pro Flex, consider purchasing the fittings from the same brand. Please do the same for Home Flex because it will be worthwhile.