To create a perfect workstation even in less than 30 minutes, using a PARF Guide System is the best idea and tool that would make your work a lot easier. But many users find it a little expensive, or there could be some other reasons to look for its alternatives. 
Produce bench-top truck saw cutting stations on a site efficiently and effectively with a PARF guide system. But if you don't want to use it consistently, let's give you some of its better alternatives.
These alternatives would cost you less, and you will get what you are looking for. 
The Best Alternatives To The PARF Guide System
It's not hard to use anything in the place of a PARF guide system. But never lean yourself on something that doesn't provide the finest cuts.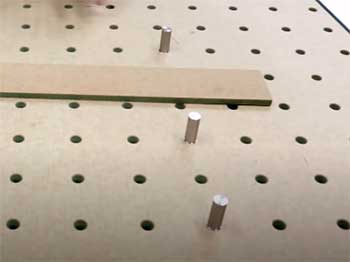 Otherwise, you'll lose that precious piece of board, and it will not help you create that table you want as your workstation. 
Investing In Festool 489396 Perforated Plate Replacement for MFT
Woodpeckers Hole Boring Jig
Hole Drilling Set LR 32-SYS
Mafell P1cc Jigsaw
Bora Centipede 4×8 15-Strut Work Stand
Using a Computerized Numerical Control
We do not doubt that PARF Guide System gives some perfect cuts whenever you need to create your MFT table. 
But if that is not what you are looking for, let's dig a little more and find out about all the alternatives mentioned above. 
Hole Drilling Set LR 32-SYS
An LR 32 SYS Hole Drilling Set includes everything you need to create an MFT table or any other texture. 
It has all the tools, including the Guide Plate, Screw Clamps, Centering Mandrel, Drew Hill, and more. 
Connect the machine with the electric plug and drill any amount and any size of holes within minutes. 
It can be used as another best alternative in place of the PARF Guide System. But I fear you'd have to spend more money on it. 
Bora Centipede 4×8 15-Strut Work Stand
Do better woodworking and spend a little money with this fully optimized and comprehensive set of tools that can perform many activities. 
The system has a Saw Guide Accessory to work just like the PARF Guide System to dig holes. 
With that, you will find some portable table and track clamps; it will also give you the WTX and NGX Clamp Edge Systems.
Therefore, if you don't see the PARF system, just use it, and it will do the same work. 
Woodpeckers Hole Boring Jig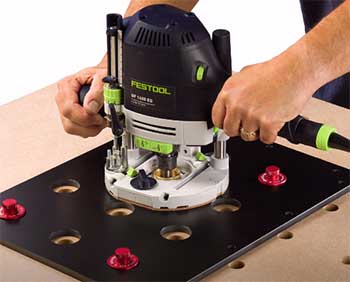 If you don't have access to a nearby PARF Guide System and cannot get it for any reason, consider having this Hole Boring Jig. 
It's a CNC machine template with a 3/8 thick solid phenolic that helps you drill holes according to the desired pattern. 
All you need is a router that readily accepts the Porter Cable Style Guide Bushings, and your work will be done. 
This tool can dig up to 20MM holes precisely and efficiently. Therefore, the device can be the best alternative in place of the PARF system. 
Here comes another handy alternative to the PARF system from Mafell: this P1cc Jigsawz machine. 
This hole drilling machine has blades made out of stainless steel W3 of up to 4-7/16 thick size. The device also has a 900 w CUPrex motor that runs fast to drill through every material. 
But we must also remember that we'd have to spend even more bucks on this than the above-discussed machine. 
Using a Computerized Numerical Control
Don't worry if you don't find a PARF Guide System for yourself. Because if you cannot do this job alone, be comfortable and visit a nearby carpenter shop. 
Here, you can find a CNC machine or buy your own if you want to. A CNC machine is a fully automatic machine that works according to the assigned patterns. 
We can drill anything we want on any wooden surface by using this machine. In that scenario, it can also replace the work performed by a separate PARF guide system. So, you can have it if you have a considerable amount of money to spend. 
Investing In Festool 489396 Perforated Plate Replacement for MFT
Why spend huge money to buy a separate PARF Guide System and a table to make holes in it when you can just buy this pre-made MFT Festool table? 
It's a good investment and gives you what you are precisely looking for. This table is already coming with pre-mounted holes. 
So, you'd just have to put it on the compatible stand, and your work is done. It costs much less than buying a PARF system and saves your effort. You can ideally use it in the place of the MFT-LP1080 multifunction table. 
Is PARF Guide System Worth It?
For most woodworkers, a PARF guide system is indeed the best device. It provides the cleanest and most accurate cuts when creating an MFT table. It will cost you around 200 bucks, and you can get this apparatus with this money. 
You can find two additions to this system: the older model and PARF Guide System 2. Both have different sets of tools and vary significantly with the prices.
The best thing about such a system is that it lets you create the best and most simplistic configuration in less than 30 minutes. On top of that, one can make 20mm holes with perfect 45- and 90 degrees cuts. 
The only downside is that some people still find this money huge and consider looking for alternatives. 
Last Words
Conclusively, a PARF Guide System is the best tool to perform the jobs you want to act on that wooden surface. But it doesn't always prove to be friendly in working or buying because you are short of a budget.
However, you can look at the alternatives explained here. If anything still disturbs you, don't hesitate to send your feedback in the comments. Still, PARF is good to go for most woodworking jobs!