Are you interested in finding a portable and compact dust collector?
Using bulky-sized dust collectors is a little bit messy if your workshop is pretty small. That's why you need a mini version. Oneida is a reliable and top-leading brand when it comes to choosing dust-collecting machines.
Oneida Mini Gorilla is one of the most popular tools in 2017, according to Fine Woodworking Magazine. So it is not hard to see why many people are using their tools.
Here I will go for an in-depth Oneida Mini Gorilla review session to help you choose the best option. Let's dive in!
Features of Oneida Mini Gorilla
Unless you don't know all the important features of a Mini Gorilla dust collector, you can't make the right decision. Here are all the important features of this powerful tool.
Since the unit features a top-quality fan motor, collecting a considerable amount of dust and air particles is easygoing. Its fan has a 600 CFM rating to extract more dust speedily from the air.
This makes the tool more efficient as it requires you to operate it less than compared to less CFM rating. In addition, you will appreciate its continuous airflow performance.
Industrial-grade Brushless Motor
The mini Gorilla features an Industrial-grade brushless motor that produces more torque per watt. This type of motor creates a low-pitch noise level. So, you can focus on your work more comfortably.
According to many verified reviewers, this machine has a better dust collection system compared to traditional dust collectors. Hence, handling any woodworking projects won't be a problem at all.
Streamlined Integrated Cyclone Separator
Your workshop surrounding air may have different types of dust and waste. Grabbing all of this debris and dust from the air may not be possible if your dust collector has a reliable collecting system.
Thankfully, this high-quality tool can extract up to 99% of massive dust and debris from your next surrounding air. Once it collects the dust, everything will get into the dust collector.
Choosing a portable dust collector with a bulky dust bin is tricky. This compact machine comes with a 22-gallon dust bin that is enough for collecting a greater amount of dust for hours of work.
Hence, you don't need to empty the bin too often while continuously working on various projects. Plus, the bin has a fill-level viewing window, allowing you to track down how much dust you have collected.
What's more, the unit has three quick-release latches to move the machine to the upper position. This gives you extra mobility while working on elevated areas.
This user-friendly dust machine features three free swiveling caster wheels to smoothly move it to the close-by areas. You can direct it in various directions. More importantly, it does not make a sound while moving it.
Along with that, it comes with easy-carry handles that let you dump the waste more conveniently. So fewer hassles to face!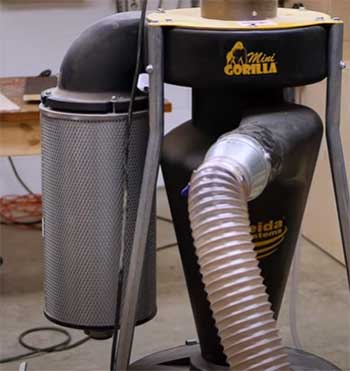 Regularly cleaning the dust bin and surrounding parts is necessary. Otherwise, it will show clogging issues.
This dust-collecting machine features a HEPA-certified filter that effortlessly separates bulky and heavy dust.
It can show 99.97% efficiency to collect even 0.3 microns sized dirt.
Not all filters are reliable. But this HEPA filter is different. It is tested by an accredited independent lab to ensure maximum efficiency.
In addition, it comes with a vacuum hose port to get rid of fine bags of dust released from the filter by taking apart the connected parts.
Hence, you will be able to clean the dustbin more conveniently and easily. This ensures a consistent and efficient dust-collecting system. In addition, it makes filter cleaning simpler.
Worry about the filter's durability? Since the filter features non-stick PTFE membrane coating and wide-spaced pleating, its durability won't be compromised easily.
Not only this, the unit has wire cage reinforcement and fiber construction to ensure prolonged durability. So, you don't need to regularly replace the filter, even after using the machine daily.
Concerned about safety issues? This high-quality machine includes a patented Flame Guard™ arrestor to ensure maximum safety and keep you worry-free.
We often measure a product's value and how it looks and functions. Working on smaller workspaces requires a compact tool to utilize each inch of space.
Weighed only 85 lbs, this portable dust-collecting machine has 30% lighter weight than many other machines in the market.
Additionally, the unit features a small footprint and reduced height to cover less space inside your workshop. This makes it more convenient to use.
What's more, the Gorilla tool has a mobile tripod stand that can stay firmly on the spot without moving unnecessarily. So, you don't need to worry about its stability.
Other than these, it comes with a large 3-inch locking caster roll that is substantially easier to push. It can smoothly take over obstacles.
Worry about having scratching marks on floors? Since its wheels don't clog even on tricky floors, they have a minimal chance of leaving marks on the floor.  
Here is an in-depth video review of it.
What Could've Been Better With Oneida Mini Gorilla?
Even the best product in the market has some drawbacks, and so does the Oneida Mini Gorilla. Here are some notable negative sides of this dust cleaner.
Hard To Replace The Dust Barrel
Many users complained about the difficulty of changing the dust barrel. It will take significant time and effort to get a perfect barrel size for the rim.
There are several bin clips at the top area to secure the lid. But some users have issues with its holding mechanism.
These bin clips often fail to secure the lid position when you operate. This generally occurs when you increase the speed of the system.
Inconvenient Access To The Roller Collector
It is necessary to empty the dustbin once it becomes full. But a few owners complained it is a little bit difficult to access the roller collector, especially for bulky hands.
See-Through Panel Gets Covered With Dust
The see-through panel is a unique and a plus point for checking the amount of dust collected by the tool. However, the system is not as effective as you expect.
Debris may cover the glass panel when you work in a high-dust area. This will disallow you to monitor dust levels. So, you need to clean the little plastic window more often.
Alternatively, you can use a flashlight for visibility.
Final Thought  
Choosing a dedicated quality dust collector requires you consider some standout features. Since you need to pay a considerable amount of money to buy a good dust-collecting machine, you want to get the best bang.
In this review of Oneida Mini Gorilla, we have mentioned all the bad and good sides of this product.
Though it has a high price tag, it is worth the money you pay for your professional purposes. Its heavy-duty construction and reliable performance set it apart from the rest.
You just overlook a few small drawbacks. In the end, we can say Fine Woodworking Magazine is absolutely not wrong for choosing it.