Summer is here and so are the mosquitoes! While mosquitoes are an unavoidable nuisance, the itchy bites and buzzing around your ears can make warm weather activities like barbeques and time by the pool miserable.
Mosquito control services like Mosquito Joe and Mosquito Squad offer professional treatments to keep your yard mosquito-free and let you enjoy the outdoors again. But with two major brands competing for your business, how do you choose?
In this comprehensive guide, we'll compare Mosquito Joe and Mosquito Squad on key factors like effectiveness, cost, services, and more. Whether you're dealing with just an occasional mosquito problem or need heavy-duty mosquito control for maximum protection, one of these pro services likely has the right solution.
Read on to learn the pros and cons of Mosquito Joe and Mosquito Squad and decide which is better for protecting your home from mosquitoes.
A Brief Comparison Table
| | | |
| --- | --- | --- |
| Aspects | Mosquito Joe | Mosquito Squad |
| Treatments Used | Synthetic pyrethroids | Pyrethroids, essential oils, and IGRs |
| Treatment Approach | Barrier sprays targeting vegetation | Spot treatments of breeding areas |
| Residual Control | 3-4 weeks | 3-4 weeks |
| Cost Per Treatment | Starts at $99 | Starts at $90 |
| Reapplication Frequency | Every 3 weeks | Every 3-4 weeks |
| Service Availability | 200+ franchises in 40 states | 115 franchises in 30 states |
| Customer Service | Excellent marks | Mixed reviews |
| Tick Control Available | No | Yes, for an extra fee |
| Overall Verdict | Best for temporary relief and events | Best for season-long mosquito elimination |
Overview of Mosquito Joe and Mosquito Squad
Before diving into the details, here's a quick overview of the two main competitors in professional mosquito control:
Mosquito Joe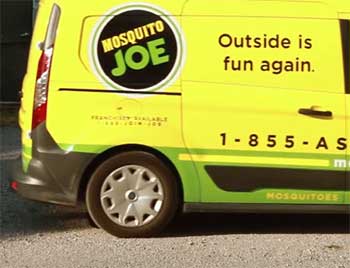 Founded in 2010 in Virginia Beach, VA
Franchise model with over 200 locations across the US
Treatments use synthetic pyrethroids for quick knockdown
Offer recurring treatments, one-time treatments, and special event services
Known for excellent customer service
Mosquito Squad
Founded in 2005 in Nashville, TN
Franchise model with over 115 locations
Treatments use synthetic pyrethroids, natural essential oils, and IGRs
Offer recurring treatments, one-time treatments, and tick control
Known for trained and certified technicians
Key Differences Between Mosquito Joe And Mosquito Squad
Both companies offer residential mosquito treatments but have slightly different approaches, chemicals, and reputations. Keep reading to see how they compare across the factors most important for effective mosquito elimination.
Effectiveness of Mosquito Treatments
When choosing a mosquito control service, effectiveness is the ultimate priority. You want to pick a treatment that will successfully get rid of mosquitoes on your property and provide long-lasting protection.
How do Mosquito Joe and Mosquito Squad compare?
Mosquito Joe
Mosquito Joe relies on synthetic pyrethroid insecticides for their mosquito treatments. Pyrethroids provide quick knockdown and killing of adult mosquitoes on contact. However, they don't have much residual effect, lasting only 3-4 weeks typically.
Mosquito Joe offers barrier sprays focused on vegetation and areas mosquitoes rest. Technicians use backpack sprayers for fuller coverage. Without residual control, Mosquito Joe treatments need to be reapplied frequently for ongoing protection.
Mosquito Squad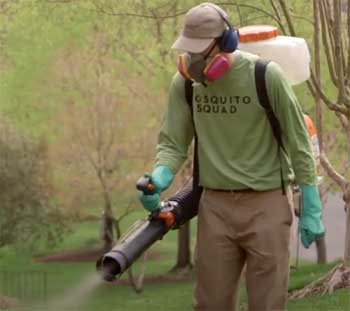 Mosquito Squad takes a broader approach, using a mix of synthetic pyrethroids, natural essential oils, and IGR (insect growth regulator) insecticides.
This combination provides quick control of adult mosquitoes, plus IGRs stop mosquito larvae from maturing and reproducing.
Treatments are applied with hand sprayers to target key breeding areas like standing water.
The addition of IGRs provides residual control that lasts 3-4 weeks between treatments. Mosquito Squad also offers tick control services with longer-lasting pyrethroids specific to ticks.
The Verdict
For maximum mosquito protection, Mosquito Squad's combination of control solutions appears more effective than Mosquito Joe's adult-only barrier treatments.
The inclusion of IGR insecticides prevents future generations of mosquitoes from hatching and enhances control between services. Tick treatments are another advantage of Mosquito Squad for complete pest control.
Cost and Value of Services
You'll also want to consider the cost and value you get for the mosquito control services. Professional treatments don't come cheap, so making sure you get your money's worth is important.
Mosquito Joe
Recurring treatments start at $99 per treatment
Single treatments start around $150
Usually requires treatments every 3 weeks
Special event treatments available
Bundle discounts offered
Mosquito Joe pricing is pretty consistent across locations at the prices above. Without mosquito prevention between treatments, the recurring cost adds up over a whole mosquito season. Cost per treatment goes down with prepaid bundles if you commit to multiple regular treatments.
Mosquito Squad
Recurring treatments start at $90 per treatment
Single treatments start around $125
Usually treatments every 3-4 weeks
Special event treatments available
Bundle discounts offered
Extra charge for adding tick control
Mosquito Squad pricing is also consistent but starts a little lower especially for recurring plans. The ability to go 4 weeks between treatments thanks to IGRs saves money over time. Bundles can bring down costs, and tick services are available for an additional fee.
The Verdict
Thanks to longer-lasting treatments, Mosquito Squad provides better value than Mosquito Joe, especially for full season protection. At only $90 per treatment on recurring plans, Mosquito Squad gives you more bang for your buck with better residual control between services.
Service Area and Availability
Before deciding on a mosquito control provider, it's important to make sure they service your area. Both Mosquito Joe and Mosquito Squad are franchised companies with local operators around the country. Availability depends on your location.
Mosquito Joe
With 200+ franchise locations across 40 states, Mosquito Joe has wider national availability than Mosquito Squad. They can provide service to more neighborhoods and cities around the US.
However, franchises may not operate in every single town and suburb within a state. You'll need to check for a Mosquito Joe location within service distance of your home. Use the website locator to see if there's a nearby franchise.
Mosquito Squad
Currently Mosquito Squad has 115 franchises operating in 30 states. So their availability is more limited than Mosquito Joe's, concentrated on the East Coast and Midwest especially.
As a newer company, Mosquito Squad is still growing franchise locations to expand service nationwide. Check online to see if there's a location near you or request one to come to your area.
The Verdict
With twice as many franchise operators, Mosquito Joe currently has the advantage for widespread service availability across the country. Mosquito Squad has less coverage overall but is actively growing locations.
Check both websites to confirm if there's a franchise servicing your neighborhood.
Customer Service and Satisfaction
Dealing with mosquitoes is frustrating enough without bad customer service. You want a mosquito control company that is reliable, responsive, and provides quality service that leaves customers happy.
How do Mosquito Joe and Mosquito Squad stack up?
Mosquito Joe
Mosquito Joe earns top marks for customer service, living up to their slogan of "Serious About Service, Not Ourselves."
Franchise owners have flexibility and make decisions based on customer needs in their area.
Many customers rave about the excellent service they receive from knowledgeable technicians who take time to treat properties thoroughly and are always friendly.
Overall Mosquito Joe maintains an A+ rating on the Better Business Bureau.
Mosquito Squad
Customer reports are mixed for Mosquito Squad. Some locations provide friendly yet professional service and deliver great mosquito control. But other customers report issues with unreliable appointment scheduling, missed bookings, and quick spray jobs without answering questions.
The Mosquito Squad BBB rating averages around a B, bringing their reputation down a bit compared to Mosquito Joe's consistently excellent service marks. Quality can vary franchise to franchise.
The Verdict
For best-in-class customer service, Mosquito Joe is the clear winner, maintaining prompt and personable service across all franchises. Mosquito Squad earns decent marks but has more variability franchise to franchise for responsiveness.
Going with Mosquito Joe means you can expect exemplary service.
Choosing Between Mosquito Joe and Mosquito Squad
When choosing between the two major mosquito control franchises, here are some key considerations:
Mosquito Squad offers more effective treatments with residual control from IGRs
Mosquito Joe provides the most expansive service availability across the country
Mosquito Squad gives you better value with longer-lasting protection
For top-notch customer service, Mosquito Joe is the best option
Look at your specific needs and what's most important – effectiveness, cost, availability, customer service, etc. For total mosquito protection, Mosquito Squad is your best bet with their superior treatments and tick control options.
If availability is crucial, Mosquito Joe has the nation-wide coverage. Weigh the pros and cons and make the mosquito control provider that's right for your home.
Frequently Asked Questions (FAQ)
Still trying to choose between Mosquito Joe and Mosquito Squad? Here are answers to some frequently asked questions for additional guidance:
What is the best mosquito killing device?
The most effective mosquito control combines larvicides to kill larvae and adulticides to kill fully-grown mosquitoes. Mosquito Squad's inclusion of both IGR larvicides and pyrethroid adulticides in their treatments make them the best mosquito killing service overall. Their approach provides both immediate and ongoing control.
Is Mosquito Joe worth it?
Mosquito Joe is a solid option for quick knockdown of adult mosquitoes. Their barrier sprays offer short-term relief, especially for special events. However, without IGRs for long-lasting preventative effect, their treatments often aren't worth the cost for whole-season control when compared to Mosquito Squad. Go with Mosquito Joe for temporary protection.
Is Mosquito Squad worth it?
Yes, Mosquito Squad is an investment worth making if you want maximum mosquito protection. Their combination treatments using IGRs, pyrethroids, and essential oils give the most complete control. The residual protection means treatments can last up to a month, making the recurring cost justifiable for how effective their services are.
How well does Mosquito Joe work?
Mosquito Joe treatments work well at eliminating adult mosquitoes you actively notice around your property. Their spray approach reduces mosquitoes in the short-term, stopping the bothersome ones already present outside or close to your home. Without residual control between services, ongoing prevention drops off, requiring frequent reapplication.
The Bottom Line
Dealing with mosquitoes in your yard doesn't have to mean sacrificing enjoying the outdoors. Professional control from trusted franchises like Mosquito Joe and Mosquito Squad offers back yard mosquito relief you can count on.
If maximum elimination is your goal, Mosquito Squad takes the lead with their complete protection services. But review your specific needs – Mosquito Joe can also be the right fit for many homeowners needing occasional mosquito-free yard time.
With this side-by-side guide to pros, cons, costs, and more, you're ready to make the best choice to rid your yard of mosquitoes.