Minwax manufactures one of the best products for furniture and wood finishing coating requirements. However, sometimes, deciding between warm satin and Clear Satin Polyurethane Protective wood finishing products might be a little confusing.
So, remember that both products are excellent to use for your essential operations.
The only difference between both is Warm Satin gives you a more solid and highlighted look with a bit of addition of yellowish color. In contrast, Clear Satin gives you the pure white or natural look of your wooden furniture.
It doesn't destroy the natural hue of the wooden surface.
A Brief Comparison Table
| | | |
| --- | --- | --- |
| Specifications | Minwax Warm Satin | Minwax Clear Satin |
| Purpose | Designed to provide a protective coating on a variety of wooden surfaces | Designed to provide a protective coating for surfaces like wood, furniture, cabinets, and doors |
| Finishing | Best to use where you need a more solid and highlighted finish on a wooden material | Provides a more natural look to the wooden surface and dries clearly |
| Coloring Appearance | Yellowish Look | White Look |
| Durability | Excellent | Standard |
| Drying Time | Dries More Quickly | Similar To Warm Satin |
| Is It Oil Based? | Yes, the coating is Oil Based | Yes, it's also Oil Based on coating to be applied on the interior side of different wooden products |
| Usability | Easy To Use | Easy To Use |
| Usability for furnished and unfurnished wood | It can be used without hesitation | It can also be used without any hesitation |
| Recoating Time | Almost 4 to 6 hours | Almost 4 hours |
| Cleaning | Easier | Easier |
Key Differences Between Minwax Warm And Clear Satin Finishes
The above table gives you a basic idea of the differences or similarities between these two products. But let's describe each of these in more detail and solve your confusion.
Both Satin products have almost the exact purpose of usage.
We have different wooden objects, including furniture, Interior projects, woodwork, Floors, and Cabinets.
We apply these Polyurethane wood finishes to help these items survive for a longer time and stay away from normal wear and tear.
Whether you have Warm Satin or Clear Satin, both have the same purpose.
You can apply this finishing on any wooden work, and they will stand best to protect against spills, scratches, and more.
Anyone can have warm or clear satin from an online store like Amazon or Lowes. The official Minwax website also has these products.
Therefore, if you want to get Clear or Warm Satin, you can have your product from Minwax's official website.
As stated earlier, the significant difference these two products have is their finishing when applied on a specific wooden surface.
Applying the Warm Satin will be appealing and provide a more highlighted look. The satin is applied on the surfaces where you want more glow and want to see your furniture item extra glooming.
In contrast, Clear Satin keeps the natural hue of your furniture item. Even though the satin enables a coating on the product, it doesn't disturb or change the natural look of that item.
Therefore, clear satin is the best product if you want to see your furniture items in the same color but still want a protective layer of Polyurethane.
Their chemical formula difference enables you to get these appearances of the furniture items.
When applying the Warm Satin protective layer, you'll find a considerable change in the color of the wooden work. It turns that item a little yellowish and highlights it more.
Compared to that, Clear Satin gives you the same white or cream wooden color that your natural product has.
Hence, you can make a difference and easily select each product.
Overall, Warm satin is extremely durable because it's highly thick and coated. That's why you won't need to coat your furniture items again and again.
Conversely, the durability with Clear Satin is standard, yet, not that high. So, it makes another difference between both products.
Both products are oil-based satins that provide solid and long-lasting protection. Their oil-based formation applies to all types of wooden items.
In addition, Warm and Clear satins are available in a great variety of sheens.
To use these finishes, there is no technical knowledge or hard and fast rules required. Both contain manual instructions for application within the boxes.
Therefore, you can prepare these coatings and use them for wooden items. Just follow the instructions recommended in the instructional manual.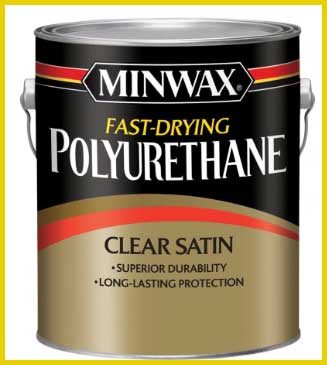 These coating layers take a specific time to get dried on different wooden surfaces or products.
But in Warm Satin and Clear Satin, both products' drying time is almost similar.
They take almost 3 to 4 hours to dry thoroughly so that you may go for the subsequent coating.
But according to many customers, this drying time is standard.
And relatively faster than other similar satin products available out there.
Usability For Furnished And Unfurnished Wood
Whether you have furnished furniture, wooden products, or unfurnished wooden items, these Polyurethane protective finishes can be applied to both.
Applying these coatings to unfurnished or incomplete wooden works is no problem. The warm and clear finishes will work just fine.
There might be no need for a second coating with the Warm and Clear satins. But if you need to go for a second coating for any reason, there will be a waiting time.
Both products take almost 4 to 6 hours to dry so you can go for the second coating. Again, there will be a drying time of 4 to 6 hours for the third coating, only if required.
Cleaning the extra touches or the protective layer itself is not so difficult. The only thing you need to take care of is the proper usage of the material for cleaning.
Whether you have used Clear Satin or Warm Satin, you can use mineral spirits or paint thinner to clean up these coatings. You won't find the cleaning hazardous.
After applying them on a specific surface, it is fairly easy to judge both satins based on the color texture they provide.
You know that Minwax Warm Satin provides a little yellowish look when applied, whereas Clear Satin provides an excellent clear look.
In that case, the application for both satins would be different because you can use the Minwax Warm Satin, where you want a little yellowish look.
But if you need to keep the natural look of your wooden object, using Clear Satin is the ideal deal!
Comparing both products on the time each one takes to dry, the Minwax Warm Satin dries less quickly than Clear Satin.
The former is more liquid, and that's why it takes more time. Compared to that, the latter takes less time and dries faster as it is not that liquid.
This is the only reason Minwax Clear Satin provides you and leaves you with a natural coloring or appearance.
Needed For a Second Coat?
In my experience, you won't have to go for the Second Coat while using the Warm Satin because only one coat will be enough to leave an appearance and make your object worth looking at.
On the other hand, the Clear Satin goes for the second coat in case you are unsatisfied.
That's because the Satin is not in that liquid shape, so you will have to go for the second coat for better protection from all the damage to your furniture items.
Which Is More Recommended?
From the reviews, one can also specify that Warm Satin is recommended at a standard rate because not so many people want to change the color of their furniture items.
However, the recommendations for Clear Satin are huge because most people like to protect their furniture while retaining the same texture.
You will find both Satins at the same price tags.
However, even a slight difference is considered to ensure which product is expensive and which is less expensive.
So, here, you can find the Warm Satin a little more expensive than the William Clear Satin.
Everyone can have this difference and determine which Satin they want to protect their furniture.
One will leave an appearance, and the other will keep your wood's natural look alive.
Still confused? Here is another comparison table between the two.
| | | |
| --- | --- | --- |
| Features | Minwax Warm Satin | Minwax Clear Satin |
| Suits Best Where | You need to create an amazing look for your wooden items | Where you want to keep the original look only |
| Drying Time | Slower | Faster |
| Needed need for Second coat? | It Depends | Do not need but it depends |
| Which Is More Recommended? | Standard Recommendations | More Recommendations |
| Pricing | A Little Expensive | A Little Cheaper |
Which Is Better To Use Between Warm and Clear Satins From Minwax?
There is no problem with using satin as a protective coating layer on a wooden subject. But the finish you expect from either of these will determine which one is best to consider.
A Clear Satin from Minwax will be best if you want a natural and realistic look for your wooden furniture.
On the other hand, if you want to be highlighted, bold and solid look with a bit of changing in color, the Warm Satin is best to consider.
Hence, you can decide between your satin and apply it on the surface you are desired to protect from scratches, tears, and more.
Last Thoughts
There is nothing much to compare between Minwax warm satin and clear satin as both products have the same features, qualities, and results. But there is only a difference with the finishes these products will provide on wood.
Hence, I hope you've got enough reasons to find which product or satin will suit you best. Their prices are not much varying, and they stand excellent in durability.
So, it will be quicker to decide between Warm and Clear satins.