Milwaukee 2604-20 vs. 2804-20 is something of a nail-biter when you get into the comparison for both. They both pretty much have similar characteristics.
The significant difference between the two hammer drills is that 2604-20 comes with a manual clutch, and 2804-20 has a digital clutch. Also, the torque is different for both.
Including these two differences, there are some other not-so-prominent differences that you get to see.
Want to know about them?
Then, you have to stick to the end of this article to find out. So, let's get ahead and see the differences between the two drills.
A Quick Comparison Table
| | | |
| --- | --- | --- |
| Specifications | Milwaukee 2604-20 Drill | Milwaukee 2804-20 Drill |
| Clutch type | Manual | Digital |
| Torque | 700 | 1200 |
| Max speed | 1800RPM | 2000RPM |
| Length | 8.1" | 6.9" |
| Performance | Pretty good  | Excellent |
| Pricing | Lower | Higher |
Key Differences Between Milwaukee 2604-20 And 2804-20 Hammer Drill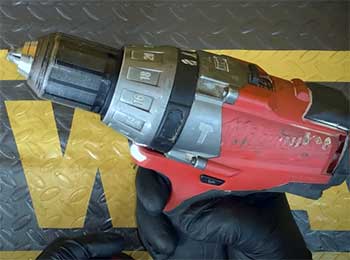 The most critical difference between the two drill choices is the clutch type.
Both drills have different clutch types. So, when choosing one, you can base your decision on that factor.
With Milwaukee 2604-20 hammer drill, you get a manual clutch.
This means you can have more control over the torque when you are using this drill for your projects. You can control how much torque you apply in the drilling process.
In contrast, Milwaukee 2804-20 hammer drill has a digital clutch. With this feature, the drill will automatically adjust the torque based on whatever project you are working on.
This is a beneficial feature for beginners as they might not know the proper torque adjustment.
So, you can easily decide on which drill to get for your projects based on the clutch type. If you are an expert and want more control, then 2604-20 drills are the way to go.
But if you are thinking of easy usage without too much trouble, then 2804-20 might be the pick for you.
There is also a clear difference between the torque of both these drills. One of them is higher, and one is lower. It makes it easy to choose a drill if you have specific torque requirements.
In the 2604-20 drill, you will get around 700lbs of torque. This is pretty nifty for light to medium-duty projects.
On the other hand, Milwaukee 2804-20 drill comes with a torque of around 1200lbs, which is a pretty decent amount to get out of your drill.
In terms of power, I would say go with Milwaukee 2804-20 as they have a higher torque available. But if your projects don't require torque more than 700lbs, then I would say Milwaukee 2604-20 should be more than enough for you.
It all comes down to your personal needs.
Apart from torque and clutch, there is a slight difference in the speed of both drills as well. However, it's not as impactful as the other ones.
Still, if the most negligible differences matter to you, you might also want to consider the speed.
Regarding speed, 2804-20 is a clear winner over 2602-20. 2804-20 comes with a maximum speed of 2000RPM. Compared to that, 2604-20 has 1800 RPM of max speed.
As I said, the difference is not that significant. Still, it's something you can consider.
Generally, 2804-20 tends to be two times faster than other drills in a similar range and category. So, if you think about speed and want the quickest drilling operation, then 2804-20 should be your pick without second thoughts.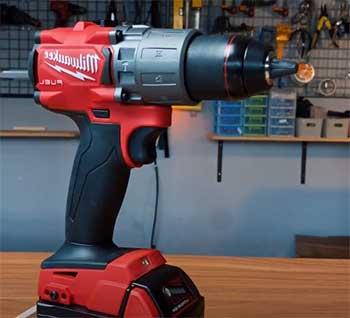 Sometimes, it becomes crucial to consider the length of the drill for particular projects.
When you have to access tighter spaces in your drilling work, you might look for a compact drill compared to a larger one.
If you consider the convenience of working in tighter spaces or general, I will keep 2804-20 ahead of the competition.
They have a length of 6.9″, which is very compact for a hammer drill.
You can easily get the drill into tighter spaces and have good control over the drill in its application.
In comparison to that, 2604-20 has a length of 8.1″, which I don't think is the largest. It's still a pretty standard size for a drill. But when you compare the drill with 2804-20, you can clearly see the difference in its usage.
As a result, anyone who works with a lot of tight space in their drilling projects will always pick 2804-20 over 2604-20.
You must understand that in terms of performance, 2804-20 will always be a bit better than 2604-20. Why? Well, it's an upgraded version of the same machine with some new and improved features.
Both drills have similar motors and batteries inside. So, you might not see too much of a leap in the performance. Although, you get to see a significant difference in the power.
For instance, 2604-20 gives you 25% more power, whereas 2804-20 can provide a 60% increase in power.
Also, you got to see that 2804-20 has higher speed and torque than 2604-20. This means it can outperform 2604-20 without breaking a sweat.
Considering all of this, if performance concerns you and you want the best out of your drill, you go with 2804-20.
Now, this is where the game changes completely. When it comes to the pricing factor, you will start thinking about whether the extra performance is worth the extra money or not.
You know that 2804-20 has some extra features and higher performance. But is it worth it?
The price of 2804-20 is a bit higher than 2604-20. Even though the difference isn't too much, it's still something to consider. The extra cost is worth the additional value you get from the drill.
Having said that, if you are on a budget, then 2604-20 isn't a bad option either because the changes or upgrades aren't that significant to bring too many noticeable changes.
Which Hammer Drill Is Better For You?
Let's curve up the whole discussion into one part. Which one should you pick?
Well, the best way to go about this decision is through two factors. One is pricing, and the other is particular needs.
If you are on a budget and want to save money, then 2604-20 is the perfect pick. It's also suitable if you want more control over the torque with the manual clutch option.
Other than that, I would say 2804-20 is the perfect option for greater torque, speed, performance, and convenience.
So, it's up to your personal preferences and the suitability of the project you are working on.
Frequently Asked Question (FAQ)
What generation is a Milwaukee 2804-20?
Milwaukee 2804-20 is the 3rd generation of the M18 line of Milwaukee drills.
What is the difference between Milwaukee 2803 and 2804?
The crucial difference between Milwaukee 2803 and 2804 is the drilling mechanism. In 2803 you get a normal drill driver only. But in 2804, an additional hammer drill driver is also included.
Which Milwaukee drill is the strongest?
Milwaukee's M18 fuel drill driver is the most powerful drill you can get from the brand.
What is the difference between Gen 2 and Gen 3 Milwaukee?
The main difference between Gen 2 and 3 Milwaukee is speed and torque. Gen 3 Milwaukee drills have a higher speed and torque in comparison.
Conclusion
To sum up the Milwaukee 2604-20 vs. 2804-20 comparison, I can say that 2804-20 is better in performance. Since it's the upgraded version from the same range, you get more performance.
But if you are thinking about money and want to save some money from the whole thing, then 2604-20 might be your option.