Whether it rains or snows, a right wiper blade can get you covered while driving. But not every wiper in the market can give you the result you expect. Michelin offers a pretty good hybrid wiper that can be your friend in need.
I have been using the Michelin Guardian Hybrid wiper blade for a long time and will show its good and bad side in this article. You can decide if it's a good product when you have a complete picture.
So, let's get started with our review.
Features of Michelin Guardian Hybrid Wiper Blade

As a hybrid wiper blade, Michelin Guardian has many unique features that will make you interested in this product.
An Excellent Hybrid Wiper Blade
Michelin brings an excellent Guardian Hybrid wiper blade for all weather, and it will make your windshield visible in snow and rain.
This wiper blade will wipe your windshield and stay attached to it for better visibility.
Its Fit-Right design allows the wiper blade to adjust to the curve of your windshield. Because of its EZ Lock connector, you can easily install it in your vehicle. Besides, you will get a lot of size options to choose from.
A Functional Hybrid Design
With smart technologies and great design, this hybrid wiper blade functions extraordinarily. It features advanced hybrid technology with a combination of aerodynamic and clog-free design.
Because of its beam blade and multiple pressure point windshield contact, you'll get an excellent result from this wiper. Besides, it has a durable cover and sturdy wiper rubber for optimum performance.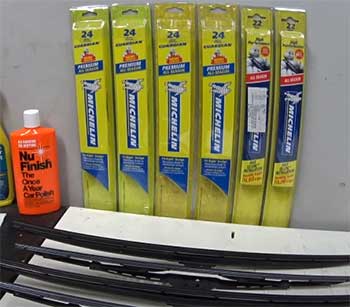 I enjoy a lot of extraordinary benefits from this hybrid wiper blade set.
And that is the reason I'm still using it in my car. Here are some of the benefits I get from Michelin Guardian Hybrid Wiper.
Because of the superior all-weather performance, I can use it during rain, ice, snow, and sleet. It comes with a multi-pressure point surface contactor.
It remains attached to the windshield and offers better cleaning and visibility. On top of it, you can easily install the wiper set fast and efficiently.
Another great thing about the Michelin Guardian hybrid wiper set is that it comes in many size options. As a result, you can easily choose one that fits your windshield.
Because of various sizes, it will remain attached to your windshield and clean it even in the harshest weather.
You can choose a Michelin Guardian hybrid wiper set from 14 inches, 15-inches, 16-inches, 17-inches, 18-inches, 19 inches, and 20 inches, 21 inches, 22 inches, 24 inches, 26, and 28 inches. As you can see, you are getting a lot of sizes from Michelin.
Easy installation is one of the good things I have found in the Michelin hybrid wiper. Many other users have said the same. Because of its design and features, you can easily install it in your vehicle.
A Fast-Lock connector system allows easy and fast installation. Its riveted smart hinge makes the wiper compatible with any windshield shape.
A natural rubber and Dura-Glide coating provide smooth and quiet wiping. In a word, you can install and use this hybrid wiper blade quite comfortably.
Price becomes an essential factor when choosing a product. Likewise, it is also crucial when buying a wiper blade. The price of the Michelin Guardian Hybrid wiper blade varies in different sizes.
For example, you will have to spend around $20 for a 24 inches wiper blade set. But the price is $21.77 for 26 inches and $19 for 22 inches set. Each set comes with two wiper blades.
What Could Have Been Better?
There are still many things that could have been better for this wiper blade. I have found some issues that undermine the brand value of this product.
But you should know them to get a clear idea about the wiper blade. So, here are some cons of the Michelin Guardian Hybrid wiper blade:
While everybody says installing this wiper blade is pretty easy, many people have complained about missing parts.
Some people could not find some adapters and parts after shipment as they were missing. So, Michelin should be more careful while shipping its products.
Not Compatible with Mercedes
Although Michelin offers many sizes for its Guardian hybrid wiper blade, they are not compatible with Mercedes's windshields. It is a drawback from Michelin, and they should take care of it.
You cannot buy one Guardian hybrid wiper blade as they are only available in sets. So, you will have to change the entire set even if only one is damaged or need to be changed.
Michelin should take care of it as well. Here is a cool review for you.
Frequently Asked Question (FAQ)
Are hybrid wiper blades any good?
Hybrid wiper blades combine traditional and beam wipers for better performance and durability. They are specially designed for better performance in harsh weather.
Are Michelin wiper blades any good?
Michelin wiper blades are excellent in terms of quality and performance. These hybrid wiper blades can work endlessly in heavy rain and snowfall. Plus, it will wipe clean your windshield without any streaking or smearing.
What is a hybrid wiper blade?
Like any other product, a hybrid wiper blade combines tradition and new technology. A hybrid wiper combines the effectiveness and design of a traditional wiper and a beam wiper.
How good are Costco wiper blades?
Costco wiper blades like Michelin Guardian Hybrid Wiper blades are a high-quality product that offers excellent results. They are strong, perform well, and last longer.
Final Thoughts
After reading the Michelin Guardian hybrid wiper blade review, you come to know that this wiper blade has both good and bad sides. But the good side wins over the bad side, at least my experience says so.
That's why you can give it a try. I know you will not regret it in the future. What do you think? Let me know.