Merkrete is a well-known name to architects, contractors, and builders for their building materials with unsuppressed quality and groundbreaking innovation.
Merkrete Fracture guard contributes a significant portion to the reputation of their long list of products. With great features, benefits, and usability, we cannot just ignore it.
That is why you must read the Merkrete fracture guard reviews. 
Features of Merkrete Fracture Guard
Merkrete fracture guard is a latex-based single-component crack isolation membrane with mold resistance, a monolithic surface, and excellent elongation. It works to inhibit cracks from different tiles and other surfaces.
Let's see what features it offers.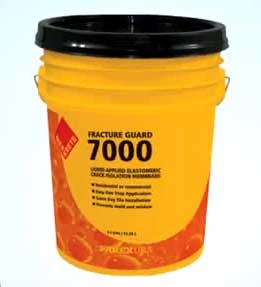 As we already know, Merkrete fracture guard works as an agent that inhibits cracks from happening and isolates them when does.
It can isolate cracks up to 1/8 inches.
The latex-based membrane works and adheres to almost all the common surfaces.
With a thin section and excellent elongation, it exceeds the ANSI A118.12 standard in crack isolation.
This feature-packed item is considered to be one of the best in the market of its kind.
With great features come great benefits. It has a very low VOC. The thin section of this crack isolation agent does not actually interfere with elevations.
You can use it both interior and exterior and simply apply it with a brush, roller, or trowel. It also works excellently to resist mold and mildew from surfaces.
The main purpose of the Merkrete facture guard is to crack isolation. But it offers so much more. You can install a fracture guard over any substrate that accepts ceramic, porcelain, quarry, stone, other residential tiles, and commercial applications. 
After installation, the fracture guard inhibits the transfer of shrinkage and other nonstructural cracks caused by horizontal movement where tile and stone finishes are used.
But you have to make sure that you install it following the manufacturer's specifications and instructions.
Merkrete fracture guard has a reputation for working on almost all common surfaces. But there are some specific substrates where it performs optimally.
These substrates are brick masonry, cement backer board, cement mortar beds, cement plaster, cement terrazzo, ceramic tiles, stones, concrete, concrete masonry, as well as exterior-grade plywood, gypsum wallboard, gypsum mortar bed, oriented strand board, etc.
It has a thin section, so it will not elevate the surface no matter which substrate you work it. In fact, you will not feel a thing.
Merkrete Fracture Guard is also well-known for its extended area coverage. You can cover more area with Merkrete fracture guard compared to other brands.
As a result, you will require less fracture guard, and your wallet won't have many scoops in it.
However, a 1-gallon Merkrete fracture guard can cover up to 50 square feet of area. But a 3.5-gallon unit will cover up to 280 square feet area, which is significantly more than others.
Maintenance is an essential aspect of a product, especially for a crack isolation solution. But Merkrete fracture guard is low maintenance.
Actually, it does not require any maintenance. You just have to install it properly and make sure related products are equally good.
However, the installation performance and durability of other manufacturers' products will depend on proper maintenance, which can be inconvenient for many people. So, if you use a Merkrete fracture guard, you won't have to invest your time and energy in maintaining it.
Merkrete is a well-known brand for building materials and has been in operation for more than 45 years. Over the years, they have built their reputation and a strong supply channel.
They have many distributors and authorized dealers across different countries and regions.
All Merkrete products are available, including fracture guards on leading tile houses, retail shops, dealer shops, home improvement shops. They are also available to purchase online.
Warranty is often conceived as an indication of quality. Like many other leading manufacturers in the industry, Merkrete also offers an intriguing warranty on its products.
Merkrete fracture guards can come with a variety and duration of the warranty, including 5 years, 10 years, and a limited lifetime.
You will have to contact Merkrete technical services to know the specific warranty, or you will have to ask your dealer where you will buy it. They will tell you which warranty duration you will get from the manufacturer.
Fracture guards are generally expensive because of the elements they are made from. A 1-gallon container of Merkrete will cost around $43, and a 3.5 gallon will cost around $124.
You might think the price is too high. As a matter of fact, it is. But you have to consider the product and its quality too.
Watch it's cool explainer video!
What Could've Been Better?
Merkrete facture guard being a latex-based single component and mold resistance membrane provides excellent elongation and inhibits the transfer of crack on ceramic, porcelain, or stone tile finishes as well as other common surfaces.
The fact that it exceeds ANSI standard in crack isolation signifies its quality. But as nothing comes without flaws, I will show talk about some cons including those awesome features and benefits of the Merkrete fracture guard, which will help you understand the product better.
With so many good features, there are some cons of Merkrete fracture guard as well. Let's look at them.
While it is available in 1-gallon and 3.5-gallon sizes, a few more sizes from both sides of the scale would be nice. It would allow people to choose from more options based on their required quantity.
Sell through Official Website
Although it is available on most tile shops and home improvement shops, people could purchase directly from their official website if they start doing it. It will connect real customers with them, and customers can see many resources available on their website.
Final Thoughts
A good crack isolation membrane will always pay you off. I hope my Merkrete fracture guard reviews help you choose the best solution out there. You can always pick this product, ignoring its cons because the benefit it offers is enormous.
You can use it indoors and outdoors; plus, this latex-based membrane is low VOC and does not elevate the surface. What more could you ask!