You will find many masonry coatings in the market. But not all of them will give you the result you expect. You do not have to sweat blood searching for the right product, as I've brought to you Loxon XP, a high-quality waterproofing masonry coating. 
After studying many customer reviews, I've written this article from my own experience and consulting with professionals. So, you will get authentic information from here. 
So, let's get down to business. 
Features of Loxon XP Masonry Coating 
Many unique features make Loxon stand out from other masonry coatings. You must know them to understand why so many professionals use them on their projects. 
So, here are some key features of Loxon XP Waterproofing Masonry Coating: 
An Excellent Choice of Masonry Coating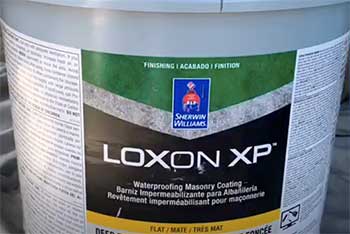 Loxon XP is a high-build masonry coating from Sherwin Williams, one of the biggest names for paints and home improvement product manufacturers. 
The unique thing about Loxon XP is that you can apply it directly to a concrete surface.
Besides, it is flexible, durable, and weather-resistant. 
Another good thing about this coating is that you will get maximum performance with one less coat compared to others. That's why you can finish your task quickly and efficiently. 
In a word, Loxon XP is an excellent choice for homeowners, DIY enthusiasts, and contractors. 
Using Loxon XP, you can coat your exterior surface and make them waterproof. It will protect your house's wall from snow, wind-driven rainwater, and other moisture-related issues. 
You will get outstanding results using concrete, stucco, CMU, and shotcrete-gunite. 
Applying Loxon XP is comparatively easy than other coatings. You can withstand as low as 35°F of temperature. Use a brush, paint roller, or an airless sprayer to apply this coating to your concrete surface. 
It will be wise to wait overnight before applying a second coat if necessary. You can both spray and backroll on porous surfaces. Here is a great application video of this coating.
Sherwin Williams Loxon XP brings a lot of benefits with it. Because of these intriguing benefits, it is a go-to choice for many contractors. Let's see what benefits you'll enjoy by applying Loxon XP. 
We know that you can directly apply Loxon XP to a new concrete surface. However, it has to be at least 7 days old. 
Besides, it can be applied on high pH surfaces with a rating of 6 to 13. You will get an excellent resistance against wind-driven rain with two coats. 
Loxon XP is also highly resistant to alkali and efflorescence. I did not have to use any primer on it. Plus, you will get pretty good mildew resistance from this waterproofing coating. 
Loxon XP becomes touch dry in just 6 hours at 35-45°F temperature. However, it takes only 4 hours at more than 45°F. At 35-45°F, you can recoat in 24 to 48 hours. But at 45°F, it becomes ready for another coat within 24 hours. 
According to many professionals with field knowledge, you can cover 85 to 110 square foot area per gallon of Loxon XP. 
You will have 4 color options and 2 sheen options for Loxon XP. Extra White, Deep Base, Ultradeep, and Light Yellow are the four colors available for this coating. 
On the other hand, it comes with two sheen options. 
A Flat sheen with a non-reflective look effectively hides surface impurities, and a Satin sheen with a slightly glossy look offers a richer outlook. 
Cleaning Loxon XP is relatively easy. You will need warm water and soap to clean any spills, spatters, tools, and your hands. But make sure to wash off the coating immediately after using. 
Use a compliant cleanup solvent to flush spray after cleaning your tools; otherwise, they might erode. 
The list price of Loxon XP is $85.50. But you will get many discounts on various online and offline stores. But there is a mixed reaction among users about its price. 
While some think the price is okay, other things are a bit expensive. 
What Could Have Been Better With LOXON XP? 

With so many positive features, it's easier to think that it has no bad side. But it will be naïve of you to think that. Loxon XP has some drawbacks too. 
After knowing them, you will get a complete picture of this product. Let's see some of the cons of Loxon XP: 
Loxon XP takes more than 2 days to dry at a lower temperature. It even takes a day to become touch dry at more than 45°F. Besides, you can recoat after 24-48 hours of your initial coat. It's a lot of waiting for both drying and recoating. 
Loxon XP offers 4 color options: Extra White, Deep Base, Ultradeep, and Light Yellow. But many people expect more colors of this product. 
So, Sherwin Williams should focus on it and introduce more colors so that customers can choose their desired one. 
Frequently Asked Question (FAQ) 
How good is Loxon XP?
Loxon XP is a superb waterproofing masonry coating for exterior surfaces. It effectively protects your house wall from snow and rainwaters. 
What is Loxon XP used for?
Loxon XP is a surface coating used for waterproofing exterior masonry walls. It protects your wall from moisture and resists mildew, alkali, and efflorescence. 
How long does it take for Loxon XP to dry?
Loxon XP takes up to 48 hours to become touch dry at lower temperatures. But it will take up to 24 hours at higher temperatures. 
Is Loxon XP elastomeric?
Loxon XP has high elastomeric flexibility. As a result, you will see excellent results and longevity from this coating. 
Conclusion 
We all know the importance of sealing our houses against wind-driven rainwater and snow. If we do not use a proper coating, moisture won't take long to show its action.
After reading my LOXON XP reviews, I'm sure you are convinced that it is a good option for waterproofing your masonry wall and other surfaces. I can say it will bring great value with all the pros and cons.