When it comes to kitchen and bathroom cabinets, Lily Ann and Cabinets To Go are two of the most popular brands on the market today. Both offer a wide selection of stylish, customizable cabinetry at affordable prices.
But which one is right for your next remodel or new construction project?
This comprehensive guide examines the key differences between Lily Ann and Cabinets To Go, including construction, materials, pricing, warranties, and more. Read on to learn which brand best suits your needs and budget.
A Brief Comparison Table
| | | |
| --- | --- | --- |
| Feature | Lily Ann Cabinets | Cabinets To Go |
| Construction | Plywood boxes, solid wood doors, soft-close hinges | Particleboard boxes, thermofoil doors, self-closing hinges |
| Materials | Furniture-grade plywood, solid maple/oak/cherry doors | Particleboard, thermofoil or melamine doors |
| Price | $200-$800 per linear foot | $50-$200 per linear foot |
| Warranty | Limited lifetime warranty | 1 year limited warranty |
| Lead Time | 3-4 weeks | 1-2 weeks |
| Customization | Semi-custom, 40+ door styles, custom sizes | Preset sizes, limited door styles |
| Assembly | Pre-assembled, just attach doors and hardware | Ready-to-assemble |
| Durability | 20+ years under normal use | Lower durability, 10-15 years |
| Eco-Friendly | Environ line uses strawboard | Low-VOC finishes |
| Customer Service | Design help available, excellent support | Good support via phone, chat, email |
Overview of Lily Ann Cabinets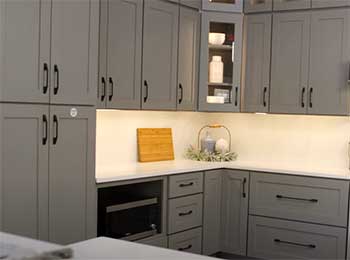 Founded in 1996, Lily Ann Cabinets provides premium cabinetry featuring solid wood frames and doors, soft-close hardware, and numerous customization options.
They offer an extensive catalog of cabinet styles for kitchens, bathrooms, laundry rooms, and more.
Lily Ann constructs all their cabinet boxes from furniture-grade plywood rather than lower-quality particleboard.
Their door styles include recessed panel, shaker, flat panel, and slab variations in oak, maple, cherry, hickory, and thermofoil finishes.
Lily Ann's cabinet boxes feature dovetail joinery on all front frames for strength and durability. Their soft-close hinges prevent slamming. Storage solutions include roll-out trays, spice pull-outs, cookie sheet organizers, and more.
Lily Ann offers a limited lifetime warranty on their cabinetry for defects in materials and workmanship.
Overview of Cabinets To Go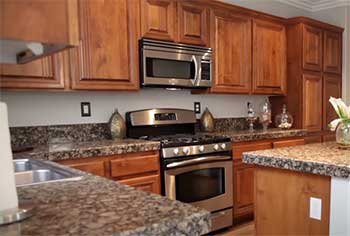 Founded in 2008, Cabinets To Go focuses on budget-friendly cabinetry catering to DIYers and contractors.
They import ready-to-assemble (RTA) cabinets with melamine, thermofoil, and wood door options.
Assembly is simple with just a Phillips-head screwdriver.
Cabinets To Go offers streamlined ordering online or by phone.
While less expensive than custom cabinetry, Cabinets To Go still provides extensive style choices. Door styles include shaker, cathedral, slab, and more. They offer real wood veneer and thermofoil finishes in various stain colors and patterns. Cabinet box materials consist of particleboard or plywood.
Storage accessories from Cabinets To Go include roll-out trays, lazy susans, and tip-out trays. They provide a 1-year warranty on defects in materials and workmanship.
Their budget price point makes Cabinets To Go a top choice for cost-conscious renovators.
Differences Between Lily Ann Cabinets And Cabinets To Go
Construction and Materials
One of the biggest differences between Lily Ann and Cabinets To Go lies in cabinet construction and materials.
Lily Ann constructs all cabinet boxes from 3⁄4" thick furniture-grade plywood rather than particleboard. Plywood offers increased strength, moisture resistance, and screw-holding abilities versus particleboard.
Lily Ann reinforces stress points with corner blocks or metal brackets. Their cabinets feature full-overlay doors, dovetail joinery on front frames, and soft-close door hinges.
Cabinets To Go uses 3⁄4" particleboard for most cabinet boxes, with optional plywood upgrades available. Hinges are standard self-closing. While high-quality, their cabinets don't quite match the construction standards of Lily Ann.
However, Cabinets To Go offers excellent value considering the lower price point.
For cabinet doors, Lily Ann uses solid wood framed doors on most models, while Cabinets To Go provides thermally fused melamine or thermofoil. Lily Ann's wood doors give a more upscale, custom look. But Cabinets To Go's thermofoil doors offer durability at a fraction of the cost.
In terms of pricing, Lily Ann cabinets are sold at premium prices, while Cabinets To Go is among the most budget-friendly options.
Lily Ann prices range from $200–$800 per linear cabinet foot, putting them at the higher end for semi-custom cabinetry. The average kitchen remodel with Lily Ann runs $15,000–$30,000+. Their higher pricing reflects the quality materials and construction.
Cabinets To Go offers RTA cabinets priced at $50–$200 per linear foot. The average kitchen remodel costs $2,000–$8,000 with Cabinets To Go.
Their affordable pricing is perfect for cost-conscious homeowners and contractors. The tradeoff is lower-end materials like particleboard versus plywood.
Keep in mind that door style impacts price as well. Lily Ann's solid wood doors are pricier than thermofoil. Optional upgrades like glass inserts or crown molding add cost for both brands too.
Carefully weigh construction versus price when selecting between the two.
The warranties offered by Lily and Cabinets To Go also differ. Stronger warranties provide peace of mind should any defects arise.
Lily Ann offers an impressive limited lifetime warranty covering any defects in materials or workmanship. They even warrant cabinets installed in rentals and commercial settings. This lifetime warranty provides excellent protection on your investment.
Cabinets To Go provides a more modest 1-year limited warranty. This covers manufacturing and material defects for 12 months after purchase. Consider extending Cabinets To Go's warranty through your credit card's benefits for added protection.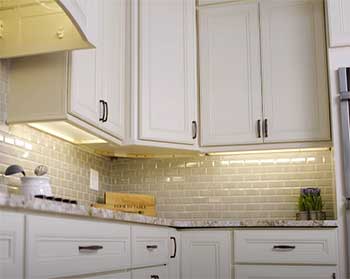 Since Lily Ann offers customized cabinetry, lead times are longer and involve white glove delivery service.
In contrast, Cabinets To Go provides faster shipment of stock ready-to-assemble units.
Lily Ann cabinets are made to order in 3-4 weeks. Once complete, white glove delivery ships the cabinets directly to your home.
Lily Ann brings them inside, unboxes each cabinet, and removes all packaging debris. There are small fees for additional flight of stairs or long carry distances.
Cabinets To Go offers stock cabinets shipping within 1-2 weeks typically. Shipping is curbside delivery, and you'll need to move boxes inside and unpack everything yourself. This avoids white glove fees but requires more hands-on work. Items damaged in shipping can be exchanged within 30 days of delivery.
While both brands offer a range of classics and contemporary options, Lily Ann provides greater customization for a true semi-custom look.
The Lily Ann catalog encompasses over 40 door styles and 20+ finishes. Their in-house design team helps customize cabinet configurations, modifications, and storage accessories. This degree of customization results in a semi-custom aesthetic at a price well below local custom shops.
Cabinets To Go offers a trimmed down selection of popular door styles and colors. Thermofoil finishes come in numerous woodgrain patterns. Their catalog covers all the most common options for quick and easy ordering. But customers seeking a fully customized look may be disappointed.
Those on a tight timeline or budget will appreciate Cabinets To Go's simplified ordering and quicker delivery. Customizers who value appearance will lean towards Lily Ann's expansive selection and modifications.
With their plywood boxes and solid wood doors, Lily Ann cabinets edge out Cabinets To Go in terms of quality and longevity.
Lily Ann constructs cabinets to last decades with furniture-grade plywood, reinforced stress points, and high-end hardware. Owners report cabinets lasting 20+ years under heavy use. Limited lifetime warranties provide further confidence.
Cabinets To Go uses adequate but lower-end materials like particleboard and thermofoil doors. Durability meets but doesn't exceed competitors. Hinges, drawer glides, and other components work reliably but have shorter lifespans under heavy use. Their budget-friendly pricing matches the value materials.
Consider how long you plan to own the home. Lily Ann makes more sense for long-term homes where durability is essential. Cabinets To Go suits short-term projects like flips or temporary rentals. Either will function fine during standard usage.
Installation and Assembly
Lily Ann cabinets arrive professionally installed or ready for simple reassembly. In contrast, Cabinets To Go ships RTA cabinets for customer assembly.
Lily Ann offers optional professional installation through their partner network. Installers handle the entire process, including built-ins and modifications. For DIYers, Lily Ann cabinets ship pre-assembled with doors, drawers, and hardware removed for protection. Reattaching everything takes less than an hour in most kitchens.
Cabinets To Go sells RTA (ready-to-assemble) cabinets shipped flat-packed. Assembly is straightforward with included instructions and hardware. Still, expect several hours of work for a full kitchen. Many also use professionals for installation. If tackling assembly yourself, be prepared for a busy weekend.
Customer Service and Support

Both Lily Ann and Cabinets To Go offer strong customer service via phone, email, and online chats. Lily Ann also provides design assistance.
Lily Ann shines when it comes to service. Their knowledgeable design specialists help select cabinets and create layouts tailored to your space. Users describe superb support before, during, and after purchase. Most issues are resolved promptly.
Cabinets To Go also earns praise for quick responses and resolving problems like damages, missing pieces, or delivery issues. Support options include phone, live chat, email, and online self-service articles. Overall, customers are pleased with the customer care experience.
Eco-Friendly and Sustainability
For green builders, Lily Ann offers greener options like their Environ cabinets made with strawboard cores. Both utilize low-VOC finishes.
Lily Ann's Environ line features strawboard cabinet box cores rather than plywood. Strawboard is an agricultural byproduct and environmentally preferable to veneer cores. Lily Ann also uses low-VOC finishes on all cabinets.
Cabinets To Go complies with EPA TSCA Title VI standards for low-VOC finishes. Their particleboard contains recycled wood fibers. Thermofoil doors are PVC-free. Overall, Cabinets To Go has average sustainability compared to competitors.
Those seeking the greenest cabinets may lean towards Lily Ann's Environ line. But Cabinets To Go makes adequate efforts towards eco-friendly products as well.
Pros and Cons of Lily Ann Cabinets And Cabinets To Go
Lily Ann Cabinets
Pros:
Constructed from plywood rather than particleboard
Dovetail joinery and soft-close hinges for strength and function
Extensive customization options for a semi-custom look
Beautiful solid wood doors that can be painted or stained
Limited lifetime warranty provides outstanding protection
Cons:
Premium pricing puts Lily Ann among the more expensive options
3-4 week lead time due to custom construction
Professional installation required for warranty coverage
Cabinets To Go
Pros:
Extremely budget-friendly pricing, great for value seekers
Streamlined ordering and fast 1-2 week shipping
Simple ready-to-assemble construction
Thermofoil and melamine doors offer durability
Smaller selection allows for quicker decisions
Cons:
Particleboard boxes weaker and less moisture-resistant than plywood
Limited 1-year warranty falls short of competitors
Self-installation required unless hiring separately
Limited style selection lacks extensive customization
Frequently Asked Questions (FAQ)
How good are Lily Ann Cabinets?
Lily Ann Cabinets are high-quality semi-custom cabinetry with plywood boxes, furniture-grade construction and solid wood doors. They offer extensive style selection with over 40 door profiles. With proper installation and care, Lily Ann cabinets should provide 20+ years of durability in most homes. Their lifetime warranty on materials and workmanship provides further confidence. Overall, Lily Ann offers premium materials, construction, and service at prices affordable for many homeowners.
Where are Lily Ann Cabinets made?
Lily Ann constructs their cabinets in a network of small shops across the United States. While they import some hardware and materials, Lily Ann cabinets are proudly Made in the USA. Cabinets are handcrafted after order in local shops across the country. This supports small businesses and results in quicker delivery versus outsourced production.
Are Lily Ann Cabinets solid wood?
Lily Ann Cabinets feature solid wood doors and drawer fronts. They use select solid maple, oak, hickory, cherry, and other hardwoods. Lily Ann constructs the actual cabinet boxes from 3⁄4" veneer-core plywood rather than solid wood. The boxes consist of furniture-grade plywood joined with wood veneers on the surface. Joints feature reinforced corner blocks and metal brackets at stress points. Using solid plywood rather than particleboard results in exceptional strength and longevity.
Are Lily Ann Cabinets soft close?
Yes, Lily Ann Cabinets come standard with soft-close door hinges and drawer glides. Soft-close systems prevent cabinet doors and drawers from slamming shut. The hinges and glides gently catch the last few inches of movement and pull the door/drawer closed silently. Lily Ann soft-close systems are high-end German-made hardware tested to over 50,000 open/close cycles. This prevents slamming and provides smooth, quiet operation even after decades of heavy use. Soft-close hinges and glides are standard on all Lily Ann cabinet lines.
Final Thoughts
When choosing between Lily Ann versus Cabinets To Go, consider your budget, timeline, and customization preferences. Lily Ann offers superior construction, materials, warranties, and customization at premium prices.
Their quality makes them a fine long-term investment. For quicker projects on a tight budget, Cabinets To Go provides excellent value with more limited – but still sufficient – options. Their RTA cabinets ship rapidly for self-installation.
While Lily Ann excels on custom work, Cabinets To Go simplifies the process beautifully. Carefully weigh each brand's strengths against your kitchen goals. Either can create a beautiful, functional space with the right expectations.