A garage can be great for storing items that are too cumbersome to store in the house. Other than a vehicle, garages are often used to store tools, equipment, and other items.
No matter what you store in your garage, it is important that you keep everything properly arranged and accessible.
A messy and cluttered garage is more of a headache than a good storage area. One storage option for garages is LEVRACK shelving. LEVRACK shelving helps keep your garage tidy and accessible. However, there are plenty of LEVRACK substitutes.
Let's check them out.
Alternatives To LEVRACK For Storage In Your Garage
Before we get into Levrack shelving, let us take a look at some of the alternatives. Here is a list of them:
DeWalt Industrial Storage Racks
Trinity EcoStorage Steel Wire Shelving
Gracious Living Knect-A-Shelf Heavy-Duty Storage
Fleximount Wall Garage Storage Racks
SafeRacks Garage Shelving
Gladiator Heavy-Duty Racks
Seville Classics UltraDurable Steel Shelving
Fleximounts Heavy Duty Adjustable Overhead Garage Storage
Although Levrack shelves are very good, in certain cases, they may not be suitable for your garage.
Let's begin the discussion on all the possible alternatives to Levrack. Keep reading to find out more about them.
DeWalt Industrial Storage Racks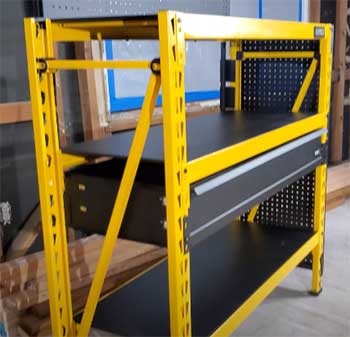 Garage shelving should ideally be sturdy, tough, and able to handle and store whatever tools and equipment you want.
The DeWalt storage racks tick all three boxes, having three large adjustable shelves and a powder-coated steel build.
These racks can store up to 1,500 pounds on each individual shelf.
The racks are available in different sizes, numbers of shelves, colors, and shelving options.
You can either buy wire shelves or spend a little less to buy composite shelves. For $500, you can even include a workstation with your shelving.
Trinity EcoStorage Steel Wire Shelving
If you are looking for something that is on the taller side and offers more storage space, the Trinity EcoStorage steel wire shelving may be the one for you.
These shelves stand almost six and a half feet tall and have six shelves. This storage system comes in two variants, the rolling rack, and the standing rack.
The standing rack can handle 800 pounds of weight per shelf, for a total weight capacity of 4,800 pounds.
The other option is the rolling variant. This rack can handle significantly less weight. Each shelf only holds 133 pounds for a total capacity of 800. However, the smaller capacity is offset by the extra maneuverability.
Trinity offers shelves of many different sizes and configurations.
Fleximount Wall Garage Storage Racks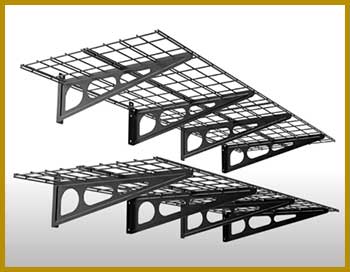 Garage shelving does not necessarily have to be freestanding on the floor.
If you want, you can also find storage systems that can be mounted on your walls.
One of these is the Fleximount wall storage racks.
Once they have been properly installed on your walls, they can provide years of storage.
These storage racks have been specially designed to be as durable as possible. Each shelf is installed on steel brackets with built-in Velcro buckles to restrict any movement.
These racks come in a variety of different sizes. If you are willing to pay extra, you can include hooks that allow under-rack hanging storage for bicycles and the like.
Gracious Living Knect-A-Shelf Heavy-Duty Storage
If your budget does not allow you to buy the more expensive shelves in this article, then you should consider the Gracious Living shelves. Despite their lower price tag, these shelves do not sacrifice quality at all.
These shelves are made of resin and are very lightweight, weighing only 23 pounds per shelf. Despite their lightweight, they can still support 150 pounds on each of their five shelves, for a total capacity of 750 pounds.
Each unit can be connected to form a single, large shelving system. This shelf also comes in a number of different sizes.
SafeRacks Garage Shelving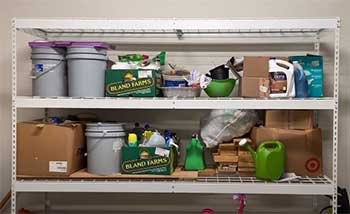 In certain cases, you may need room to store large items.
In these circumstances, you need a lot of space, not only in terms of shelf surface area but also in the room between each shelf.
If you are looking for a shelving system that delivers on both those accounts, the SafeRacks shelving is the one for you.
Not only does their largest model have 96 inches of width per shelf, but it is also 84 inches tall, allowing for customizable shelving.
Although this storage system may be more expensive than the other ones in this article, its sheer size and immense storage capacity are worth every penny of that price tag.
The SafeRacks shelving comes with four individual shelves. Each shelf can support 500 pounds for a total capacity of 2,000 pounds. Shelving units are offered in widths of 48 inches, 72 inches, and 96 inches.
Gladiator Heavy-Duty Racks
If you require a truly heavy-duty storage system, capable of supporting extremely heavy weights, then the Gladiator Heavy Racks are the ones for you.
The gladiator racks by far have the highest weight capacity of every shelving unit in this article. These steel racks come with four shelves that can individually hold 2,000 pounds for a massive total capacity of 8,000 pounds.
Despite their immense capacity and heavy-duty steel build, these racks are very easy to assemble with their tool-free snap and lock assembly. These racks are offered in 48-inch, 60-inch, and 77-inch wide units.
Seville Classics UltraDurable Steel Shelving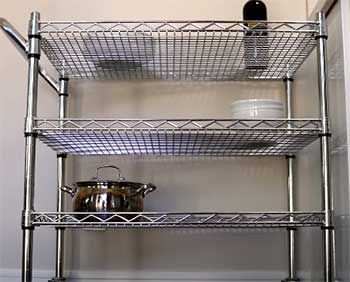 In some cases, you may want a shelving unit on wheels.
Although this greatly reduces its weight capacity, it also offers the advantage of easy maneuvering and customizing your garage's layout.
The Seville Classics UltraDurable steel wire shelving is the best shelving system on wheels in this article.
These shelves are constructed from steel wires with chrome plating for extra durability.
When on wheels, these shelves can handle 100 pounds per shelf for a total of 500 pounds. Seville also offers grounded shelves with extra weight capacity.
The grounded units can handle 800 pounds per shelf for a total capacity of 4,000 pounds.
Fleximounts Heavy Duty Adjustable Overhead Garage Storage
If the floor and walls of your garage are already occupied, you can choose Fleximount's overhead garage storage system.
These shelves are mounted on garage ceilings and project downwards. As a result, they do not take up any space on the floors or the walls. This allows for additional storage in case your walls and floor are already in use.
You may think that overhead storages are risky and unreliable. However, Fleximounts overhead shelving is a steady and durable system. Each shelf is made of iron wires and hangs firmly from the ceiling.
The shelves can project between 22 inches and 40 inches from the ceiling. Each shelf has an impressive capacity of 450 pounds.
2x4basics Custom Work Bench and Storage System
If you only need a storage system for tools, it might not be necessary to buy large, heavy-duty shelves. The 2x4basics custom workbench and storage system solves that need.
As the name suggests, this unit provides a storage area for tools and equipment, while also functioning as a workbench.
This unit is available both in a straight and an L-shaped configuration including or excluding overhead shelving.
AmazonBasic Garage Shelving
If you're looking for 2-in-1 products, grab this AmazonBasic garage shelving. They can cover all the necessary features that you find in LEVRACK. For material, this one is made with the best element known as alloy steel and metal.
Its loading capacity is around 1400 pounds and can be adjusted to 5 different shelf designs. Its chrome finish and simple, elegant appearance easily influence anyone to buy them. Since it is very versatile, users can use it for their kitchen or other workshops.
The most surprising part of this is its easy-to-assembling and adjustable shelves functions. Each of the shelves can be deducted individually and can be reattached altogether.
What Traits Can Consider As Alternatives of LEVRACK
Nothing can indeed beat the popularity of LEVRACK. But in the case of alternatives, proper consideration plays a vital role in enjoying similar advantages. Herein are some things you should consider when buying the option of LEVRACK.
Rack material is essential as you want to spend money sparingly to purchase the same things. Check out the rack material and give it before the solid elements like stainless steel, carbon-coated steel, aluminum, and plastic. Ensure that the material has enough durability and is rustproof.
In the garage, there is a lot of stuff to store on a single shelf or rack. If the frame has enough space, you can manage them properly. Luckily, you can find some big shelves which can arrange different categories.
They are also comfortable handling huge stuff at a time. Those are handy to use any type of thing from heavy to low weight.
Owing to the multifunctional garage shelf could provide you with a better option than LEVRACK. When it comes to shelf types, anyone may find a thousand chances. Most of them are highly designed with some unique fashions.
But the majority of people usually buy either rack shelves or cupboard shelves. Cupboard shelves are suitable for storing stuff safely. But rack shelves are also lovely to fit in, providing much space.
Load capacity is another significant fact regarding the terms of garage shelves in the alternative of LEVRACK.
The frames should have a maximum weight capacity of around 800 pounds or above. It is ideal for holding and keeping heavy-duty items on alternating garage tools.
When choosing any items as an altar, double-check the assembling norms from the manufacturer scripts. Many times, it isn't easy to assemble the shelf correctly.
Sometimes you may even break away some of the parts from the sets. Therefore, take any garage storage shelves that are easy to assemble and user-friendly.
Is Levrack Worth Buying?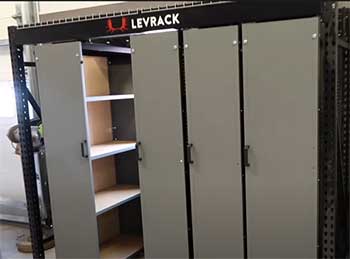 Now that we have seen all the possible alternatives for it, let us get to know the Levrack shelving system itself.
Levrack shelving is a hanging storage system that combines the qualities of racks, workbenches, cabinets, and sliding storage systems all in one.
This system flips the traditional cabinet system sideways and suspends it from a hanging track.
So now comes the ultimate question. Should you buy the Levrack system or one of its alternatives? The answer to that is totally up to you.
You should look into the system itself as well as the provided alternatives before making a decision.
Frequently Asked Questions (FAQ)
How do you build a custom storage shelf?
You can either buy a shelving structure or make your shelves separately, or you can build the whole thing from scratch.
How do you build a sturdy garage shelf?
Use durable materials such as plywood or OSB and make sure the individual pieces are attached properly.
What is a mobile or compact shelving?
Mobile compact shelving consists of standard cantilevered shelving that is mounted on wheeled carriages and travels on rails.
Closing Remarks
Having proper, roomy storage is necessary if you want your garage to be tidy and all your tools and equipment to be accessible. In the end, only you can decide which shelving system is best for your garage.
Hopefully, this article on Levrack alternatives helps you to decide the best system for you.