Makita and Kreg track saws have a few similar aspects but they are different when it comes to bevel capacity and track length.
From cutting long lumber lengths to ripping sheet goods, a track saw is one of the most important tools you can have in your collection. It's easier to use and more portable than its bulkier counterpart – table saws.
Track saws make accurate, repeatable, fast cuts on lumber, plywood, and fiberboard.
A Quick Comparison Table
| | | |
| --- | --- | --- |
| Specifications | Makita Track Saw | Kreg Track Saw |
| Blade size | 6-1/2″ 48T carbide-tipped  | 6-1/2″ 48T carbide-tipped  |
| Speed settings | Adjustable: 2,000 to 5,200 RPM | Variable |
| Bevel capacity | -1° to 48° | -1° to 47° |
| Motor power | 12 Amps | 12 Amps |
| Corded vs. cordless | Corded | Corded |
| Track length | 55-inches | 62-inches |
Key Differences Between Kreg And Makita Track Saw 
Despite being very similar power tools, there are some factors that set the Makita and Kreg track saw apart. From their design to bevel capacity, here are the differentiators between the two: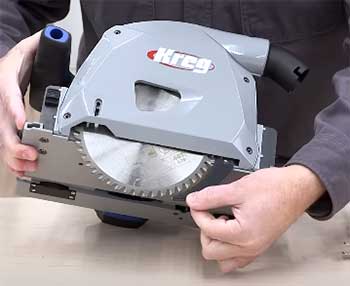 The blade size of a track saw has the biggest role to play in deciding how thick of a material it can glide through.
Most track saws are equipped with 6 ½" blades and can cut through materials about 2" thick, which is the case for both the Makita track saw and the Kreg track saw.
Track saws with longer blades, however, close to the 8 ¼" range are capable of cutting materials around 2 ¾" thick.
Not all track saws are created equal, and the best ones come with speed settings that allow you to regulate the pace. Controlling its speed lets users avoid burning their wood, creating unwanted splinters, and dulling the blade.
For the average track saw, speed adjustments range from 2,000 RPM to 5,000 RPM. With the Makita track saw, you get a variable speed control dial that lets users change the speed between 2,000 to 5,200 RPM.
On the other hand, with the Kreg machine, the 120V variable speed motor features an electronic brake and load compensation.
We find that dialing the speed down, keeping it in the lower range works best for dense timber such as walnut or locust. The lower speed prevents unpleasant burn marks and maintains blade condition.
When reducing blade rotation, make sure to keep an eye on kickback. 
Adjustable bevels in track saws keep them versatile and flexible. Most of this tool's responsibility comprises making 90° square cuts. But, the power to make these cuts can conserve your valuable time.
The Makita track saw has a bevel capacity of -1° to 48° as well as positive stops at 22.5° and 45°. Users get precise cuts when the blade's position enters the lumber. Moreover, the saw is equipped with close-to-wall to diverse cutting applications.
Thanks to the in-built depth stop, you can make preliminary cuts of 1/16" before cutting through the whole material for splinter-free and clean works. 
Similar to the Makita, the Kreg track saw has a bevel capability of -1° to 47°.
Quantifying the power of corded track saws in a helpful way to assist new tool buyers to make their purchase is difficult.
The majority of track saws are designed after sidewinder-type circular saws, and makers enjoy bragging about amperages on the labeling.
Amperage refers to the quantity of electrical current that the unit may draw rather than power.
Both the track saws in the discussion today have 12 Amps motor power. 
This is one section where the community shall always remain divided; which reigns supreme: corded or cordless tools? Of course, the saga continues with track saws.
Corded saws tend to feel more powerful; not to mention the peace of not having to worry about batteries. This is quite helpful when you are doing a tough cut, such as a thick piece of walnut or oak. 
Pausing in the middle of a job to change the battery can create undesired saw marks on the board. In contrast, cordless track saws will unburden you of the woes of the cord. Many times, people will stop working simply to adjust the tool's cord, and this results in unsightly saw marks on the lumber.
Ultimately it's a tradeoff between unlimited power and portability. The Kreg and Makita track saws are corded so you cannot consider this aspect here.
For obvious reasons, tracks are available in various lengths. For workshops, however, we find that 24", 48", and 96" tracks are the quickest and easiest to set up while ensuring consistent results. 
Modular tracks are perfect for job site work. Users can bolt or snap smaller lengths together to utilize them for longer tracks, optimum for composite decks.
Fortunately, both Makita and Kreg include tracks and they are 55" and 62" respectively.
Which Track Saw Is Better For You?
Kreg and Makita track saws have their strengths and weaknesses. Apart from their design, their specifications are close so there is not much to differentiate. 
Makita makes the best plunge-action we have seen in this range of tools while Kreg performs admirably in plywood, pine, oak, and decking. This video also explains why you should get it.
Frequently Asked Question (FAQs)
Does Kreg make a track saw?
Kreg makes advanced cutting tools such as the Adaptive Cutting System.
Can you use a Wen track saw on a Makita track?
Wen's universal design works with most of the track saws available in the market today, including Festool, Evolution, and Makita.
What track saw cuts deepest?
Any track with a blade measuring 8 ¼" should cut the deepest.
What's the difference between a track saw and a plunge saw?
Dissimilar to other saws, you can use a plunge saw to feed the start of the material or push it straight into where the cut has to be.
Final Words
Concluding the discussion on Kreg vs. Makita track saw, we would like to say that both these tools are fine purchases. In fact, they would be included in the list of ten best track saws today.
Consider the different functionalities before purchasing.