Kreg Foreman is a pocket-hole machine. Drilling pocket hole with conventional drilling equipment results in badly completed holes that are also out of alignment and do not produce the desired outcome.
The amount of time it takes you to complete the drilling is more annoying.
Pocket Hole Jigs like Kreg Foreman are available to end the pain. Using pocket hole machines, you may quickly and accurately drill holes into wooden constructions.
Though Kreg Foreman is an amazing tool, you might want to know some of its alternatives. So, here you go.
Kreg Foreman Substitutes That You Can Consider
Let's talk about a few Kreg Foreman alternatives in detail so that you can choose the best one for your task-
Castle 110 Pocket Cutter
Massca Pocket Hole Jig
General Tools Pocket Hole Jig
Wen Metal Pocket Hole Machine
Let's Talk about them in detail.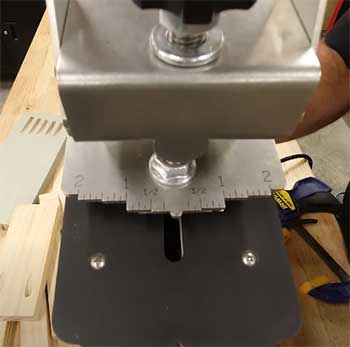 Castle, a rival manufacturer of Kreg's, believes that their Castle 110 Pocket Cutter is one of the best machines.
Their tabletop machine is about the size of a large blender, and the user drills the pilot hole manually through a bushing.
Compared to the Kreg jig's 15 degrees, the angle on the Castle holes is significantly lower- just 3 degrees.
The 110 minimizes joint misalignment while cutting low-angle pockets, producing fast, durable, and beautiful joints for cabinets, bookshelves, face frames, and other woodworking projects.
The linked pieces fit as closely as possible since no waste or tear-out occurs because the pilot hole for the screw is drilled from the opposite side.
However, compared to Kreg Foreman, Castle is a bit slower. So, if you are not planning for a large production, you can go to Castle 110. Also, Castle is cheaper than Foreman, which can save you a few bucks.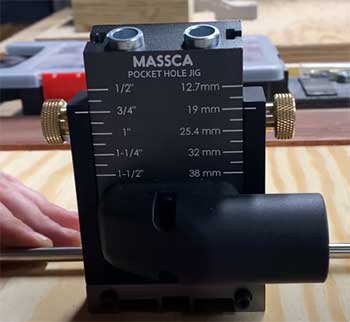 The right tools can make a huge difference in accomplishing the task quickly and correctly.
The Massca Aluminum Pocket Hole Jig System enables you to cut ideal pocket holes for attaching two boards with increased rigidity and support.
The Massca Pocket Hole Jig System has a full-body, balanced aluminum frame that offers a solid base for woodworking support in homes or businesses.
Their aluminum construction guarantees a durable, heavy-duty pocket hole jig that feels slick to the touch and is built to last a lifetime.
This multipurpose pocket hole jig can be used for everything, whether you enjoy building dressers, shelves, or other wood creations in your leisure time or as a professional carpenter.
It can be moved easily because it is very lightweight and portable. It is a 2-in-1 device that can handle jobs of various sizes and forms.
Having a built-in dust collector lessens the amount of effort required on the task, and the heavy-duty aluminum design makes it easy to clean up and maintain.
General Tools Pocket Hole Jig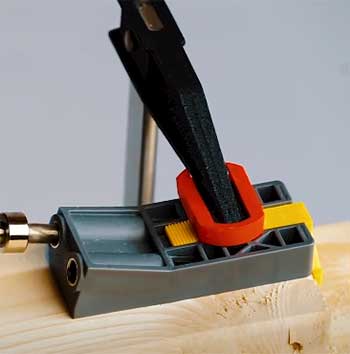 General Tools has been offering its customers a wide selection of reasonably priced, purpose-specific mechanical hand tools for almost a century.
Their General Tool 850 Heavy-duty Pocket Hole Jig is just as capable of giving you excellent long-term service.
It is extremely low priced, which makes it accessible to everyone, and this is what makes it so popular.
When mounted on a bench, it performs at its best. It makes sure that the jig doesn't slip.
You can take it everywhere with you because it is quite portable.
If you get this Jig system from General Tools, you will get full value for your money because they include 70 other things to shorten the time you spend drilling.
Additionally, General Tools offers a one-year guarantee on all components of your Jig system.
Wen Metal Pocket Hole Machine
This lightweight jig makes precise pocket holes in workpieces of various sizes. While the permanent toggle clamp is adjustable to hold your boards in place, the steel drill guides accurate drilling.
The jig is constructed of sturdy, anodized aluminum and has mounting holes for connection to any work surface or bench top.
The jig can accommodate a wide range of material thicknesses. The L-shape of this jig enables it to fit every sort of drill area. But it is a bit expensive and does not have any dust containers in it.
Is Kreg Foreman Worth It?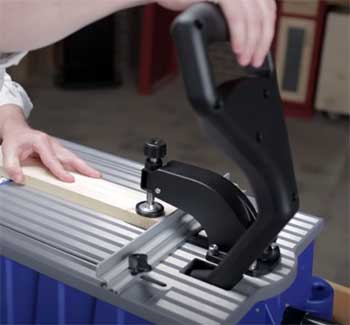 When looking for the best pocket hole jig, it is essential to know the available specifications, features, materials, the number of guide holes, and portability.
The Kreg Foreman has almost everything that a perfect pocket hole machine should have.
It creates flawless pocket holes in a flash.
When using a sharp, stepped drill bit, pocket holes can be made in a variety of woods with no problems.
Customers have been using it in a variety of wood, including pine, mahogany, wenge, etc.; nothing is too difficult for the Kreg Foreman.
This machine is also super-fast. So, considering the overall situation, Kreg Foreman is totally worth it.
Frequently Asked Questions (FAQ)
Which Kreg pocket hole system is best?
The Kreg 310 is the less expensive option for your toolbox if you just start carpentry or only occasionally make pocket holes. If you are planning to do it more frequently, you might consider the 320. Kreg Pocket-Hole Jig 320 is the most durable option with amazing portability.
What is the difference between Kreg and Castle pocket screw systems?
The main difference between Kreg and Castle pocket screw systems is the production speed. Kreg Foreman's speed is slightly less than Kreg's other updated models and Castle pocket screw systems.
What can I use instead of a Kreg Jig?
You can use various pocket hole screws like CSH Pan-head screws, Massca pocket hole screws, Quick Screw pocket hole screws, etc.
Is Kreg Jig worth the money?
Yes, it is worth the money and will make your task much easier and faster.
Final Words
You might experience difficulty as a beginner while choosing the best pocket hole machine for your work. After reading the Kreg Foreman alternatives, you must be aware of the elements you should consider when choosing the brand.
But if you are still confused about which Kreg Foreman substitute you should buy, just look for these three factors- toggle clamp, the accessories you get, and the dust collector. By looking deeply into these, you can narrow down your choice list more easily.