With so many options available, it's easy to get confused. And that's why I have decided to bring a comparative article about two popular house wraps, Kingspan GreenGuard and Tyvek.
In this article, I'll show all the necessary aspects of these two products and compare them with one another. So, stay with me if you are looking for a house wrap. In the end, you will go out with a clear choice in your hand.
So, let's jump right in.
A Quick Comparison Table
Here is a quick comparison table between Kingspan GreenGuard and Tyvek House Wraps:
| | | |
| --- | --- | --- |
| Aspects | Kingspan GreenGuard | Tyvek |
| Product Type | Cross-Woven Weather-Resistant Breather | Non-Woven House Wrap |
| Key Features and Benefits | Offers Fewer Features & Benefits | Offers More Features & Benefits |
| Weight & Coverage | 0.34 OZ. Per Sq. Ft. Max 1500 Sq. Ft. | 0.6 OZ. Per Sq. Ft. Max 1950 Sq. Ft. |
| Warranty | 15-Year Limited System Warranty | 10-Year Limited Warranty |
| Price | $61.5 For 3×100 Feet Roll | $70 For 3×100 Feet Roll |
In-Depth Comparisons Between Rex-Wrap And Tyvek House Wrap
Now that you have gained some basic ideas on these two house wraps, we'll get into comprehensive comparisons. So, let's begin.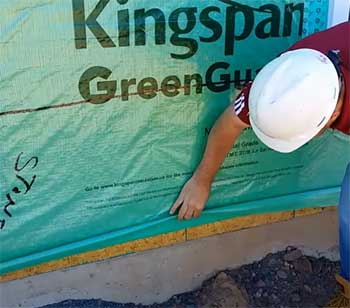 Kingspan GreenGuard is a non-perforated, weather-resistant house wrap made of cross-woven with a breathable polyolefin coating.
It works as both a water-resistive barrier and an air barrier.
This wrap can protect your home from rainwater even before cladding is installed. Because of its MAXimum defense feature, it won't tear.
Besides, it allows moisture vapor to escape and protect your home from damage.
On the contrary, Tyvek is a non-woven house wrap that allows moisture vapor to escape and simultaneously keeps air and water out of your wall.
This will protect your house from wind and rainwater damage and make it durable.
Tyvek house wrap insulates the home pretty well and controls the inflow and outflow of air and temperature. So, it will help reduce your electricity bills when you wrap it in your home.
Key Features and Benefits
Kingspan GreenGuard is non-perforated. As a result, it does not allow any rainwater or any outside water to enter.
It works as both an air barrier and a water-resistive barrier. The cross-woven material makes it an excellent choice for a house wrap.
Most importantly, it works excellently as a secondary weather barrier, deflecting outside water and allowing inside moisture to exit simultaneously. This house wrap can protect your house from UV for up to 120 days.
On the other hand, Tyvek House Wrap is comparatively easy to handle. It is cost-effective, and you can install this weather sheet fast and efficiently.
Because of its great control of airflow and water intrusion, this house wrap will keep your house cool during summer and warmer in the winter.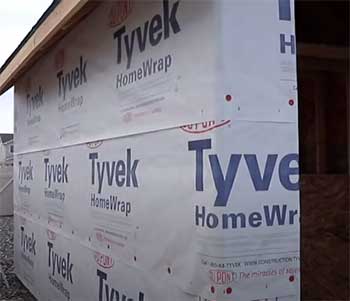 Both Kingspan GreenGuard and Tyvek are extremely lightweight. But GreenGuard is lighter than Tyvek.
Kingspan GreenGuard weighs around 0.334 oz. per square feet.
In contrast, Tyvek weighs 0.6 oz. per sq. ft., which is twice as GreenGuard.
About the coverage, 3×100 feet is the smallest roll for Tyvek that can cover 300 square feet of walls. Its maximum roll size is 13×150 sq. feet, covering a 1950 sq. feet area.
On the other hand, Kingspan GreenGuard has a maximum roll size of 10×150 sq. foot which can cover a 1500 sq. ft. area. Apart from that, it has multiple other sizes, including 4×8 sq. ft., 9×100 sq. ft., 9×125 sq. ft., etc.
A Kingspan GreenGuard roll comes with a 15 Year Limited System Warranty. But you will have to strictly maintain the instruction Kingspan provided during installation.
The warranty won't work if the damage occurs because of mishandling or abuse.
In contrast to Kingspan, Tyvek House Wrap comes with 10 Year Product and Labor Limited Warranty. Kingspan GreenGuard has a better warranty here.
Protecting your house with house wrap is a pretty big project. So, embrace yourself; it will take an ample scope out of your pocket. But knowing the price will at least help you make an informed decision.
A 3×100 feet Kingspan GreenGuard roll will cost around $61.5. On the other hand, the same size Tyvek roll will cost $70.
Which House Wrap Is Better For Your House?
Till now, you've seen a lot of features and differences between these two house wraps. But I'm sure you're still baffled about which one to choose.
Let me help you. According to professional opinion, you should choose Tyvek house wrap for your home.
Because Tyvek house wrap is insanely good, no other products can offer as good results like it. You'll have to spend some more bucks, but it will pay off. Besides, Tyvek has large rolls, so you can quickly and easily install them on your house.
Frequently Asked Question (FAQ)
What is better than Tyvek house wrap?
Tyvek is an excellent house wrap that provides outstanding results in protecting houses from rainwater and air. But Barricade Building Wrap is even better than Tyvek.
What is GreenGuard house wrap?
GreenGuard house wrap is a water-resistive and air barrier from Kingspan. It is made of cross-woven materials and has a polyolefin coating. This breathable wrap is non-perforating and yet allows moisture to exit.
What type of house wrap is best?
Currently, non-woven house wraps are the best in protecting houses from rain-driven water and air. Tyvek is one of the most popular non-woven breathable house wraps you'll find around.
What is the difference between Tyvek and house wrap?
Tyvek is a brand, and house wrap is a product. Tyvek makes high-quality house wraps from non-woven materials that effectively protect houses from moisture.
Conclusion
Kingspan GreenGuard is made of cross-woven, and Tyvek house wrap is made of Non-woven. Of the two, non-woven works better as a water and air barrier.
I do hope the comparison between Kingspan GreenGuard and Tyvek house wrap has made it clear to you.
So, make no mistake and use Tyvek house wrap for your home. Trust me; you'll be glad in the future you did.