John Deere's X394 and X584 are two of the best lawn tractor options you'll find. They are almost the same but there are some differences.
Deck size, mulching options, snow cleaning, and long-term performance are the major differences but there are more.
If you ever had to groom lawns as a kid, you probably still hate doing it. But now you have your own lawn to worry about.
Luckily there are good lawn tractors like X394 and X584 to help you. So, what makes these two different? Let's take a look.
A Quick Comparison Summary
If you're one of the "always-on-the-go" persons, this part is for you. If you want to know the gist of it all minus the fluff, this table notes them down for you.
Feel free to go through it for a quick summary.
| | | |
| --- | --- | --- |
| Feature | John Deere X394 | John Deere X584 |
| Deck size | 48" | 48" and 54" |
| Mulching options | Usually manual mulch kit, good mulching | Usually electric mulch kit, better mulching |
| Snow cleaning | Yes | No |
| Long-term performance | Good | Better |
Now for the less busy people, let's get to the details.
Key Comparisons Between John Deere X584 And X394 Lawn Tractors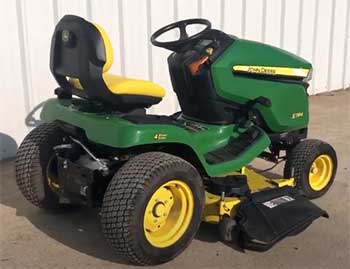 Lawn tractors are usually a big deal and you can't change your mind right after getting one.
This is why it is very important to know exactly what you want from them.
Knowing your requirements will make choosing one easier.
X394 and X584 are pretty similar lawn tractors. Most of their features are the same, but some things set them apart.
Deck sizes, mulching options, snow cleaning, and long-time performance are some of the factors that make them different.
What else?
Let's take a better look.
Deck sizes in lawn tractors basically mean how much area you'll be covering. X394 is a little set in its way, you can only get a 48" deck with it. X584 has two options you can choose from.
The X394 comes only with a 48" deck option. It's not bad, of course. You can easily get your corners and everything with it, sometimes it is actually a plus point.
But when it comes to bigger areas, the 48" deck may not feel enough. It will always be small and will take you longer to get everything.
X584 is a more open option when it comes to decks. They have two options, 48" and 54". You can choose one depending on how many areas you'll have to cover.
So when it comes to bigger area coverage, X584 is the better choice.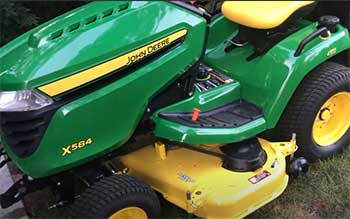 John Deere X584 is better than X394 when it comes to mulching options.
The lawn tractor comes with an electric mulch kit and better mulching control.
John Deere X394 on the other hand can mulch nicely, but the controls can be a little iffy.
X394's mulching system is a little more "old", for the lack of a better word. This tractor usually comes with a manual mulch kit and the side discharge could use a little work.
The X584 on the other hand is pretty much the perfect tractor for mulching. It comes with OneClick control so all you'll need for mulching is one press of a button.
The side discharge is also sharp, it picks up grass blades without ruining the flower beds.
Snow cleaning is exclusive to the X394 model. This lawn tractor will help you clear the snow in the winter. The snowblower is an added bonus and works very nicely.
John Deere X584 is a little behind on this because the deck isn't exactly compatible with snowblowers.
Both X394 and X584 are amazing lawn tractors. John Deere has a strong warranty for both that covers pretty much everything well. but X584 is more of a garden truck than a lawn tractor.
So in the long run, X584 performs better and comes out on top.
Which Lawn Tractor Should You Pick?
Picking a lawn tractor really depends on your personal preference and what you need. The same goes for this case. Both lawn trucks are more similar than different.
That means you have to consider other factors like the amount of area and what you need.
If you have a pretty small area to mow and want something you can use in the snow too, the X394 is the better choice. It also has better turn control so you can get every corner you want.
If you want bigger decks and easier mulching, then the X584 is your best bet. It has smoother control and a better warranty than the X394 so that's another factor.
Overall, you can pick any of these but if you want something for the snow too, go with X394. And if you want a better performance down the road, go with the X584.
Conclusion
And there you have it, a comparison between John Deere X394 and X584 lawn tractors. Both are amazing but if you want long-term performance, go with the X584 one.
And if you want help on snowy days, go for the X394. Either way, make sure to consider other factors before you get your tractor.